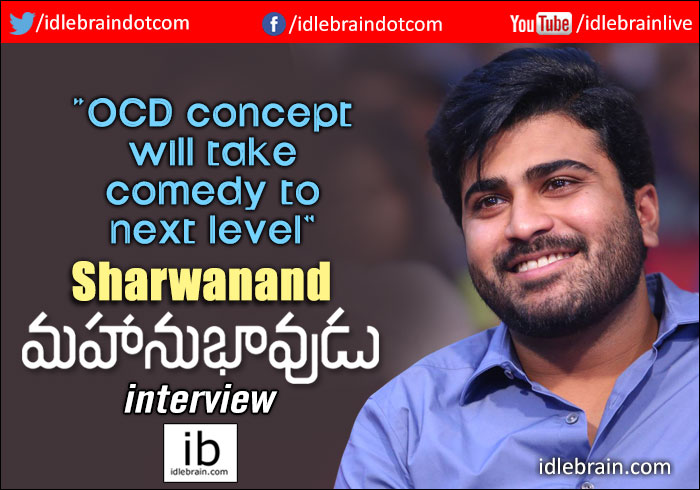 29 September 2017
Hyderabad
Sharwanand who has been on a roll with successful films is having a festival release in the form of Mahanubhavudu. This film is being done by the team that delivered hilarious blockbuster Bhale Bhale Magadivoy. Here are excerpts of an interview -
Tell us about OCD aspect of the film?
Maruthi drove the entire film on the concept of OCD (Obsessive Compulsive Disorder). The complication in love arises due to OCD and Maruthi has dealt it in an entertaining way. Mahanubhavudu is about how the hero character complicates his love with the problem on OCD and how he overcomes it.
Tell us about Vennela Kishore character in Mahanubhavudu?
Vennela Kishore has done a full length role. Our scenes and comedy timing between us will be a major highlight. I know Kishore from the days of Vennela and we are good friends. That personal rapport helped us to get a good on-screen comedy timing.
How did you let Arjun Reddy go away from you?
I didn't miss the film. I tried to find the producers for Arjun Reddy script. I have sent Sandeep Reddy to Swapna Dutt, Lagadapati Sridhar, Kesineni Nani etc. All of them felt the subject to be risky. I wanted to do it, but no producer came forward. When Sandeep Reddy wanted to produce it himself, I backed out as I don't want him to suffer if anything goes wrong. I have produced Ko Ante Koti film and I knew the practical difficulties in producing the film. My producers faced tough task in the past with films like Prasthanam and Gamyam. I didn't want Sandeep to go through such struggle.
I think Vijay Deverakonda is perfect for the role of Arjun Reddy. What an actor he is. After watching Arjun Reddy, i felt that the script was meant for him. I am very happy for Vijay and didn't feel jealous at all.
Mahanubhavudu is your 3rd comedy outing after Run Raja Run and Express Raja. Is there a new dimension for your comedy in this film?
There is a totally new dimension to it. It will be at another level. Though my character has OCD issue, it's still a lovable character.
Tell us about Maruthi?
The best performance I did in my career is for Mahanubhavudu. It's immensely satisfying for me as an actor. When Maruthi narrates a scene, it appears normal. But when we execute on sets, its very lively. Sometimes I ask him to act and show and I follow his cues.
This is your 3rd film with UV creations after Run Raja Run and Express Raja. Tell us about your association?
UV Creations is like my home banner. They have created a market for me. They are so confident that they didn't sell the film except for overseas.
You are getting habituated to contest in festivals along with biggies. You have succeeded twice with Express Raja and Shatamanambhavathi. Now you are repeating it?
It was producer's idea. And it worked all the time because Express Raja was an entertainer and Shatamanambhavathi is a family film. On both occasions, there was no contest with biggies because genre was different. This time also, Jai Lava Kusa and Spyder are big action films. Mahanubhavudu is a comedy entertainer.
Why is it happening only with you? It has become a standard procedure for your films?
3 out of last 4 films are released for festivals and pitted against biggies?
Tell us about your next films?
There are two films in pipeline and scripts are getting ready. One will be in the direction of Prakash and the other one will be in the direction of Sudheer Varma. Complete details will be announced by the respective producers.