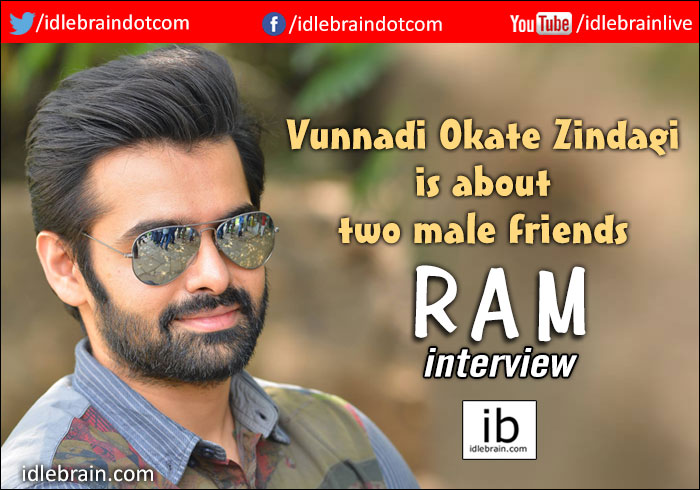 24 October 2017
Hyderabad
Ram's Vunnadi Okate Zindagi (VOZ) is releasing on 27 October. Ram is an actor of philosophy. He talks about VOZ and his interpretation of success/failure in this exclusive interview -
Tell us about your association with the director Kishore Tirumala?
I met Kishore at the editing room of Jagadam in 2006. After speaking for sometime, I told him that he will be a good writer. Then he said that he was already a writer. Took his number and called him up for Maska film in 2008. I recommended him to MS Raju as a writer. But MS Raju has already signed Paruchuri brothers. In 2014, he came to narrate story to peddananna (Sravanthi Ravi Kishore). He narrated the script of Nenu Sailaja and I really liked it.
Tell us about the difference between you character in Nenu Sailaja and VOZ?
It's a boy next door character in Nenu Sailaja. It's a love story and is interlaced between the emotion of father and daughter. VOZ character is more mature. VOZ is more about friendship and love. VOZ is a step above Nenu Sailaja without missing entertainment in all aspects. Nenu Sailaja has a few trappings of a typical Telugu commercial film. VOZ is like reading a book (I hate reading books, I need to admit it). When you read a book, you travel through each character to know the entire story. VOZ is written without taking any cinematic liberties. From start to finish, there is consistency for all the characters in the film. Kishore has done a lot of homework. We see different phases of life of Abhi character.
I connected to the character of Abhi in a whole new perspective. Abhiram is one character I really look up to in my life. After the shoot is finished, Abhiram is the person I really started missing. Never felt like this for any of my earlier movies. Abhiram is a kind of person whom I want to be. Abhiram thinks that life is simple and we complicate it. To look at the life in simplistic way is the most difficult thing to do.
Tell us about other characters in VOZ?
There seven primary characters. 5 males and 2 females. Each character is a rounded one. Even if you take one character out of it, the story will not move forward. The main story happens between Abhi and Vasu (Sree Vishnu) who played the best friends. Story starts with these two guys and ends with these two guys.
What the reason for bearded look?
I wanted to do a film with different look and luckily VOZ came along. I started hitting the gym and building the body. And started growing the beard. I played lead guitar player in a rock band in VOZ. It's a kind of look that connects to youth, but make the elders in family feel uncomfortable about it. I had been posting photos of my new look on Twitter and got positive response. Since VOZ has two different phases, this look would suit well for the phase in which I play for a rock band.
Devi Sri Prasad always give a chartbuster music to your films?
Yes. He loves to work with me. This is my 5th film (Jagadam, Ready, Shivam, Nenu Sailaja and VOZ) with DSP. I am lucky and hope that our collaboration continues like this.
What is your favorite song in VOZ?
Trend marina and what amma are instant chartbusters. But, my favorite is Rye rye mantoo. This song grows on you and after you watch the film, you will agree with me. Rye rye song is soul of the film.
VOZ is releasing in a couple of days. What is your gut feel?
VOZ has changed me as a person. You are what you experience in life. I knew before hand that films like Ready would work at box office. There were some films which I knew were not going to work, but wished that I was wrong. I was content with the work I had done for VOZ. I got what I wanted from the film the day I finished the shoot. Success will feel like a bonus for VOZ. The success of the film will decide on my payment as I am not paid a single rupee for this film so far. But, I am content with VOZ. Acting is what I love. This is why I came to film industry. Success and money is are byproducts for me.
What is your next film?
There are a few scripts. I haven't finalised anything.
How do you take success/failure?
If you have a successful film now, it makes life little easier for your next film. If you get a flop, it will be little difficult for your next film. There were times when I got affected with success/failure. Now, I stopped judging people and started finding inspiration in others. If another hero (a hero with no background) get a resounding success, I get inspired and see the possibility of impact I could make with a better script. May be, traveling has made me to look beyond carer. I am very confident of myself. If I feel insecure with the hits of other heroes, it's like insulting myself. Success/failure is trivial. If you give a blockbuster and deliver a bad film next, nobody will watch it. If you deliver a few flops and then deliver promising film, it will become blockbuster. Take the example of Nenu Sailaja. I was in bad phase and teaser/trailer has create huge buzz which lead to the success of Nenu Sailaja.
I give more importance to life. I do things that make me happy. Career is just one part of the life. VOZ is a kind of film that I experienced pain of not doing the character anymore after shoot is over. It was a beautiful pain. Not all successful people are happy.
Talking about travel, what was you last overseas holiday?
My shoot in Milan got delayed by a week and I took off for a personal holiday to Barcelona for a week. I loved it so much that I started learning Spanish. I can speak the basic Spanish now. My aim to learn Spanish language completely and then go to Spain and live like a local for a few months.
Any plans for marriage?
I am not looking forward for it at present. It will happen when it has to happen. In my opinion, marriage is not necessary for everyone. If you are happy with your life, go on with it unless a person who is making it happier comes into your life. It's not a rule that everybody should get married. The society and parents who expect you to get married are not going to solve your problems when you face any after marriage. The same applies for married couples who go for kids for the sake of society.