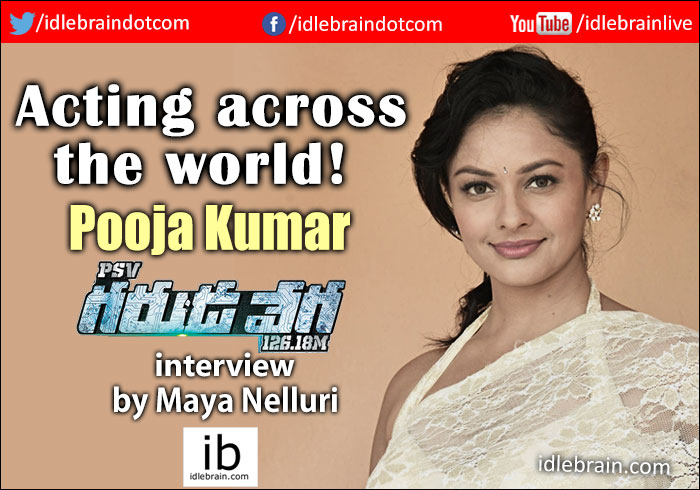 31 October 2017
Hyderabad
Pooja Kumar of Vishwaroopam fame is all set for her upcoming action film PSV Garuda Vega 126.18M with Rajasekhar. We spoke to her about her Hollywood career and what it was like to carve out a niche for herself in an industry which rarely wrote more an one-liners for Indians. And then there are her experiences with the legendary actor Kamal Haasan. Read on.
As a child what did you dream about?
I always wanted to do something which impacts others positively. My mother was a big influence in my life. She moved to America in 1970 after her arranged marriage to a man she did not know at just 21 years. Most Indian parents then were very forceful about teaching their children the Indian language or culture but she became a great influence in the Indian American community by making learning about Indian culture very interesting. She made being 'desi' cool! So the impact she made during those times greatly influenced me and I too grew up wanting to make a difference.
You won Miss India America in 1995 and signed your first film in 1997. Did you have any aspirations of acting prior to that?
I grew up with plays and musicals at school. My first dance performance was when I was just three years old to the song 'Madhuban Mein Radhika'. And I trained in Ballet, Tap and Jazz since I was four so I guess arts were always in my blood. But no one in my family had forayed into the arts for a career. Being of an Indian origin, you are not groomed to enter the entertainment industry. You are usually an Engineer like my father or a Doctor like my brother. *Laughs* I escaped going that route since I graduated in Political Science and Finance at college and then interned at Capitol Hill in Washington DC for a Congressman. From there things opened up for me. It took a lot of convincing for my family to be ok with it but now with some years in the industry I think they've accepted that it is my passion. Initially I also never thought of it acting as a profession but then after I was chosen by the Amitabh Bachchan corporation things changed and then there was no looking back.
You were born in the US so did you think you would get into Indian cinema back then or were you mainly looking at Hollywood?
Growing up as an Indian woman in Hollywood the only Indian person on television was playing an alien's character in Star Trek. My thought process then was we are not alien, we are Indian! The only other images of Indians in mainstream media then were very stereotypical, like snake charmers, elephants roaming on the streets. There really were no roles for Indians apart from stereotypes with single lines so I was unsure about where my career was going. I felt then that I had to create a space for myself. I started working with people and made short films like '1001 Auditions' and 'Shoot My Life'. Multi-culturism is a big part of what the world is now and diversity is critical. I didn't know where I would be based, but I was sure that cinema was going to become global so had to create content for that; I had to make something that I could relate to and could share with the world.
You are married with two kids and based out of the US so how do you juggle that with a career in India?
It's every woman's dilemma I think, balancing work and family. As women we now have lot of opportunities so there is constant dilemma. I don't know what the word balance means because even when you think you have balance there is always something on the horizon which drives you to do more. I don't think I have balance actually. *Laughs* I think if your main goal is to be happy then everything will fall in place. I am also big on having a good attitude because that is what takes you far.
This is your first time working in a straight Telugu film, why did you not look at Tollywood earlier?
I'm based in New York and LA and have been doing films there. When the opportunity to work with Kamal sir first came up, I was blown away to be able to work with such a legendary actor. You don't get an opportunity like that every day! I was initially hesitant because I couldn't speak language but after it my exposure to south cinema really opened me up. At the time I didn't know how big or prominent south cinema was but now with my exposure I know how important regional cinema is and how quickly it is growing. As for why this is my first straight Telugu film, maybe people haven't actively sought me out here because I don't live in Hyderabad? *Laughs* But after this film I would love to do more Telugu films.
You've starred in three of Kamal Haasan's films; how was that experience?
Kamal sir, what can you say? He is a legend; it was just amazing! He is one of the finest entertainers in the world. I've worked around the world, in America and here, and I can say that confidently. His perseverance and drive are so inspiring. Even today he continues to step outside the box when he can chill; he doesn't need to prove anything to anyone now. It's incredible to share screen time with him; I learnt so much from him. I tell every actor, if you get a change to work with him don't pass it up. There is so much you can learn from it, it's unimaginable!
How did PSV Garuda Vega 126.18M happen?
Jeevitha ji saw me in 'Uttama Villian' and called me after speaking with Praveen. I was in New York at the time. I actually did not know about them until after I spoke to her but when I researched I realised that she's a superwoman. She is a Director, Producer, Actor; she made such an impact on cinema. When she told me that she wanted me to be a part of the film, I just could not pass it up. I was really humbled that she thought of me. From the moment I picked up the script I could not put it down. It is edgy, quick, with the Indian emotional sentiment. Praveen is very talented in making you believe as the audience that you are part of the movie.
Can you tell us about your role in the film?
Without giving away too much I can briefly say that I play an army officer's wife who is in a dilemma. His first priority is to protect the country but she wants him to think of his family first. Along the way there are many altercations and there is only so much a wife can take so there comes a point where she thinks do I really need him anymore? It is a pretty serious role with some light shades. I think all the women will like the character and the men too because they will see their wife in her. *Laughs*
What other projects will we see you in the future?
'Vishwaroopam 2' is coming up and then there are two Hollywood films, one with Vince Vaughn and Dwayne Johnson. I'm also starting work on a web-series in LA, as well as developing another romantic comedy. So there are a few things in the works that I'm excited about. I'm also really happy about digital cinema because it's giving women so many more opportunities and we are able to do so many more kinds of characters. It also makes entertainment so much more accessible since you can release online and everything is readily available. It is a great time to be in cinema.
-Maya Nelluri