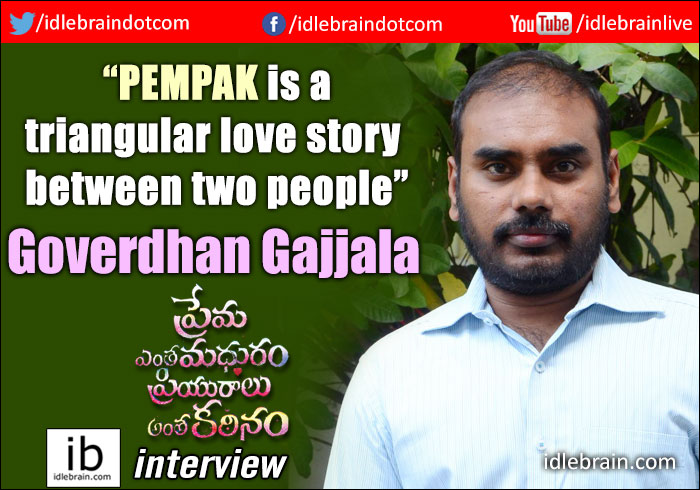 16 November 2017
Hyderabad
Goverdhan Gajjala is so passionate about filmmaking that he resigned from his job an year back in LA and shot this film entirely in USA. Made with limited budget and limited resources, Prema Entha Madhuram Priyuralu Antha Katinam (PEMPAK) is releasing on 17 November. Here are excerpts of our exclusive interview -
Background:
I am from Miryalaguda. I completed my studies in Miryalaguda and Hyderabad. I got 355 rank in EAMCET and did my BE in Osmania University. I did masters in UNLV (University of Nevada, Las Vegas). I joined software job and worked in Bay Area and Los Angeles. I had been working for Herbalife for the the past 10 years in LA. I quit my job in last October to make PEMPAK.
Why did you want to get in films?
I am interested in films right from the childhood. We are 4 brothers and we used to discuss about films. The first two brothers are Venkatesh fans and last two (includes me) are Chiranjeevi fans. My brother Karthik Reddy directed a film titled Adda with Sushant as hero. He came to film industry in 2000. I was studying engineering at that time. I wanted to go to USA to make money so that I can produce films as my brother would become a director. During the making of Adda, I happened to be working from Hyderabad. I used to go to shoot and observe it. My brother suggested that producer is the only one who takes risk and rest of the people take remuneration. He wanted me to be in a position to earn money than spend money. That's how I decided to become a director/technician instead of a producer.
I got enrolled in direction course at UCLA (University of California, LA). During that time I have made a few short films which were appreciated very well. Then I wrote the script of PEMPAK for one year. Then I gathered funds from a group of 12 friends. Then I did casting. I resigned once I am sure of shoot.
How did you arrive at casting?
I found a Telugu guy Chandrakanth in Facebook. He studied at Lee Strasberg Theater and Film Institute. I saw his videos and liked his work and cast him. He referred me his senior Radhika Mehrotra and found her to be suitable for the role. I ran a casting call in idlebrain and I selected Pallavi Dora through idlebrain.com.
What is the story of the film?
It's a triangular love story between two people.
Is the story relevant to USA?
The story can happen anywhere. I shot it in USA because it's convenient to me and offers a fresh backdrop.
Tell us about budget of the film?
The budget of the film for first copy is $150k. We spent $90k for post-production, publicity and release. Most of money is sourced from my friends.
What do you recommend to other passionate NRIs who want to direct/produce Telugu films?
Prepare for the worst and don't aim too high! You need to write script in such a way that it can be done with the limited resources you have. Miracles won't happen and be grounded while dreaming. Put everything on paper. Make sure that you shoot only scene that's on paper. The cheapest way is to write and edit on paper. Make it as crisp as it can be before going to sets. I shot PEMPAK in 38 working days with a crew of 7 members. 80% of my script is there on the screen now. You learn by making short films - write, shoot and edit yourself. Do this process again and again till you get confidence.
I want to thank idlebrain. I started following idlebrain after going to USA from 2004. I learnt a lot from directors interviews in idlebrain. The input given by directors helped me. I used to write them as quotes and remember them. Idlebrain.com has published PEMPAK casting call for free and I selected heroine Pallavi through idlebrain.com casting call.
What's your next step?
I gave my best shot with PEMPAK. I am a married man with two kids. I need to join my job and earn money. I will do another film when I am ready again.