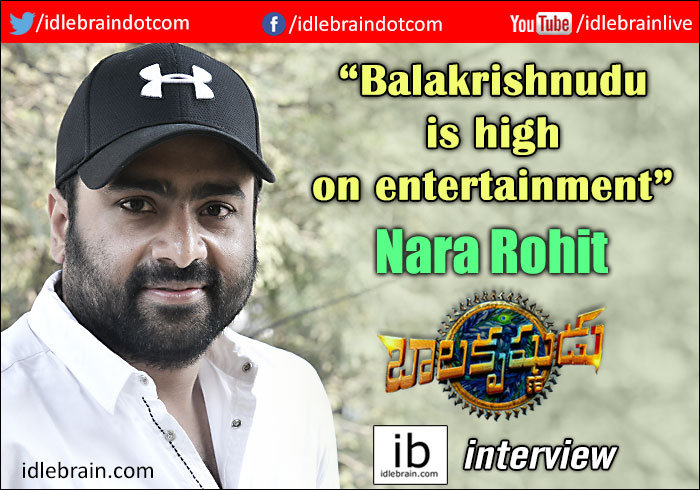 22 November 2017
Hyderabad
Nara Rohith is on movie ating spree. He created brand name for himself by acting in content based films is attempting a full fledged entertainment oriented flick with Balakrishnudu. Here is our exclusive interview -
What went wrong with your last film Kathalo Rajakumari?
Kathalo Rajakumari looks good on paper. But, went wrong at the time of transferring content onto the screen. The story premise is well established and there are aesthetics in the film. It was an exciting idea. Films like Asura and Appatlo Okadundevadu worked because execution was good.
Tell us about Balakrishnudu?
Balakrishnudu is a regular commercial movie. You might have seen many films in this genre. For me, it's a new genre. It's high on entertainment. Entertainment is what I banked on when I accepted this script. Balakrishnudu is basically a road movie that's narrated to generate fun.
Pavan Mallela is a debutant. How did he impress you with an entertainment oriented script?
Actor Ajay has suggested me the name of his friend Pavan at the time of Savitri film. Pawan and writer Raja came together to narrate story. Pavan narrated me the action part and Raja narrated the entertainment part. After doing so many content oriented films, I understood aspects like character drive and story arch. After listening to 15 minutes of the story, I stopped thinking about characters and story and started enjoying the narration. I assessed that Pavan can handle the film. He made sure that he took experienced technicians like Vijay C Kumar (Cinematography), Mani Sharma (Music) and Chanti (Editing) and delivered a nice movie.
You look slim in this film compared to earlier films?
It was Pavan Mallela who motivated me to shed some weight.
You are going for premieres in USA. Are you so much confidant about success?
A film like Balakrishnudu will work out here as it has entertainment and mass elements. I wanted to go to USA for premieres because Balakrishnudu is a film of beaten genre and my presence can help in creating some buzz. I happened to be there in USA when Jyo Achyutananda was released. I visited all major cities for screenings in USA at that time.
I will be attending premieres of Balakrishnudu in Virginia on 23rd and then fly to New Jersey to attend shows on 24th November. Depending on the commercial success of the film, we may go to Bay Area and Dallas in the weekend. Regina who is already in USA will be joining me for premieres in Virginia.
Tell us about your future films?
I finished my part of shoot for Veera Bhoga Vasantha Rayalu. It's a multistarrer with me, Sudheer Babu, Sree Vishnu and Shriya. I play an intelligence officer. Sudheer played cop role. It's a film in 'A Wednesday' genre.
I am doing a film titled Aatagallu with Jagapathi Baby. It's a thriller directed by Paruchuri Murali that's based on mind games. I am doing a horror film titled Bheemudu in the direction of Pavan Sadineni.
You are having three releases an year?
Yes. It works because some of the films are multi starrers where I don't need to allocate bulk dates. I am happy that way. 2018 too will see 3 film releases from me.