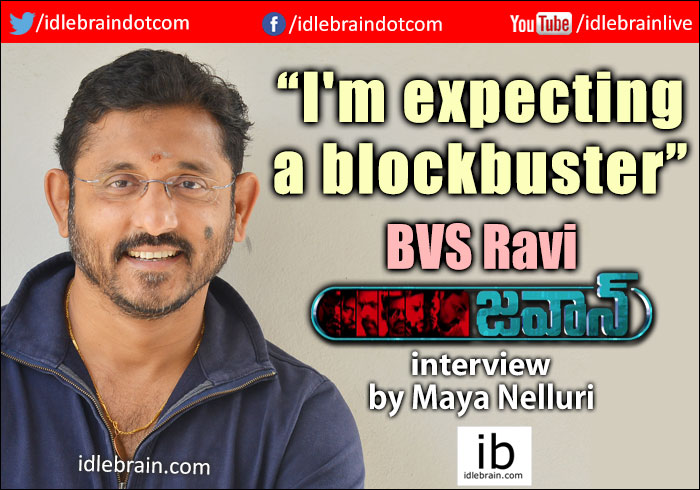 30 November 2017
Hyderabad
B.V.S. Ravi is a man of many talents. He has tasted success as a writer, proving himself time and again. Now he is back with his second directorial venture Jawaan with Sai Dharam Tej, Mehreen and Prasanna in lead roles. The film has raised the tempo with its exciting teasers and trailers and has everyone looking forward to this Friday. Get to know the man behind the movie in this free wheeling chat.
What was life like before you entered the film industry?
I was young enough to enjoy life before I entered movies. *Laughs* I came here soon after engineering and started working so I don't really know a life between education and profession. Our society and parents push us from one to the other so most of us don't have the space to explore life. I come from an upper middle class family. My father was a lecturer but we hail from an agricultural family so it is in our veins. In fact I still dabble in agriculture when I have the time. Leaving that aside, I would say that I don't know anything except cinema. When it comes to anything else, be it even cooking or making a tea for myself, I'm not good at it!
So why did you decide to do Engineering?
I finished my engineering for my mother. At the time there was so much peer pressure. Everyone's kids wanted to get into engineering including my mother's sibling's children. It was the thing to do. So at that point of time even though I wasn't interested in conventional education I had to go through with it. I actually preferred to hang out at libraries and read books. When I was in Vijaywada and Vizak I used to read Telugu and English literature. My grandfather was a poet and my father had a big library in the house. I grew up with hundreds of books in my house. The houses then didn't have proper shelves so the books were stored all around and everywhere I turned I would see a book. My father also made me read newspapers like Eenadu and Hindu (which was at the time the benchmark of good English). We lived in a joint family with my father's brother and his family so I had my brother Srinivas and cousin Malli with whom I would discuss everything under the sun. We would do it so passionately that we would end up fighting and stopped talking at times. When I look back I realise that those debates and influences informed me about life and shaped my thinking.
Were you also into films during that period?
My father had a rule that I was allowed to watch only two movies per month. But that did not include English films because he thought that it would help me with my English. *Laughs* There was a theatre across our place called Leela Mahal which only played English films. Sometimes the movies played would change daily and since I used to watch every film I got to watch plenty. My father's brother also played a huge part in my development. He used to play all types of music for me so I learnt music from him. In those times shortwave and medium wave used to be the most popular. I used to watch a lot of television also. Basically I would gather information from every source I found so it gave me an ability to think in a 360 degree perspective about every issue. I never take sides on anything. Generally if an argument arises everyone takes sides but I tend not to because I think from both sides and there is also a perpetual angle which will give you a unique view. All these things helped me write and also write different genres.
What inspired you to enter films?
I and director Koratala Siva were classmates in engineering and came to Hyderabad together to try our luck in films. He is the nephew of Posani Krishna Murali who was the number one writer at that time. I joined him and assisted him for about 40 to 45 films. I learnt the art of commercial screen writing from him. After that I went on to do Satyam and Girlfriend for Koratala Siva which became a very big hit. But there was still the issue of finances. Writer's remuneration has always been very less and I was having difficulty coping because of it. So at the time Koratala Siva encouraged me to become a director. I ended up doing Wanted which didn't fare well. I couldn't translate my thoughts into film in that. After that my direction career took a halt and I joined Srinu Vaitla, Raghavendra Rao, Puri Jagannadh, G Nageshwara Reddy and others, eventually raking up 60 to 70 films as a writer. Writing remained my bread and butter even if I wasn't credited for some of the films. But when I got the story of Jawaan in my head I felt sure that I should get back to direction. I felt it was the perfect story for me. I approached Ravi Teja who really liked the story and encouraged me. He suggested Sai Dharm Tej also. Tej has been a friend of mine since long, even before he became a hero. When I approached Tej he agreed but the film didn't go on sets immediately. Once the producers came on board we had to wait for Tej to finish his other commitments and that process took close to two years so I have to thank him for being with me through my journey. Destiny's decisions change overnight in the film industry so no one can be sure about what is going to happen next week. And no one was sure if this movie was going to happen. But Tej assured us and stood by us and made it happen.
How does your family handle your film career?
More than anyone I have to thank my wife and kids because they have been with me all through. My wife understood me very well and she was there during all the times, when I had, didn't have, won, lost or was ill.
You've been a writer, actor, director and producer. Which do you prefer?
Direction! I'm not the greatest of actors. My directors and writers asked me to act when I was on sets so I did it but never looked at it as a profession. RGV once launched a film with me as a hero, it didn't take off but it didn't deter me because acting was not my cup of tea. As of now I'm concentrating on establishing myself as a successful director. But if some story comes to me which I feel requires another director then I will give the story to them.
Will you produce again?
Kishore Tirumala was my assistant. He directed a Tamil movie prior which didn't do well so he came back to Hyderabad and wanted to do a movie. He pitched an idea to me and since I liked it I said let's produce it. One of my friends said we'll do it together on their banner but it didn't work out that way. I'm not a production guy. It needs a lot of more efficiency than I have. But there is nothing like want or will in life so I cannot comment on producing in the future. As of now I'm happy as a director.
Tell us about Jawaan.
I'm certain that you'd never have come across a story like this. It is a thriller in a commercial format. It is not very simple yet it is not a film which one will struggle to understand. You will be hooked to it from the fifth scene. There is so much tension which makes it a gripping film. I would say that Jawaan is the perfect marriage of all the crafts and the audience will get to watch a technically well-crafted film.
How did the idea for Jawaan come about?
Professional writers' ideas form out of thirst to write and need to write. We are not poets who sit under trees or sea shores and write. *Laughs* It comes out of the need to survive. As for Jawaan, I wanted to narrate something new and felt that this was it. The premise itself is new. It's not an army film. How he becomes a Jawaan is in itself a new aspect.
Tell us about your crew.
A film is the marriage of sound and visuals and I feel that Jawaan has the perfect combination. Cameraman Gruhan was suggested by Tej. They had gotten acquainted during Khushi. He is a fantastic DOP who did Athadu and many other amazing films. Thaman is my friend since very long and he did a lot of movies for which I wrote. Tej and Thaman are also good friends. I think he took extra interest in this project and poured his heart into the tunes and background score. They are both major assets to the film.
Kalyan, Sai Krishna and Vamsi are my co-writers. After writing the script, they were with me all thought in this journey. Brahma Kadali the Art Director of the film also did a great job. He made a house set that is so perfect that you will never realise that it is a set. Then there is Rajesh who designed for Tej and Shweta Varma who designed for Prasanna and Mehreen.
Lastly, I have to thank my producer Krishna garu who is a fantastic producer. After Jawaan he will definitely be known as a tasteful backer and will become one of the biggest producers.
This is the first time you've worked with your main cast, how was the experience?
Tej is a disciplined actor. Very few people who've seen stardom behave like he does. Everyone changes with the status they get. There is nothing wrong with it. It is understandable that one would like to cut the bullshit from their lives so the change in behaviour or becoming less approachable after stardom is normal. Unfortunately it might project itself as ego. In Tej's case you do not see that. He is very sweet. He celebrates life just as he always did. He lives life, spends time with family and friends, plays cricket, does his shootings, goes to story narrations, manages his publicity. He manages time very well. I guess those who manage time well are automatically happy in life. He is also very sensible and knows how to judge a story, a music tune; and he understands a director's narration impeccably. As an actor one has to work with different types of directors and narrations so when one understands the director's mindset easily and does the character perfectly, it makes life easier. Tej's character in Jawaan is new to him because he has always played the bubbly, loving, happy-go-lucky type of roles. In this he is calm, stable, very different. I feel that the best performance of Tej to date will be in this film!
The surprise package of the film is definitely Prasanna, the villain. He is a Chennai guy who has done Telugu earlier but he is more well-known in Tamil. I feel very lucky that we have him. His performance and presence adds a lot to the film.
As for Mehreen I signed her as soon as I watched Krishnagadi Veera Prema Katha. I cast her on day one itself so technically this is the second film she signed. She is very glamorous compared to her other roles as well and did a great job.
What are your expectations for Jawaan?
I am expecting a blockbuster. *Smiles* The whole experience of the film will be new to audiences. And as I mentioned it is the perfect blend of all crafts so it will engross you right from the first ten minutes and you will be hooked till the end. The screenplay is very good.
Have you planned any more projects?
I'm waiting for this film to release and waiting for its success! And then waiting for calls from producers and heroes. *Smiles* I do have a few stories in mind, three to four complete scripts. Once I know the result of Jawaan I will take the next step.
-Maya Nelluri