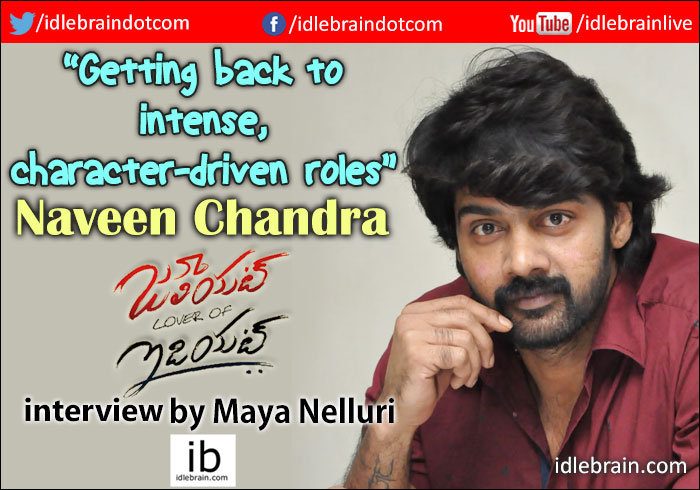 14 December 2017
Hyderabad
The elusively sizzling Naveen Chandra may be critically acclaimed for his negatively shaded reel roles but in real life he radiates all things nice. Turns out that there is much we do not know about him. He is spiritual, a gym bunny, an introvert and a happy-go-lucky kind of guy. In an exclusive chat he revealed to us details about his life in the film industry over the past decade and talked about his upcoming film Juliet: Lover of Idiot.
Tell us something that most people do not know about you.
I am a happy-go-lucky kind of a person. I am very much an introvert who likes my space and am happy being me.
What would you say is the biggest influence in your life?
I love cinema a lot so I'd say I'm influenced by it the most. I'm also cinematic at times, depending on the person I'm interacting with. *Laughs*
What pushed you towards cinema?
My mother and grandmother love movies and have always loved movies. My mother used to take us to all kinds of films which inspired me at a critical age. I grew up watching films with legendary actors like NTR garu, SV Rangarao garu, and Savitri garu. I am also heavily inspired by Chiranjeevi garu. Even now my mother wants to watch every single movie that releases; including Arjun Reddy! *Smiles*
How would you describe your decade in the film industry?
It has all been a great learning process and I'm happy with what I've got out of it. When Sambhavami Yuge Yuge happened, it gave me a huge high but it bombed at the box-office. *Laughs* Then the next Tamil movie I worked on didn't release. After all this and more highs and lows, I waited six years for something like Andala Rakshasi to happen. Then I met Hanu and it all seemed to fall into place after that.
You've acted both as a hero and as a supporting actor, which do you prefer?
I like doing both. If they mention my role in the film as that of a hero, I go about bringing on screen a hero. If they say actor, then I work accordingly. Take for example films like Tripura, Nenu Local or Bham Bholenath, my characters were a pleasure to perform although they were not credited as a hero. Still, if you ask me to tell you my preference, I would have to say both!
You were highly appreciated for your roles with grey shades; do you want to stick with them in the future?
I actually made a mistake earlier. My work in Andala Rakshasi and Dalam was appreciated and I was doing very well on that track of playing intense roles. Unfortunately I was influenced by the opinions of some people who advised me to try commercial, comedy, or horror genres. Things didn't pan out as planed when I did those. And I realised that I should've stuck to the intense character driven roles which I am most appreciated in. Now I want to work depending on the script and its suitability to me.
What are your expectations for Juliet: Lover of Idiot?
During my previous releases I would feel tensed and would be hoping for appreciation for the films and our hard work. But for this movie I'm not over-thinking anything. I truly believe that if we have a good film on our hands, it will never escape the audience's attention. And I feel that the audience will like Juliet: Lover of Idiot because it is a good movie.
Tell us about your role in the film.
I play a valet parking driver who lives his life on credit. He basically borrows and cons his way through life. He is an 'idiot' who convinces people and plays with their lives. It does have a negative shade but in the conclusion of the film you will see a positive side.
How would you classify this film?
I would call it a love-crime story. The film itself is about the effects of love and what happens to us when love comes into our life. I change, you change, every one changes. Love is very powerful. The 'idiot' in our movie also changes. The consequences of selling one's love form the crux of the movie but there is plenty of action, comedy and sugar-coated mother sentiment. *Laughs* There is something for everyone.
The movie was announced in 2014; why has it taken so long to reach the theatres?
After the movie was announced, it took three months for it to go on floors and then some more time for Nivetha to join the team. After the initial schedule, I got busy with some projects, Nivetha got busy with Gentleman, and there were also production issues. Still, it is great that we completed the film and it is all set for the release.
What was the best part about working on Juliet: Lover of Idiot?
The best part for me was working with technicians from different industries. Our DOP and Music Director are both Malayalee, so from Mollywood, our Producer is Kannadiga, so from Sandalwood and there were many of us from our very own Tollywood. Everyone came together to make this film.
Lastly, and mostly because we can't take our eyes off your tattoo, what does it mean to you?
The tattoo is an amalgamation of a Trishul, a Damaru and the word Aham. In Sanskrit Aham means I am the infinite reality and the symbols of Trishul and Damaru keep me connected to Shiva, of whom I am an avid devotee. It has really made a lot of positive difference in my life since I've gotten it.
- Maya Nelluri