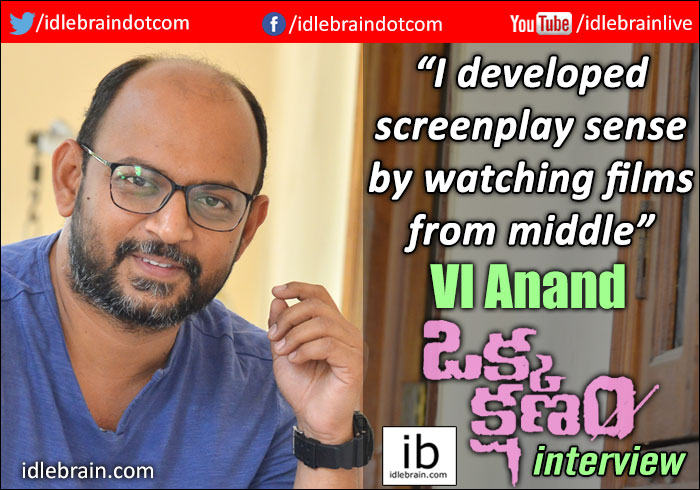 29 December 2017
Hyderabad
VI Anand's debut film in Telugu was a disaster. He realised his mistake and made sure that all his films run on a good screenplay. His films Tiger, Ekkadiki Pothavu Chinnavada and Okka Kshanam created positive buzz because of engaging screenplay. Here is an exclusive interview with VI Anand who shares some interesting perspectives -
Background:
I am born and brought up in Erode, Tamilnadu. My father is a document writer (stamp papers). His customers also include theater owners. He used to visit theater owners frequently on work. We are three brothers. He used to leave us inside theater while he held discussions with theater owner. The timings used to be random. I used to watch films from middle (sometimes from second half). We used to predict story of first half after watching second half. Then we come and watch the film again to compare if our guesses were right. Watching films randomly from middle has helped my screenplay sense. That's how my interest towards storytelling started.
I wanted to enter filmmaking after intermediate. But my parents wanted me to complete graduation. I got a free seat in dental college. But I wanted to choose a creative field. Then I applied for architecture and got it. I have chosen design of film city for the thesis in the 4th year. I thought I can go to Ramoji Film City and do case study. In the process, I observed shoots of various films in RFC and got in touch with filmmakers.
During my case study at RFC, I got in touch with director SP Hosimin (assisted Shankar earlier). He was doing a bilingual with Uday Kiran (Apple in Tamil and Premante Suluvu Kaadura in Telugu). I came to Hyderabad and worked for that film. I have worked with him for one and half years, but the film was shelved.
Then I join Pratap Pothan who was doing ad films. I was with him for 3 and half years in Green Apple Productions, Chennai. I was his only assistant during that time. He had done a lot of brilliant thrillers and national award winning films. He used to watch a lot of international films on DVD. I got to watch all the films along with him. Those 3 and half years was like film school for me. He taught me the grammar of filmmaking.
Then I moved to another ad film company. I learnt about packaging content in 30 seconds in that company. We have done ad films for companies like MRF, Saint Gobain and Ashok Leyland.
Then I joined AR Murugadoss to learn about how films are done. He has auditioned me. He asked me to come up with modifications for Hindi version of Ghajini. I came up with 10 points and he took me in. He has asked me to come to Hyderabad for Stalin film. I worked for Stalin for one year. I learnt about script writing from AR Murugadoss.
Hrudayam Ekkadunnadi
Then I wanted to direct films. My first movie was supposed to be Appuchi Gramam in Tamil. Meanwhile, Krishna Madhav came to me and asked for story and screenplay for his debut as hero. It was supposed to be directly by somebody else. Later the producers of Hrudayam Ekkadunnadi approached me and asked me to direct it. I wasn't prepared to direct that film. I had a discussion with my wife and she asked me to go ahead. I directed Hrudayam Ekkadunnadi. Lot of mistakes happened and the film didn't do well. It was a big blow for all of us.
Appuchi Gramam
Appuchi Gramam was a sci-fi drama. It's about how villagemen react when they come to know that a meteoroid would hit their village in 10 days. It broken even for the producer and was appreciated well by the critics.
Tiger
Tiger film was supposed to be made in AR Murugadoss production and in association with 20th Century Fox. The main male lead was supposed to be played by Jeeva or Vijay Sethupathi. We approached Sundeep Kishan for the second lead role (later played by Rahul Ravindran). At that time, AR Murugadoss started another film in the direction of Vijay Milton. My project got delayed. Sundeep Kishan has asked me to narrate it to Chota K Naidu. He liked it. He put me to producer Tagore Madhu. Tiger was a good experience and I had the support of senior technicians. Initially I had a more interesting and complex screenplay, but it was tweaked prior to release as they felt that B&C center audiences might not understand it. Rahul Ravindran is supposed to give his phone number before he faints. Each phone number is associated with a person in his life. The screenplay drives with one phone number associated to a person (like mother, father, friend etc). With one number, we narrate childhood days and with another number we had Sandeep Kishan introduction. Tiger film was appreciated well..
Ekkadiki Pothavu Chinnavada
I met Nikhil and told him Ekkadiki Pothavu Chinnavada script. He okayed it in two hours of narration. He gave me advance from personal funds and he hooked me up with the producer later. EPC was a money spinner and appreciated well by everybody.
Where did you learn about Parallel Life?
Being a fan of science fiction films, I knew parallel life concept a long time back. My wife has a parallel life with another woman. Both of them were born in same hospital on the same day with two minutes of difference in the same wing. They went to different schools, but both of them did architecture. Both of them married guys with the same name - Vivek Anandan. Me and other Vivek Anandan are from Erode. Both have son of same age. These are crazy coincidences that happened in our lives.
Parallel life concept is too thin to make a movie. I wanted to do a movie with a stronger content. There are to be twists and turns driven by a carefully written screenplay. I worked on the script of Okka Kshanam for 7 months.
Explaining complex scenarios with examples
I have used dialogues like new sim in old phone to relate new soul in old body for Ekkadiki Pothavu Chinnavada. I explains matchsticks to narrate the probability of two people having a parallel life. The matchstick example shown in the teaser has convinced the audiences about parallel life before they come to theater.
You have become a screenplay specialist?
Writing screenplay is similar to the work of a magician who creations illusion by diverting the mind of viewers to some other object. I am fond of thrillers and all the thrillers are screenplay based. That's how I could observe and learn about screenplay.
What is your next film?
My next film will be in Geetha Arts banner. I have narrated Allu Arvind a couple of story lines. He liked both of them. I met Bunny and told him a line. He loved it.