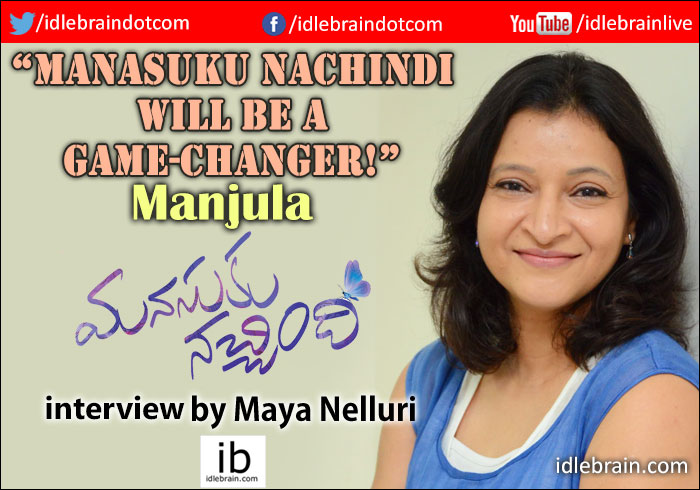 14 February 2018
Hyderabad
In an era when women's empowerment is merely a trending hashtag for many, we have a few women who've lived their whole lives enterprising this movement. Manjula (who for the benefit of the newbies among us is part of Tollywood's celebrated Ghattamaneni family and daughter of yesteryear's superstar Krishna) is one such soul who has always danced confidently to her own beat. She excelled at every path she chose, be it starting off as an actor, turning into a producer or being a champion for her family. Now she is all set to show us how directing is done! Although in the midst of hectic promotions, she looks unphased as she greets us, and is the epitome of enthusiasm and energy, channelling the faith she has upon her upcoming directorial venture – Manasuku Nachindi. Join us as we dive into Manjula's world.
What took you so long to become a director?
To be honest direction has always been my first love. I've wanted to get into direction since I was 18. Varaprasad Rao garu actually took me under his wing, taught me about the profession and gave me tips on filmmaking. But I realised that the directing is as difficult as it is rewarding because it is not just about understanding and executing the project but there is a need for life experience to recreate life on screen. It's also a lot of hard work so I thought that since I can direct at any age and somewhere the acting bug had already caught me (because I grew up watching my family act and the glamour that goes with it), it took a back seat. Acting was also easy for me because I am an actor's daughter so I felt why should I turn my back on it? But frankly speaking, direction is my first love!
Previously you've produced some massive hits like Pokiri and Ye Maaya Chesave; do you have a particular process for picking the right projects?
*Laughs* I don't pick them; it's not really like I have a 100 scripts from which I pick and choose. And making a movie with Mahesh Babu is no joke. Making Nani was a big task and it was a disaster! After that I had followed Puri Jagan's work for some time and saw that he had a very unique style where he stood out. His heroes were bold and his characters were unlike any other. When we spoke things fell in place, we approached Mahesh Babu, and it just happened.
You've acted in national award winning and critically acclaimed films. Why did you stop acting?
I didn't stop because I never really started. I really wanted to be an actor at one point. To satisfy my urge I did some films and it was amazing. I experienced how it was to be an actor but moved on. I could've never been a commercial actress. My background wouldn't allow that and I wouldn't be comfortable to do those roles even if it wasn't for my background. I would have been very choosy in any case.
How different is it being a director compared to being an actor or producer?
Every aspect of filmmaking is interrelated. They all merge but I've realised that direction is the best part; I'm thinking, 'why did I wait so long?!' Directing is amazing because you are creating characters, visualising in your mind and then manifesting it on screen. It's an enchanting experience.
What prompted you to take on Manasuku Nachindi as your directorial debut?
The story came straight from my heart. It was born out of a natural spark that came from within me. I feel very strongly that love is the most important aspect in life. Nothing is more important, everything is because of it and it is a universal essence. Life thrives on it. And maybe even the sun won't rise without it. So even though it wasn't a planned move, when the idea formed in me, I thought why not a love story? It just flowed. I would say that the whole idea of Manasuku Nachindi and the creative process came from a higher source which is my heart. That's why I'm so confident it will reach a lot of people and that it will connect to everyone. Only that which is created from a heart can reach another heart easily.
It looks like a very fun film. Can you tell us what sets it apart?
It is not a commercial formula film but it is an out-and-out commercial film. By that I mean that it is a commercially made sensible film. The treatment of the story, the way each character behaves, the way the story moves, everything is made naturally to match today's times. You will notice that the actors are behaving, not acting!
Have your father, brother, and husband watched the film? What was their reaction like?
My husband is involved in whole process so he is not really counted! *Laughs* But my father and brother want to watch it 'first day first show' and they are very excited about it!
You've directed your daughter in this film; was it the same as directing others?
It was amazing because it was the easiest thing. She gave me exactly what I wanted every time. I was initially nervous, not about her acting skills, but about whether she could put up with the hardships of acting like the sun, the harsh lights, or long working hours. She did throw tantrums, like she would say I'm hot, hungry etc., but it was very easy to make her comfortable again and I found it very easy to work with her. I hardly did anything. She knew her character so well that when on the first day we went through her lines, she just went out there afterwards and did it. I can't tell you how proud I was! You can see that she's a star in the making. *Smiles* I'm not saying this just because she's my daughter; it's a gift, a very special gift; you have to see it to believe it. And the next easiest person to work with was Amyra. With these two I didn't work at all. I just told them what I needed and they were totally spontaneous and in character. They both have the same brilliant spontaneity. Sundeep was also great. In one particular scene he had to change emotions so quickly and he pulled it off with such ease. I have to say that the whole cast was really good including my husband! *Laughs*
Would you say that there is any one particular character that is the hero of the script?
Nature is the hero of the film. Mahesh Babu has given the voice for it so it is very exciting. His presence is central through the whole movie so I'd have to say that he's the hero. After that Suraj, played by Sundeep Kishan; the story is about him. Nitya, played by Amyra, is the soul of the script, and every other character has a specific significance.
What result are you expecting on February 16th?
A hit! A big hit! I'm expecting a big hit! People are in need for good, original, refreshing, and enriching content. Movies are an exploration of life; they are not an escape from it. And this movie will make you think and give you something to take back home. It will haunt you. Regardless of who you are, you can come to the theatre with any vessel and soak in as many layers as you want from the film. Whatever your maturity level is, you will have something to identify with and understand. The young ones will take home the love story while the more mature will look at the sunset and appreciate the bigger aspects of spending time in nature. What one will take away depends upon their age group. Take for example Jhanu, she always snubs the hero. She takes the story forward with humour and her character is the catalyst for a very important twist. Overall it will be a very elevating, loving, entertaining experience. And I'm certain that it's going to be a game changer. Not just for me but for all of us. We will get to welcome new age good films. It's an exciting time because we've just had Arjun Reddy, Pelli Choopulu; it's exciting that people are watching new content. I'm sure they have been bored of the same stuff being microwaved and served up in different dishes over the years. Don't say, "choodaru, let's just follow the regular formula!" Now every individual has so much exposure to the world. And concept films like this will make a mark!
Do you have any projects lined up in the near future?
At this point I will be concentrating on production for sure. Writing and directing are time taking processes. If I do them I have to bring value to the project so for now I will be producing movies and digital content. We have quite a few exciting things happening.

- Maya Nelluri