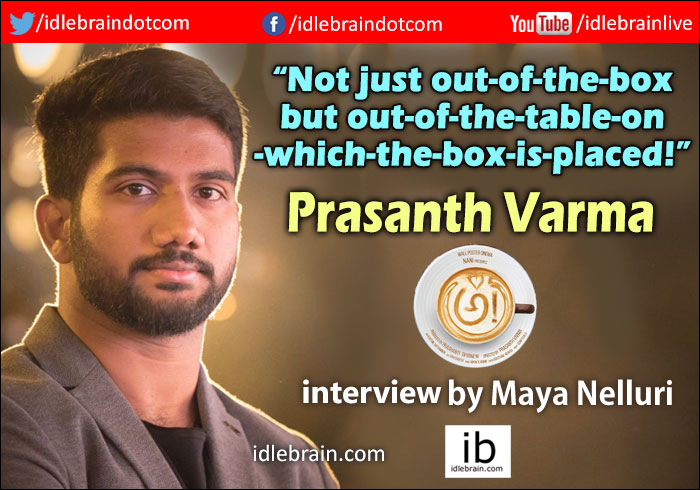 14 February 2018
Hyderabad
Walking into 'The Village' as Prasanth Varma's office is affectionately called is like stepping into an oasis amidst towering cement blocks. It looks like the perfect setting for a man like Prasanth who is about to blow us away with the first of its kind multi-genre adventure – Awe! He is confident, nervous, excited and so much more as would be any other debut director but what sets him apart is his definite belief in originality. Going by his critically acclaimed short films, one would expect Prasanth to deliver a one-of-a-kind experience tomorrow. He backs himself by stating that Awe! will not just be out-of-the-box but it will be out-of-the-table-on-which-the-box-is-placed! Cue laughter! And continue on to the rest of this no-holds-barred interview.
Awe! looks nothing like anything we've seen before. Is that what you intended?
That is the whole idea; to do something that has never been done before!
What do you think will surprise the audience most?
There will be 'n' number of surprises in the film. There will be at least six to eight moments when the character will say 'awe' in the film, and so will the audience! You'll also see a love story that has never been seen before in Telugu cinema.
How did the idea of this film come to you?
*Smiles* It was born out of frustration and a lack of money. I needed a story that I could produce myself so I needed to tell a story on a very small budget. From that necessity Awe! was born. The thing was there were many projects of mine that were shelved before Awe! happened. I can probably get into the Guinness Book of Records for most number of projects shelved. *Laughs* I'm not even exaggerating. There were 40 and I even have a list of all of them. I went through some instances where I was shocked that a film could be shelved for such a reason!

You said that you wanted to run away from Nani also because as soon as your projects got bigger, they tended to get shelved. What was the difference with Nani that made Awe! happen?
Most of the people I worked with before were mainly concentrating on earning with films. Their intention was to make lot of money with a small movie. I always pitched a story that could be done with a small budget but they always wanted to make the film bigger by adding a big name to it to increase the revenue. With Nani it was totally different because he wanted to make the film as it was. He believed that it was a good script that needed to be made.

How did you manage such a huge star cast in your first film itself?
It was pretty easy. In the other projects I was supposed to direct there were some with big actors and some with new comers but even the newer actors used to have so many tantrums. In this film all the stars worked like it was their own film. They were super curious because they all liked their individual characters and wanted them to work. In fact when we started shooting the actors hadn't even discussed their remuneration. It was only afterwards that Nani thought it was time to talk and get it sorted. Stars like Kajal who don't need to come at 7am did so; and she would even rush between costume changes because we had a limited budget and therefore limited time in which the work had to be completed. Because everyone felt it was their own film and worked like that it made my life easy!

What do you see working in favour of Awe! tomorrow?
We didn't over promise anything. We promised a shock and we will definitely deliver that. Let me tell you that Awe! is not just out-of-the-box but it is out-of-the-table-on-which-the-box-is-placed! *Laughs*

What can we expect from Awe!?
If you look at the trailers or ads we are not promising full entertainment but 50% of the film is filled with comedy. We have Ravi Teja garu, Nani. When we had a premier for the industry they were shocked because they thought that they came to watch a thriller but there was so much comedy in the film. Still, it's not a commercial film. It has a beautiful message but it is also not an art film. It is an intelligent film that you have to follow to understand; you will miss the story if you look away. We treated Awe! as it should be treated, without dissecting the film or adding dialogues just to explain the film to the audience. Take any highly rated film, maybe even Interstellar for example. If it was made for C centre audiences, would it be allowed to be made so brilliantly? Where would be the wonder if we cannot assume an intelligent audience? Awe! could have been made to appeal to C centre audiences also but it would have brought the quality down immensely and I did not want that.

I have to stress here that the reason we made Awe! in Telugu is very personal to me. When I first put together the script it was to be shot in English and released in English. Then when Kajal heard it she wanted to do in Hindi. Some others wanted to film it in Tamil. Everyone thought that Awe! is too intelligent for Tollywood. But I wanted to prove them wrong. I believe that our audiences have evolved a lot. When people told me to film in Tamil and then dub it into Telugu because that has better chances, I felt that there couldn't be anything worse because I am a Telugu film maker. Even Nani believed that it should be made in Telugu. If our audience accepts this movie then will have more such cinema. The next time someone gets such ideas they shouldn't be told to go to Tamil and do it there. Others should want to come and do it in Telugu. I hope that Awe! works, mainly for Nani, Prashanti garu and other film makers. Many young film makers today who are doing short films are also doing the same old stuff because they think new ideas won't work. I want Awe! to work for them!
You've tasted success earlier with storytelling as well, be it with your short films or ads; Was it much different to make a feature film?
Absolutely! It was very different. To tell you the truth I didn't think making a film was this tough. Ads and short films hardly take one month from beginning to end and you see the results very quickly. There are also no calculations of how to get your money back so it's a totally different ballgame. This is the big leagues. It's not easy! Initially when I started working on Awe! it was supposed to be a bigger short film which I would make with my money. I thought people will watch and then I will go on to the next project. But when Nani and everyone came on board the film got bigger, the responsibilities stacked up and the expectations were also multiplied.

Your work has always been unique, what do you credit this to?
It is very easy to be different. I always say just be original. Other people can't really copy you, and you can't really copy others. After Awe! a lot of people who are involved in the project are very curious about what my next film will be because at the very least as a film Awe! will be of a certain standard. Usually it is difficult to make the second film live up to the expectations but I have much cooler and much more different scripts waiting to be produced.

I never made films thinking I should do love stories or horror comedies which are working. At a certain point I never used to watch films because I did not want to be influenced by them and I wanted to be original. One day my dad took me aside and explained to me that, "Charitra teliyande bhavishayttu nirminchalemu." It means that a future cannot be established without knowing one's history. So now I watch films to make sure that I am different. Even during the later stages of scripting Awe! I involved many writers to check if there were any scenes which were done before. Sometimes you think that your idea is so original but it could turn out that it was done to death earlier.
Who are you most influenced by in your career?
Sangeetha Srinivas Rao garu, because he never repeats himself. I am also influenced by filmmakers like Christopher Nolan, K Vishwanath, Mani Ratnam and others but they make films in their chosen genre. If you are asking about a whole career, Sangeetha garu would be my inspiration; he never really repeated himself.

You've also done a web-series about Bryan Lara, how did that happen?
It was with Yup TV. They wanted to produce a web-series with him and were thinking of hiring someone in West Indies. Silent Melody released around the same time, they watched it at Yup and shared it with him. He immediately called me and said let's do this.

It sounds like there were a lot of instances where people just called you and said let's do it. Should we call you lucky?
*Laughs* It's a lot of hard work. If I was left in a room with a star like Mahesh Babu, I wouldn't even go up to him and try to start a conversation because I would rather amaze people with my work and let them call me. I'd much rather my work speaks than me. Let's hope Awe! makes him call me. *Laughs* In the industry I think there are very few actors that I would want to work with because I came here to make the work I like and with a lot of people that is not possible so I don't see myself working with them.
Was it always your dream to direct feature films?
I can't call it a dream because there was never an instance where I thought that I have to become a filmmaker. I started off by helping a friend make a music video and then another. At that point he couldn't afford an editor so I learnt how to edit for him. Then I started helping others to do film related things. Even my parents wonder why I never specifically said I want to get into films but now I am here. Right now this excites me so I'm doing it.

You are an engineer by profession. Why do you think so many directors in Tollywood have Engineering degrees?
Around 2010 when I passed out of Engineering the internet was quite a big thing. That's when downloading and watching international cinema became possible for students. During that period I watched a lot of amazing cinema. When I was younger, since I'm from Bheemvaram, most of the English films that played were James Bond or Mummy movies which were dubbed into Telugu. So it was only during my Engineering days that I realised there were brilliant movies out there. If you think about doctors they have a very different schedule. Maybe Engineering students get a lot of exposure because they have lot more free time. *Laughs* Actually a lot of my friends in Engineering wanted to become film makers but they had to surrender to other forces so I was the only one who continued.

Any future projects in your kitty?
I got calls from many people but I said I will meet them after 16th to discuss. Practically speaking, if this film doesn't work they won't work with you. *Laughs* This is my 41st film after 40 failed attempts so I am a lot more experienced now. When I started learning about films I first learnt visual effects because I felt that it was the reason Hollywood was so much bigger. Then I learnt editing, then filmmaking. That's when I figured that story is the most important so for a year and half I learnt script writing by reading everything I could about it. Then I started making short films. Even before Silent Melody I did Dhenamma Jeevitham. But in the last six years I learnt more about how production and politics in the industry work more than directing. *Laughs* In the industry you don't need those who don't have a hit and those who have a hit don't need you. Everything basically revolves around a hit. So in my mind I'm thinking let this film work and then I have 10 to 15 scripts ready for you.

- Maya Nelluri