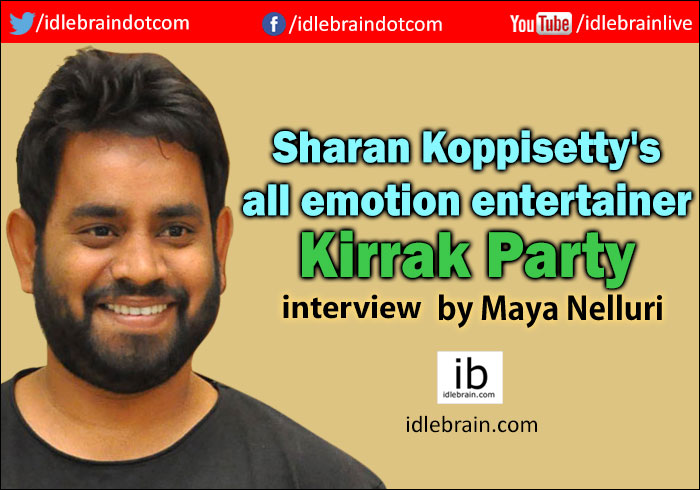 15 March 2018
Hyderabad
Just a day before the release must be the most exciting times for anyone involved with a film. Today we speak to debut Director Sharan Koppisetty about his upcoming Kirrak Party. The film has received some amazing reviews from the youth in particular who are eagerly awaiting a film that they can truly related to. And as we found out during the interview, Kirrak Party looks to be an amalgamation of three super hits, first the original Kannada version of the film – Kirrik Party, second the cult classic Shiva and third every college student's favourite Happy Days. Read on to find out more about the film and its Director.
How are you feeling with the release of Kirrak Party just a day away?
I am excited!
Tell us about Kirrak Party in your words.
It's been a while since we've had a film based completely on a college theme. In fact not since Happy Days was there a successful one. Also there have been no elections in films since Shiva! We have adapted a lot from the original Kirrik Party and also turned it into a kind of tribute to Shiva.
As for the actors, most are new. I never thought that I'd debut with a youth focused film or that I would work with newcomers. But both happened in this film. It's not completely a youth centred film though; there is a message, and the audiences will walk out with a warm feeling after watching it. The last 30 minutes of the film are emotional so I feel that people will really connect to it. The first half focuses on the college drama and fun. It is packed with every emotion and a lot of entertainment.
What are your favourite parts of the film?
The election montages and college fights were designed very uniquely. Also at the end we shot one song in the original location of Gangotri with only Nikhil. It is a bike song so for him to carry the emotion continuously while riding a bike for three days is a feat in itself. It gave us all a high when we watched it. The people there told us that after Ram Teri Ganga movie, we were the only ones to put a shot there.
Who do you feel you have to be thankful for in this venture?
My family of course; my brother supported me a lot during this journey. I am the youngest in the family so he used to take care of any issues in family. Because of him I did not have to take any responsibilities.
I also have to thank my producers Anil garu and Kishore garu, and Nikhil. Nikhil has actually been a key factor in my career because my career started as an AD in his Veedu Theda and now I've become a Director with his Kirrak Party. What is more commendable is that he gave me this opportunity while he is at the peak of his career even though he promised it to me earlier. I'm grateful that they all believed in me and gave me this project, not because it was my story, but because they thought I could do it. They could have given it to a big name director but they didn't. Now that the film is completed, they are very happy with the final product.
Why did you choose to debut with a remake instead of going for your own script?
When I envisioned my first film I always thought that it would be making my own story come to life. As an Assistant and Associate Director, because I worked on Swamy Ra Ra, Surya vs Surya, and Karthikeya with Nikhil, he expressed that he wanted to work with me. But we couldn't agree on a story. When Nikhil saw Kirrik Party, the Kannada original, he was sure that he wanted to do it in Telugu. Since me and Chandoo Mondeti tend to work in some department or other when it is Nikhil's film, we were also roped in for this project. We had to rewrite the story for Telugu audiences by adapting the Kannada storyline to match our audience's flavour. During that process I would pitch to Nikhil the type of making that would look good for certain scenes and since he quite liked them he suggested that I should direct it myself. When he said that I felt it was the perfect project for my debut; Nikhil is not only a great friend of mine but also a hero with a great market and AK Entertainment as a banner is enviable so there were no second thoughts.
What were the pros and cons of working with two other established Directors in Kirrak Party?
Sudheer Varma worked on the Screenplay while Chandoo worked on Dialogues. Sudheer is very fast in his decision making and quick to react. He will immediately and harshly criticise you if you make a mistake but he will also immediately forget about it. With Chandoo, he is lazy in a way; we have to push him at times to take decisions. And if he has to reprimand, he will do it very calmly. Nikhil says my personality is a combination of the two. The pro is that they are both really cool Directors who don't promote hierarchy in their teams. They've always treated me like a brother so it was great working with them.
How was your experience as an AD?
I entered the film industry with Veedu Theda for which Sudheer was the Chief AD. I also worked on Swamy Ra Ra, Break-up, Karthikeya, Surya Vs Surya, and Premam. During that phase I travelled with Chandoo, Sudheer and Nikhil. For Premam I was the Chief AD for the writing department. Luckily for me whenever I worked with Chandoo he gave me a lot of responsibility. Since I'm well versed in handling the various departments, this didn't really feel like a debut for me.
How long did it take you to debut as a Director?
It's been seven years since I started working in films but before that it took me two years to get into the industry.
Considering that it took you seven years, some would say you've been extremely lucky.
Yes, I do feel like I have struggled less than most. When I entered the film industry there was a man who took me as an AD for a film he was supposed to direct but come 2018 he still hasn't directed a single film. So yes compared to some I've had it easy. But I still feels like it is delayed because I lost an opportunity to debut in 2016.
How was your experience as an AD? We hear about horror stories where people get slapped and so on. Do you have any such stories?
*Laughs* Luckily I don't have those stories. I didn't even have to wait for a couple of hours to meet people and once I started as an AD all my films were a hit. I always had work in my hands. A lot of people in the industry make the mistake where they stop working as an AD after a couple of films and concentrate on writing stories and meeting heroes. I saw a lot of people who lost their circle in the industry that way. Imagine if at one time I am a Chief AD and after that I'm not working with the same Director, there will be someone else who will come into that job and I will be replaced. I will not have the same relationship after a few months. So I had decided early on to keep working till I get the chance to direct. And it worked for me because six months after Premam I got the chance to direct. My struggle was actually when I was working for ITC, not after I came into the industry.
What were you doing before entering Tollywood?
I used to work at ITC once I finished my BTech. I lasted there for a year but I knew the whole time that that was not the profession for me. I always felt that I should work in films but my family would ask me to finish studying, then working, etc., so it was some time before I entered films. Once I made the decision to join films I realised that with no background or relations in industry it would be difficult to go anywhere. That's when I joined the Madhu Film Institute to find more like minded people. Unfortunately during that time there were a lot of strikes which made me idle for almost a year. But then I met Joshi and he got me into Veedu Theda and since then I've been completely busy. Then I got to working on Swamy Ra Ra. That movie turned things around for Nikhil and it was lucky for me that I was part of that project and his hits since. It's the main reason that I, Nikhil, Sudheer and Chandoo were able to work together so well; we've bonded like brothers through these years.
What is your advice for other upcoming Directors?
No one really takes anyone's advice here. *Laughs* I was very planned in my journey. The point is not to waste time once you get here. Of course there is a certain level of luck required but the main thing is to keep working. And in that process more work will come. Someone we know will be someone some day.
What are your future projects?
Before Kirrak Party happened I already had an opportunity with a big banner but we will only know after this movie releases how the future will be. Discussions are going on.
What kind of films do you want to do in the future?
I'm a huge fan of Mani Ratnam, Sukumar and Gautam Menon. They present human emotions in a stylised way. I want to do films like them. In fact when I watched Sukumar's Arya, I was 15-16 years old. During that time I used to write short stories and show them to my Babai for feedback. About a year before Arya came out I had written a story with a similar climax and my Babai criticised me saying, 'what is this ending?!' But when I watched Arya and saw a similar climax, it changed me. It was my turning point when I decided that I would get into films. I was actually a merit student in Pondicherry and was a polytechnic gold medallist. After movies came into my life it changed my focus to excelling in films.
- Maya Nelluri