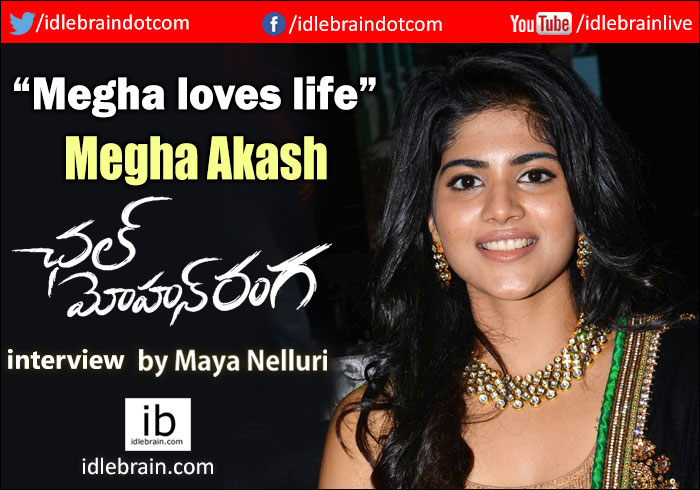 4 April 2018
Hyderabad
Another of Gautham Menon's magnificent finds' Megha Akash is quickly climbing the ranks in Tollywood. She is young, beautiful, talented, and most of all relatable to many of us. There was plenty we wanted to know about Megha so we are glad to hear from her as she awaits her second Telugu release alongside Nithiin – Chal Mohan Ranga.
Tell us about your life leading up to your acting debut Lie.
I've done Visual Communications in college. My mother is an Ad film maker and my father was also in the Ad industry so it was natural for me to be comfortable around such mediums. I was always interested in films and wanted to do films but later on when I interned at an Ad agency myself I quite liked it so I was considering that for a little while. Then Gautham sir spotted me at a famous coffee shop in Chennai where a lot of us used to hang out. He saw me there a couple of times. Editor Anthony, who is my mom's best friend introduced me to Gautham sir so I ended up wishing him for his birthday. After that I got to audition for him. I didn't know what happened because I didn't hear back from him for two months. Later when he did call everything was finalised in just one day!
How did Lie happen?
As I was shooting for Gautham sir's film with Dhanush some of our rushes had come out. That's how the Lie team saw me for the first time. They liked me so called to narrate the script. It all happened pretty quickly and I ended up acting in Lie.
Did you have any formal training in acting?
I trained in Koothupattarai (a famous theatre group in Chennai) for two weeks. There they teach you stage acting, how work on your inhibitions, and they explain expressions. Even after I got chosen for Gautham sir's film they trained me.
Do you find acting easy?
I wouldn't necessarily call it easy. You have to find a balance between acting and overacting. I'm still learning but luckily I'm acting with really experienced people like Nithiin and Dhanush so I've got great co-stars to learn from. I'm also fine asking for help if I need and they are nice enough to help me.
This is your second film in Telugu and it's also with Nithiin. Why is that?
I always had a two film contract with Nithiin so it is not a random occurrence. Of course it is a lot of fun and easy working with him because I've already worked with him in Lie.
Tell us about your role in Chal Mohan Ranga.
I play Megha Subramanyam. She loves to have fun at any cost; she likes to escape from reality, and situations. She also likes to talk to all kinds of people and take them on a ride. Basically she loves life.
Are you anything like the Megha in the movie?
We are kind of similar in many ways. The difference is that she can talk to anyone but I'm like that only with close people. I have a very small circle of people and it's very hard for me to come out that.
How was it shooting for Chal Mohan Ranga?
We shot in the US and Kannur. It was a lot of fun. It was more or less the same team as LIE so all of us got along well.
Tell us about how it was to work with your director Krishna Chaitanya?
Initially we were both too quite so it took us some time to understand each other. But once the ice broke, it was easy sailings. The way he explains the action or pauses is amazing. His action and comic timing is great. If you just look at him, observe, and act, it will come out great. Another unique thing about him is that he does not yell; you will never see him angry. I start panicking if someone yells at me so working with him was great. He would explain everything to me even if I ask him a million times.
Who else really helped you during this journey?
During the shoot of Chal Mohan Ranga Natty sir who is the DOP of the movie was super amazing. He is such a popular DOP so I half expected him to be impatient and yell at me if I make a mistake. But I was totally wrong. He encouraged me every time I came on set. He would tell me that I looked nice or that I acted well. He shot the entire film so well and also showed me so beautifully.
Speaking more generally, my mother manages my work and she travels everywhere with me. I can't stay alone anyway and I find it easier to open up to her. I'm the quite type but I'm clear about what I like and don't like. She was also an Ad filmmaker so a lot of the industry people know me from when I was a child. My father was also at an Ad agency so there were enough and more people to take care of me once I got into films. Luckily I got to work with really amazing people. Even Gautham sir is like family.
What are your expectations for Chal Mohan Ranga?
I hope that people love it and find it as funny as I do. It is a quintessential feel-good film. I've put in a lot of effort for it so I hope that everyone will love the film.
What other projects have you got lined up?
Currently I'm doing a Tamil film and in Telugu I'm listening to scripts. I've got some offers which are in the finalising stages.
- Maya Nelluri