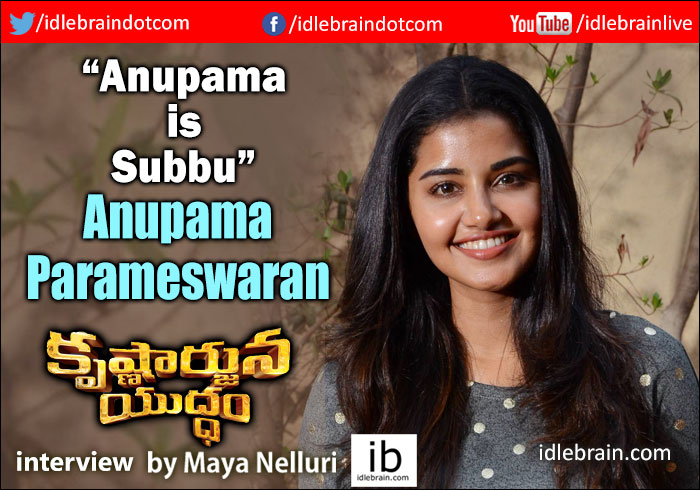 11 April 2018
Hyderabad
We caught up with the beautiful Anupama Parameswaran right as she is in the midst of her promotions for Krishnarjuna Yuddham. In her usual bubbly demeanour she smiles through the interview telling us about her role in the film, her penchant for experimenting with characters and the lessons she's learnt in her short and super successful stint in the film industry.
Let's start by talking about your role in Krishnarjuna Yuddham.
I play Subbalakshmi who is lovingly called Subbu in the film. She is paired with the character Arjun. As for her personality I would say that she is very strong and bold; not an easy kind of girl.
Your look is quite traditional in the film even though it is shot overseas.
Yes, it is traditional in a way. The dressing style is very 'desi' even tough she is in Prague. That is quite a unique aspect of her. I can't say much more because I can't reveal too much before the release. *laughs*
Was it challenging to portray Subbu?
I won't say it was a difficult role like Maha in Vunnadi Okate Zindagi where I had to think so much and work on everything from my body language to attitude. Being Subbu wasn't so challenging because there is a part of me in her. It was still a good experience.
Do you feel like you are being typecast into the more 'traditional girl' type roles?
When the directors approach me they come to me with various types of characters but the movies you've seen me in are the ones that I've chosen. Also, it's not just about the costume of the character; I decide on which roles I take up depending on the attitude of the character and whether I connect to it. Who knows, in the future maybe I will take on more 'modern' characters if I feel connected to them. What I'm trying to say is that the roles you've seen me in was dependent on the director's retirements and of course my choice.
Which type of audience do you feel Krishnarjuna Yuddam will really connect to?
It is designed by our director Gandhi to connect to all audiences. There are both classy and massy aspects to the film. Krishna will definitely be loved by everyone. And I feel that if the film is good everyone gets connected to it.
How was it acting with Nani for the first time?
I learn from everyone I act alongside. It was the same when I acted with Ram, Nithiin or Sharwa. As for working with Nani, his perspective is very unique. Whatever the director narrates, Nani tends to improvise and takes everything to the next level. You never know what expression he will give when and what he will have up his sleeve. And as a co-star, when you feel a little lost or go blind he helps you out.
Tell us about your experience with the director Merlapaka Gandhi.
Gandhi garu tends to make very entertaining films so this is no different. Krishnarjuna Yuddam is filled with entertainment, it is a thriller, it has some suspense and a bit of everything good. In terms of working with him, it is a lot of fun because he is very laid back. Also our shoot was scheduled in Prague for the most part. Since it was an outdoor shoot it was even more fun.
Which of your directors would you like to work with again?
I want to work with all my directors because the characters they gave me where great. Be it Nagavalli in A Aa, Malathi in Kodi, Suma in Premam or Nitya in Shatamanam Bhavati which won the Natiomal award. When I played Maha, it improved me so much as an actor. Karunakaran garu is a very great director to learn from. And as I already mentioned Gandhi garu is a lot of fun to work with. I would say that I'd really love to work with again n again with all my directors because now that I know them it is not only easier to work with them but also so much more fun.
What kind of roles do you want to do in the future?
I'd like to experiment with my characters and movies. Honestly I never expected to do a film like A Aa. When Trivikram garu told me about the story I knew it was role with negative shades and had less screen space but my experimenting side came out when I was deciding. At the end of the day I want to do work where I come home and sleep happily once I'm back from the shoot.
You've done so much in the couple of years since your debut. How have you changed as a person over that time?
I've evolved so much as a person and an actor. It's been a magical journey but there were a lot of ups n downs. There were days when I was thinking what I should do, there were months were I didn't shoot at all because I don't take on any project unless I believe in them. At that point I felt like maybe this isn't for me. Now luckily I've got three films continuously. I think what people don't realise is that with acting there is a lot of hard work involved; there are plenty of sleepless nights, early mornings. But the silver lining is that because I've been through those times I've started adjusting to my situations. Now if someone drops me in the middle of nowhere also I'll survive.
What was the biggest lesson you've learnt from those years?
Whether it is in the film industry or just life in general I feel that the biggest problem for human beings is their tendency to compare. We tend to compare our first chapter with someone's tenth, which doesn't make sense. When you start thinking of just yourself and try to improve yourself there is nothing that will let u down in life; everything will be positive. You just have to be confident in yourself and what is on your plate instead of worrying about others.
Do you have any advice for upcoming actresses?
The key is just to work hard, be professional and don't compare yourself to others. Also I believe that you should be nice to everyone. Don't discriminate because everyone from the director to the spot boy is working for the film and trying to make it the best. Also, don't think too much!
There is a lot of talk right now in the media about the negative experiences of actresses in the industry and also talk of discrimination against Telugu girls. What is your take on it?
In my experience I've not faced any such situations so I can't really comment on it. But of course every coin has two sides so there are good and bad people everywhere. I still believe that everyone is blessed with an intuition which gives us a feeling as to what kind of a person we are dealing with so if you can listen to that voice and stay strong then nothing should affect you. In saying that I do feel sorry for anyone who has had to face such negative situations and I hope good things happen to them. As for the discrimination, if it is there then I hope that things change for the better where everyone can be happy.
What future projects will you be staring in?
After Krishnarjuna Yuddham I have a film with Karunakaran and Sai Dharam Tej. Then there is Hello Guru Prema Kosame. I'm also in discussions for another project which should be announced soon.
That's a lot going on!
*Laughs* Yes, it is a lot of responsibility to do justice to all the projects. I'm not used to juggling so many projects at once so it is a major task for me to wake up every morning and adjust to a new role. I have a lot of respect for the actors who do this on a regular basis. It is no easy task so I really admire those who do it so well.
- Maya Nelluri