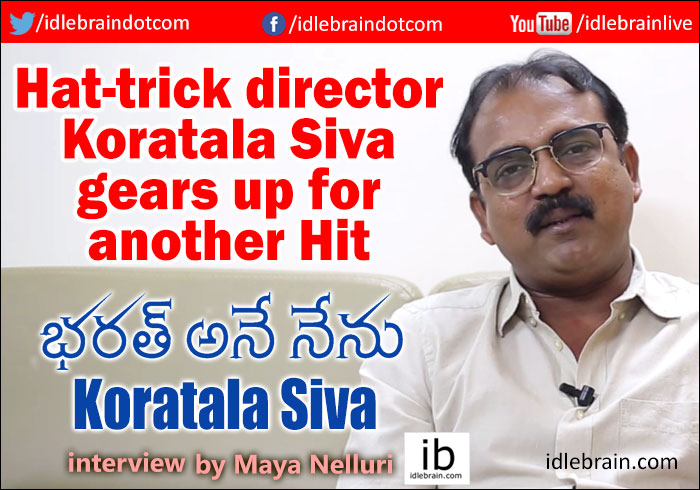 19 April 2018
Hyderabad
Speaking to the super successful director Koratala Siva is in itself inspirational but after hearing him speak of his journey so humbly makes one really take notice of his greatness. His career graph is rare to say the least. His debut film Mirchi became a blockbuster at the box office. What's more, he followed it up with Srimanthudu and Janatha Garage. Now with the hat-trick behind him and Bharat Ane Nenu just about to release, there is a lot of excitement in the air. Audiences will get to see Mahesh Babu as the leader of a state in just a day. And the man who made it come alive on screen – Koratala Siva, made time for us exclusively for this interview. Read on.
Bharat Ane Nenu (BAN) comes after your hat-trick; how do you feel about it?
Each film is a new exam and we have to pass every exam so obviously I'm tensed.
Is there a lot of pressure?
I'd say there are mixed emotions for every film, be it the first like Mirchi or fourth like Bharat Ane Nenu. It's not so much pressure as it is a mix of anticipation, curiosity, and anxiousness. You can see it on my face also. *Laughs*
What do you feel is the secret to your success?
It is always all about the script. You should believe in a script and work keeping in mind the satisfaction of yourself, the actor, and the audience. Sometimes the tastes differ but if we three are all on same page it becomes a blockbuster. That is the toughest part and always a challenge.
What inspired you to take on this subject for BAN?
I've always been interested in politics. In fact I feel that it is not only me but the whole of South India that is interested in it. Even in villages, we will find that political discussions are a norm. In today's time I'd say that the entire India that's interested in politics. It's a common man's topic. I always thought it is an interesting topic to make a film out of. Then when I started to think about which aspect of politics to concentrate on or who the protagonist should be I realised that the role of the Chief Minister garners the most interest because it is the most powerful and striking character. It is also easy to convey the impact to audiences so that's how it started.
You've brought to light other social issues with your previous films, is there a reason you are concentrating on such subjects?
It is actually not my thing to give social messages. I see those points as having equal commercial impact. From my perspective they are very commercial, very interesting, and they could be narrated in a very gripping and intense manner. But I never really looked at them as message oriented films; I always saw them as entertaining and commercial films.
How was your experience working with Mahesh Babu?
I've only worked with stars till now and it's my second time with Mahesh Babu. He is one of the finest actors of this generation. He is a director's actor so it's always a dream come true to work with him. He gives a 100% to everything. Sometimes you will get bored of his perfection but he never will. *Laughs* It's always a pleasure to work with such an actor.
What is your favourite part of BAN?
Generally when one decides on a genre they tend to limit themselves but I always strive for my films to have universal viewership. I am selfish in that way because I want my film to be viewed by the majority of the audience. I try to include enough romance, family drama, etc.; but I do it in a way that doesn't disturb the main theme of the film. That is the best part of this film also.
You started as writer in 2002 with the film Girlfriend, and then went on to write for Bhadra, Munna, Okkadunnadu, Simha, Brindhavanam, and Oosaravelli. We've read that you felt deprived of due credit at that point. Do you still look back and feel that way?
I believe that we should and do evolve every day. At the time of that interview that was my personal feeling. But the truth is that we have to use that experience in a positive way and move on. Also I have to say that it didn't make me suffer. Those experiences drove me and added more fire in me to work hard and do better films. It's all part of the game! There is no success without hard work.
Was it any easier for you because you worked with your cousin Posani Krishna Murali?
Yes certainly; I learnt a lot of things from working with him. Once you are confident about your script, film making becomes much easier. And my writing experience ensured that I was well trained in script writing. As a director knowing script writing is a massive boon.
You debuted as director with Mirchi which would be considered a huge undertaking for even an experienced director; how did it happen in your first go?
The script demands everything. I didn't write it keeping anyone in mind but once the script was done I went and narrated it to the actor and producer who liked it. Then we as a team thought that the script required such an impressive star cast. Since the producer is friend and so was Prabhas it made it slightly easier.
You've only worked with the biggest actors like Prabhas, Mahesh Babu, Jr. NTR. Did you plan your career in that way?
No it wasn't intentional. I feel the need to work with everyone and on various different kind of scripts in the future.
What are you looking forward to?
I need a long break. That's the thing I'm looking forward to right now.
Quick Five:
Favourite destination: My next holiday is to Bhutan. I'm going there for my break because I've heard a lot about it and have wanted to visit it for a long time.
Favourite food: Pappu
Favourite perfume: I'm really not into these things.
Favourite movie in Telugu: Sagara Sangamam
Favourite all time Telugu actor: As a kid I used to have many favourites so I can't just name one. There were the greats like NTR, Krishna, Chiranjeevi and many more.
- Maya Nelluri