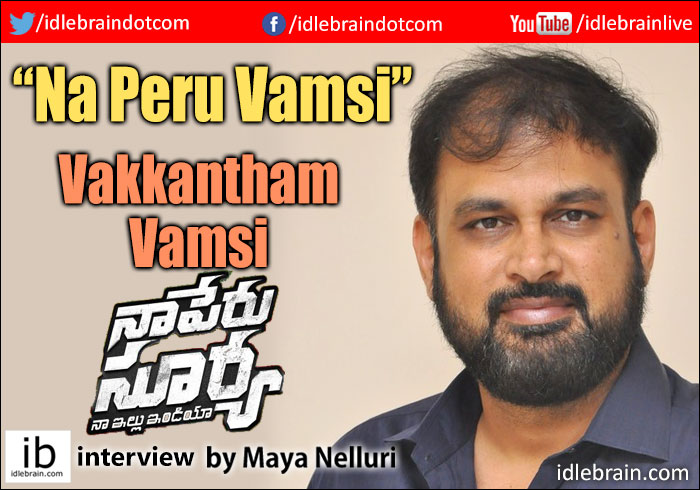 3 May 2018
Hyderabad
There's just something about Vakkantham Vamsi, debut director of Na Peru Surya. He's done it all; started his career as a newsreader; debuted as a hero in the legendary director Dasari's film; wrote blockbusters like Ashok, Kick, Race Gurram; and now he is turning director with one of the biggest releases of the year, with one of the biggest stars of Tollywood – Allu Arjun. Interviewing the man was an experience. One meeting with him and it is evident that he was made to succeed in the film industry, be it because of his passion for cinema, the varied experiences in his life or his innate talent. Now let's get into the interview.
Tell us about your journey in the industry.
I started as a news reader for ETV in 1995 when it was launched. Prior to that, I was studying in Tirupati. At that time I had a lot of interest in cinema and was searching for a route to get into it. That's when I saw a call for newsreaders and decided to apply. I thought it was a good way to get my foot into the door so I applied and got selected. As it turned out I was very successful news reader. That's when I saw another call from Dasari sir where he was looking to do a film with new comers. I applied for that and got selected. That's when I debuted as hero. I simultaneously did a few serials as well but pretty soon I was bored with what I was doing. I figured that this is not my cup of tea, I wasn't enjoying it, so I was brainstorming other ways that I could still be a part of the industry. My father is a writer so had that instinct in me. And I always had a habit of narrating the films I saw to people and they would tell me that I was a good narrator. Then I thought why not try writing. And of course new ventures always give us a lot of kick so I started writing and people started liking my work. I became very serious about my career in writing. Still, it took a lot of time to get into writing professionally. My first film as the main writer was Ashok. Even during that time I was interested in direction but thought that I should venture into directing only after I achieve success as a writer. I did not want people to think that I got into writing because I couldn't make it as an actor and now I'm getting into direction because it didn't work as a writer. After that I was part of blockbusters like Kick, Race Gurram, Yevadu, Temper and so on; so it's actually been a while since I was working towards becoming a director.
When did you decide to take the next step towards direction?
Jr.NTR was the first person to encourage me to get into direction; I had worked on a few of his films by then. When he suggested it we started working on a story. As days went by, it was evident that we were both not on the same page about the story. We agreed that we will work on something else later and parted on great terms. By then I decided that I will concentrate on direction. Bujji, the producer of our film, then asked me if I have a story for Bunny. I said that I did and narrated it to him. I wasn't sure then if he would like it but he instantly loved the story and that's how it started.
Why did you choose this story for your debut?
Actually for Jr.NTR this was not the story we had in mind. It was a completely different story. I definitely want to do the same with Jr.NTR someday after we work out the kinks because I wrote that story keeping only him in mind. *Smiles* Coming back to Na Peru Surya, I used to work on multiple lines when was writing. And when Bujji asked me, I looked at my data bank and figured that this would be a good story for my first film. It has so many elements which makes it the perfect project for my debut.
This is a very large undertaking for a debut film. How was your experience working on it?
Before we started shooting even I thought the same. This is a big project but the kind of support I received made things easier. Bunny and the production house were very supportive. Direction is all about managing people. When you have a good script in your hands and the crew is very positive it makes it a great experience. Everyone who worked on the film was wholeheartedly invested in it so everything went very smoothly.
How was your experience working with Allu Arjun?
*Laughs* What do you expect me to say? It was the best part of the experience. I feel blessed. For any film maker when they direct for the first time, they will have so many thoughts that they want to pour into the film to show all their capabilities. Even I had many thoughts, particularly for this film. And because of the script and scope of the film, it was a different ball game all together. Even Allu Arjun hadn't done this type of a role before so he had to prepare mentally and physically. Since his role is of a soldier, the look of Surya was very important. He worked very hard to get that look. And to portray the emotions of Surya he had to prepare mentally also. When he came on sets all I could see was Surya!
You've been a hero yourself. Did that experience help you in any way while directing?
Before I started working on the film I didn't think so but during the shoot when the actors said that I made them perform well, I started to reflect and thought that maybe my communication is strong when I explain the characters, back stories, emotions and so forth because I was myself on the receiving end previously. Maybe my explanation allows a deeper understanding which translates into them giving their best. Take Bunny for example, he is a great actor already but when you watch this film you will find a new Bunny altogether. This Bunny maybe new to the audience but it always existed within him. It's just that the other scripts may not have given him the opportunity to bring it out. I should actually thank other directors for leaving this space to me.
Which do you like more – directing, writing, acting, or news-reading?
I've always loved writing. Now I find that direction is so exciting. I feel that the writer and director in me are both complimenting each other.
What does the future hold for you after Na Peru Surya?
I'm a positive dreamer. The day I decided to pick this script for my first film, I did so because I thought this will make my future. Today I believe in that even more because now that I see the film I can safely say that I translated what was in my mind and then on paper onto the screen aptly. I strongly believe that people will have a very good experience when watching the film. They will watch a new idea with commercial elements and also the right sensibilities. It is a sensible commercial film. I feel that the audience will come out of the theatre with a lot to take home. And I'm sure that this will make me and Bunny proud. To say that this is our film, we did this! At the same time I believe I'm a commercial writer and I did not leave that behind while making this film so it should be a commercial success. I wish that it will do wonders at the box office. As for future projects nothing is concrete as yet. I'm waiting for release, everything depends on result.
- Maya Nelluri