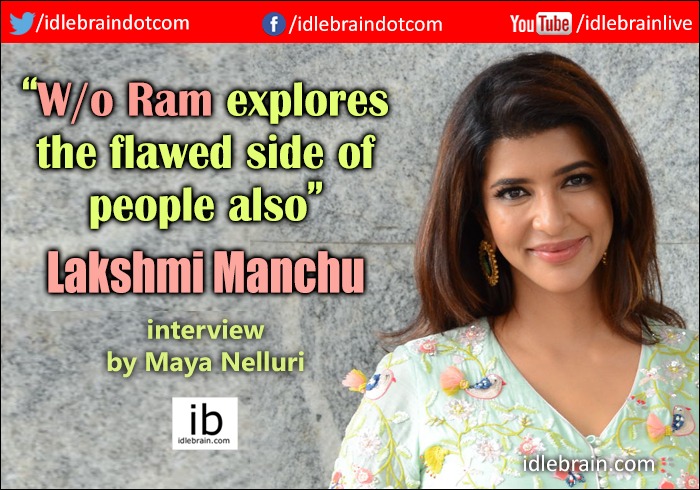 19 June 2018
Hyderabad
Few women truly manage to make a mark for themselves in the film industry where men are found in hoards and women are few and far between, on any shoot location. Times are changing, yes! But there is still much to be achieved in terms of equalling the playing field. Lakshmi Manchu, an award winning actress, producer, television show host, and working mother, stands out as the flag bearer to the cause. This strong woman took on projects to empower others and made it a point to encourage females all around her in every way possible. Today she is the leading lady of a gripping drama centred on a female protagonist. The film takes on several taboo topics such as female desire and homosexual relationships apart from solving a riveting murder mystery. We speak to the multi-faceted Lakshmi Manchu about her upcoming thriller W/O Ram in this exclusive interview. Read on to get inspired.
You have been an actor, producer, and television host. Which role is your favourite and which is your least favourite?
Actor! That's my favourite because as an actor I get to do my job and let others worry about the rest. TV shows are on the other end of the spectrum. There is a lot of work involved with every episode but there is very little time and the budgets are bad. Of course TV shows can be nice and easy but everything that came my way has required a herculean effort.
You've won multiple Nandi, Filmfare, and Siima awards for your acting. How do you go about picking such award winning roles?
As my director says, "You don't pick your film. The film picks you." *Smiles* There is no set formula but I'm very particular about the types of roles I do. I want to make sure the roles are interesting and challenging. Apart from that it's important to me that I feel like no one else will do justice to it like I would.
How did W/O Ram happen?
Vijay, the director, came up with the story and blew my mind away so I said OK!
Tell us about your role in the film.
Every character has its own journey. To be Deeksha I had to sober down a lot and find the struggle within myself which was quite painful. It is one of the most difficult roles I've ever done. Deeksha is a real person that could exist among us so she had to be portrayed as real as possible.
What about Deeksha will connect with the audience?
I don't think it's any one part of her that will connect with the audience. She is every woman so everyone across the globe will connect to her as a human being.
There was an intimate scene from the film which was leaked. What was it about?
That scene is about the intimacy between two women; one of them is Deeksha. There were several reasons to have that scene but one of the main reasons is that Deeksha's character was written as close to reality as possible. We didn't create a glorified woman. Generally in Indian films we create characters that are flawless but humans are flawed beings. In W/O Ram we explored the flawed side of people as well. We are less hypocritical in the representation of women and their needs. Through Deeksha we are trying to break the existing stereotypes and norms in our heads.
Tell us about the web journals of Deeksha.
Earlier audiences used to come to theatres by word-of-mouth or regular advertising but it is no longer the case. A film's fate changes over a weekend so it is important to keep up with the times and create genuine interest and intrigue in the audience's mind for a film. For W/O Ram we did web journals which reveal the state of Deeksha's mind and take us through her journey. These journals are not in the film but allow the audience to connect to Deeksha even before the release.
Be it Deeksha in W/O Ram or your previous roles, you seem to take on serious roles. Do you want to do other types of roles too?
I do! Mrs. Subbalakshmi, my upcoming Netflix series is an outright comedy.
You've taken a bit of a gap prior to W/O Ram. Was it intentional?
*Laughs* Not intentional! I was getting bad scripts which I didn't want to do. People are also always asking me why I don't do mainstream movies. When did I say I won't? In fact W/O Ram is a mainstream film but in its own league.
Your little girl is growing up quick. How do you manage being a working mother?
It's insane. I feel like a chicken with her head cut off running around. *Laughs* But it's important for me to be working. I choose to work.
Is it difficult being a mother in the film industry? Is there any discrimination?
No! I have so many more people to take care of my child on set so I think it's easier for actors. I don't know how it for others but I don't encourage any discrimination in my working environment. Take this room for example. It has more women than men, meaning there are more women working around me than men. *Laughs* Honestly, without female energy there's no fun.
What drove you to do your latest TV shows Memu Saitam and Maharani?
Memu Saitam I've continued to do because of the kind of joy it brought me the first time around. It is a life altering show. Every episode is life changing for me! As for Maharani, I was approached by the channel and I accepted it because I felt that it's an empowering show for women. I love doing anything that is inspiring and brings joy to people; Maharani was all of that. Also, having ten female TV stars at a time means that many more will connect to the show.
You've also acted in Hollywood. Do you intend to go back to it?
Sign me up! *Laughs* Why wouldn't I? As an artist you are a gypsy. You cannot possess anything that you cannot afford to lose because then you become trapped. If I'm given a chance to perform on Broadway, I will drop everything to go do it. It is very important to giving yourself that experience. Most people get attached to materialistic things. For example here we have staff, cars, and chauffeurs. But I am happy to go anywhere, travel by any means, and work as required if my work calls for it. I'm attached to my work so wherever that is I'm ready to go there.
Tell us about your future projects.
Since the beginning of 2018 I've produced two of the three TV shows I did. I've acted in and produced a web-series. I've got W/O Ram coming out now and another Tamil film which is in the pipeline for release. Imagine one person doing all that. It has been non-stop for me so let me take a breather first.

- Maya Nelluri