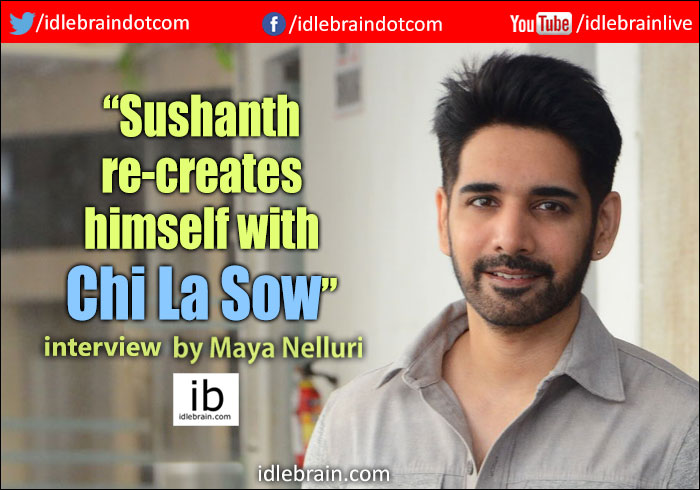 1 August 2018
Hyderabad
Rare is a man like our interviewee. Humble, handsome, intellectual, unconventional, and so much more. Now Sushanth is all set to re-create himself with the content-oriented, concept-based, new-age film – Chi La Sow. In this freewheeling interview the usually reserved simple soul opens up to us about everything from making fun of himself in the Gattiga Kodata campaign to taking his intuitions and decisions seriously. He gleams as he talks about the reactions his family had towards the film and lets us into his personal life – is there a special lady in his life? Read on to find out more.
What prompted you to take a film like Chi La Sow which is much different to your usual ammo?
I want to find my own way. Some people find it earlier and some later. Now that I've realised I have to go with my gut, I'm making a start with Chi La Sow. I've realised that earlier I let people influence me; I was dependent on other's confidence in a story. My last film didn't do well so it dawned on me that taking feedback is good but it is important to get the right feedback. My precautionary net was other's opinions but since that also wasn't working I figured why not be completely independent and responsible for my movie instead; let me take the responsibility, whether the result is good or bad. For this film I was also particular that neither I nor Annapurna Studios produce. I wanted the film to talk and not for it to be made on obligations. I told Rahul Ravindran also the same thing when he approached me. He said that he came to me as an actor and not a producer so we took it from there.
How did you and Rahul Ravindran connect?
It just happened by chance. I met him at Chay-Sam's engagement and he asked me what I was doing next. I told him I didn't find any compelling out-of-the-box scripts. Even though I worked on different scripts in Adda and Current, they were still packaged as routine formula films. This time around I wanted to do a completely story based film. When Rahul called to narrate I was surprised. He confessed that direction has always been his dream. The first script he narrated to me went for two hours and I was immediately convinced by his sensibilities. Its genre was a bit more serious so I asked for something a bit more light hearted and relatable. That's when he told me the first five minutes of Chi La Sow. It was much more what I was looking for. He then wanted to narrate it first to Sam and Chay to get their opinions and then came back to me. When he told me the entire story I was hooked from start to end. As soon as he finished he said, 'Are you doing this film?' I thought for a moment and said let's do it!
How was it working with him as a director?
Rahul had absolute clarity in regards to the story and scenes. I wasn't worried about it. Although he hadn't worked in a direction department earlier he learnt a lot by acting with directors like Koratala Siva garu and Hanu. In the end we both supported each other. We discussed who would be good for the project. Sukumaran sir coming on board as the DOP was key for us because he is very experienced. He's done big and small films so it was lucky for us that he connected to Chi La Sow. His experience combined with Rahul's script made us feel safe that the output will turn out good. He gave a lot of inputs. Actually the first time he saw me he said let's try without makeup for this film which is what we did. He also suggested that I wear shorts to make it much more natural. I was hesitant at first and even jokingly complained to Rahul that he didn't tell me about this part when he narrated to me. *Laughs*
As you mentioned you looked outside for producers for this film. Tell us about that journey.
We went to different producers initially but it didn't work out. Then my friend Harish introduced me to Jashwant who ended up producing it. I told him that I really liked the script, it can be done on a budget, and that it had a rollercoaster of emotions. Rahul then gave Bharath, also our producer, a two hour narration over Skype because he was in the US. After that initial phase the rest was very smooth sailing. Once the shoot was done and we were thinking of releasing, Sam saw it and told Chay about it. He in turn told Nag sir who also liked it. He called my mom even before me to say that the movie is very good and that I'm doing something that suits me this time. *Smiles*
That's when my attempt to do something on my own came full circle with Nag sir and Chay deciding to release it. To me this proves that it's not just about family. This was completely about the film and the content. Its Chay's first stint as producer so he is quite hands on. We were always very close but this is a professional working relationship where he is on top of every aspect including promotions. Nag sir also suggested few things which enhanced the film.
What are your expectations for the film?
I can promise you that it is not a routine movie. The entire film takes place within a 24 hour period and you will leave the theatre with a smile. Rahul has come up with a very natural and relatable story whether you are a single guy, single girl or a family unit. We also had a couple of film screenings where Chay even suggested that we give them questionnaires. We ended up making a few small changes with that feedback. So essentially we did the best that we could so now the film's fate is in the audiences' hands.
I do have to say that this project has given me great confidence to do something on my own in the future as well. I've realised that the more independent I am the more respect and support I will get. I'm definitely thankful to Rahul for bringing this story to me. He fortunately pitched it to me right as I was looking for something different. I hope that more directors and writers will come to me with such scripts.
This film is also releasing overseas in a big way.
Yes, my first two films didn't release in the US. After that they did but in a very small way. For Chi La Sow we have a lot of theaters the US and in other overseas markets. Actually when we first thought of this film we all felt that it will work well in overseas. I just have one request to the audiences – watch this as a fresh film, and don't keep my old films in mind when you go! *Laughs*
Chi La Sow seems like it's all about family pressure to get hitched. Do you have any such pressures from your own family?
*Laughs* Fortunately no! I think long back my granddad asked me, 'eppudu?' I said, 'time undi kada thatha. Let me find my place.' He explained that, 'career has nothing to do with it but in our family there is no such thing as forcing kids so it's your wish.' No one's forced anyone to get married in our family. I'm lucky in that sense but I've seen a lot of my friends go through it so I know how it is.
You are one of the most eligible bachelors in T-town right now. Who is your lucky lady?
I don't know how eligible I am. *Laughs* But I'm definitely single. I'm not even being diplomatic. I'm enjoying this phase of life and I don't want to plan everything in life. I want to take it as it comes.
Do you have any specifications for the perfect girl?
There is no perfect girl or boy. That much I've learnt from my friends and others. Obviously it's a beautiful thing to find love before or after marriage but there's definitely a lot of compromise and compassion involved. I'm practical enough to know that love as pure as soul mates is rare and that relationships take a lot of work. There is no such thing as a perfectly ever after!
Tell us about the Gattiga Kodata campaign.
Someone not long ago made up a fake poster for Gattiga Kodata with my photo and a lot of fake details. It suddenly went viral. That's right when I was working to let people know that I wanted to do more concept-oriented, sensible films. There was a lot of commotion which eventually blew over. Then I had an idea during one of our marketing meetings that we could capitalise on the Gattiga Kodata viral fame to promote Chi La Sow. I said let me make fun of myself and bring out whatever opinions people have about me so that I can clearly tell people that I'm focusing on completely different films from now. Chay and the team agreed that it was a good idea so we put it out that Gattiga Kodata was releasing on 22nd without any particular month. Then everyone who knew it was a prank started bombarding me about their disappointment of it turning out to be true and so forth. When 22nd came around everyone had a good laugh and I think they got the gist that I'm looking for content-oriented films and that Chi La Sow is mystep in that direction. *Laughs* I have to say thank you to who ever created that poster!
Did you feel a lot of pressure growing up to act or live up to any standard as you are from the celebrated Akkineni family?
Not at all. From the outside perspective it's almost a given that we will get into films but for everyone it was their own decision. No one asked me or any of my cousins to get into films. I was studying engineering in the University of Illinois which is ranked amongst the top engineering schools. About three-quarters of the way into the course I figured I wasn't interested in it and that acting was my call. Then I told my parents and then my granddad and uncle. They said finish your education and prove to us that you are serious. It was a struggle to finish but I got my certificate and came home with the degree. Then my mom said if you come to India you will never go back so try out working for some time. I ended up at the campus interview, got a job, worked for four months with good money, and then knew for sure that I wasn't happy doing that and that I had to act whether it is easy or not. And it has actually been difficult. It's not been as easy or smooth. But I've never complained because it was my choice. It's been a lot of lessons, in life, not just cinema. The past years have taught me a lot of things. I was also an introvert so it has opened me up to what I am today. I'm grateful to cinema for that.
Were there times when you felt it was too difficult?
I just couldn't give up. I've often come across the saying – you might be very close to your goal so don't give up! I feel like Chi La Sow is that for me. The film is yet to release but a lot of people have given us positive feedback. I feel that to succeed in any field our decision and conviction have to be very strong. Over the years some said, 'Why don't you try something else?' It's good to be practical but this is all I wanted to do. I love cinema and filmmaking as a whole. I like the process of filmmaking, I like sitting with the music director, and looking after the post production crafts.
How do you manage to stay so grounded?
*Laughs* I'm not a huge star who has to stay grounded but the struggle helped me. Also everyone in my family is grounded. Because of my granddad we grew up with a superstar enigma. When you've seen that and he was so humble, what can we achieve and show off about? It's actually never even crossed my mind, probably because we have so many stars at home.
Any future projects?
I've heard an interesting script but haven't signed anything yet. After the release I'll sit on that. I hope that people will watch Chi La Sow and think that I'm ready to take on more such stories.

- Maya Nelluri