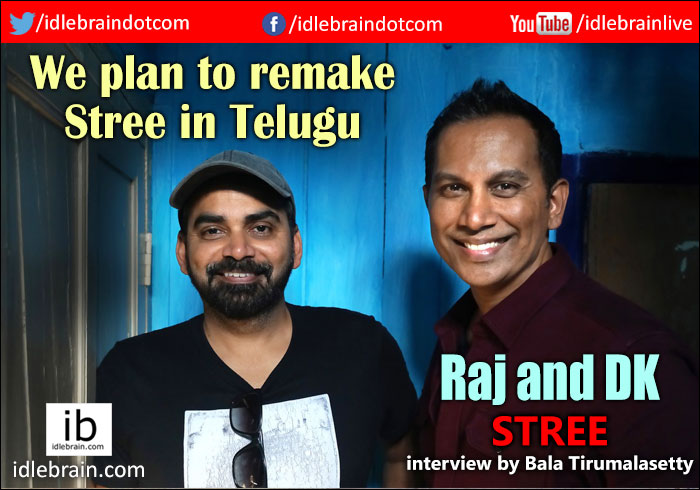 6 September 2018
Hyderabad
Stree, which released last weekend, is turning out to be the smash hit of the year in bollywood. Armed with wide critical acclaim, and loved by audiences all over from single screens to multiplexes. The film has earned an estimated 50 crore net box office in just 6 days and is all set to earn the super hit tag!

The creators of the film, Raj Nidimoru and Krishna DK, popularly known as Raj & DK — born and raised in Andhra Pradesh (Tirupati and Chittoor respectively) write, direct and produce their films jointly.

Raj & DK are emerging as the masters of unexpected and quirky comedies. Their stylish films combine elements of comedy and drama and often centre on unique characters and unexpected plots. Their wacky sense of humor is apparent for everyone to see in Go Goa Gone, Shor In The City and 99.

They speak to us about their films, future projects and plans to make a Telugu film.
The 'O Stree Repu Raa' concept was a popular belief in early 80s. Did you have any personal insight into that time that inspired you? How did the idea come up?
In our school days, people used to write 'O Stree Repu Raa' on their walls in many villages around Tirupati. The belief was, there was a lady ghost who would come by, read the message, oblige to not enter into the house and come back next day. No one knew why the ghost was coming, what is it that she wants. The phenomenon of a ghost being so dumb and people believing it, was so absurd and funny to us. We decided to take this idea further, and find a unique perspective to it. With the Stree now going after men, and men being afraid to go out in the night etc.. a sort of gender-reversal. We wanted to be on point and relevant in some way. That is how the legend of Stree was born.

Although a different genre, both Go Goa Gone and Stree are horror and comedy mixed in. Pulling them together is not an easy task, how do you guys do it?
GGG was a slacker comedy and yes both movies combine fear and fun. It is a thin fine line you can't cross when you make this type of a story, you don't want a spoofy story, you want this to be a real fear. The characters in the film are really scared, but as an audience you are both scared and laughing. It is a fine balance, any imbalance and it would end up becoming a silly movie.

The place you shot Stree looks very authentic? What is that place and how did you choose it?
Our inspiration was always where we grew up. We would have loved to shoot in and around Tirupati-Chandragiri border. But logistically we weren't able to. But we were very certain we had to transplant Stree into a village that reflects a similar background. Chanderi, is a town of historical importance in the state of Madhya Pradesh. And is also the birthplace of the famous Chanderi saree. Our amazing Production team helped us nail down a few options and we ended up picking Chanderi and Bhopal as our shooting locations.

Music by Sachin Jigar is outstanding. Why didn't you place all songs during the plot?
Music is a strong part of all our films. For example, "Saibo" from Shor in the city remains a much loved song. We have been collaborating with Sachin-Jiagr since our very first film. But we are not the traditional Bollywood song and dance kind of filmmakers. We don't believe in having songs just for the sake of having songs. We feel song and dance sometimes impede the pace of the story. Our craft lies in constructing screenplays, which do not need a crutch in the form of a song and dance. In Stree we have used songs without taking away from the narrative and intense storytelling. We mainly used the songs for promotions

What are you expecting 'Stree' total box office to be?
(Laughs). We have grossed 50 cr net at the box office in 6 days. This is one of the biggest openings for a small budget movie and it looks like it is going to be the best ROI (budget Vs Net collections) movie too. We are ecstatic and celebrating. 50 is unbelievable for us. The film has had a profound impact on the critics and the audience. We keep hearing how people want to see the film again and again. So, we are cautiously optimistic about where this goes (laugh).

Do you have any plans to make Stree in other languages, especially in Telugu?
We would love to remake it in Telugu. Earlier we even had plans to make it in Telugu first and then Hindi. But that somehow it didn't work out. But now with this crazy success of Stree in Hindi, we are looking forward to remaking it in Telugu soon.

What is your current major project and what are your future projects?
Video on demand is the future of entertainment. Amazon Studios is one of the frontrunners in the digital video streaming service. We are currently producing an Amazon Original series called 'A Family Man' starring Manoj Bajpayee, Priyamani and many actors across various regional film industries. We are also in the midst of writing the sequel to Go Goa Gone which will go on floors early next year. We are also in talks for directing a Telugu movie.

Being Telugu guys, you haven't made any Telugu movie yet. Any specific reason?
We have always wanted to make Telugu movies. In fact, in the beginning of our career we tried really hard to make a Telugu film. But as they say man proposes God disposes. Bollywood turned out to be easier than Tollywood (laughs). Our roots lie in Telugu, we speak in Telugu, all our discussions on set are in Telugu. In our hearts we are Telugu people, who grew up enjoying Telugu movies and we look forward to make Telugu movies sooner than later.

After the Super Hit verdict of Stree, how would your brand of movie making shape up going forward?
We don't do different movies for the sake of being different. But this is just how we are, out of the box. It feels good to be accepted. There is a sense of homecoming. The success of Stree, is very encouraging. It gives us strength and motivation to make our kind of unique and high concept films and continue to entertain the audiences.

- Bala Tirumalasetty