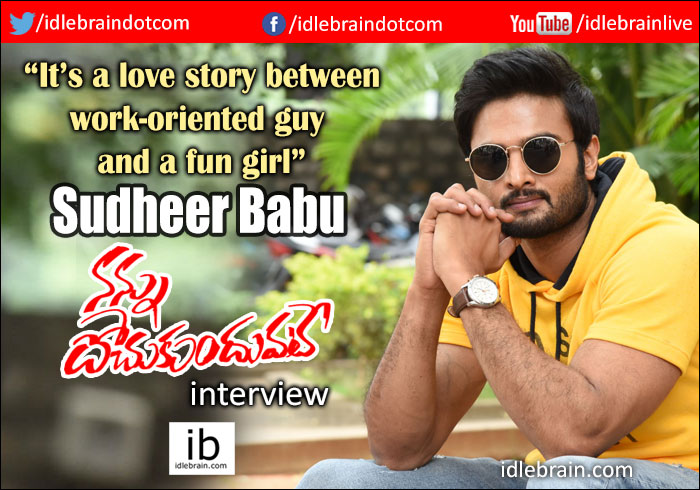 20 September 2018
Hyderabad
It's a slow and steady race for Sudheer Babu. He has been consistently working on decent scripts and made sure that there is something appreciable in most of his films. His last film Sammohanam has everybody about his performance. Idlebrain.com meets Sudheer Babu who is playing two roles (hero and producer) for an exclusive interview. Here are excerpts -
You have done nine films as main lead in positive or negative roles prior to Nannu Dochukunduvate. Except for Aadu Magadura Bujji and Mosagallaki Mosagadu, all other films have decent content?
Yes. But, Mosagallaku Mosagadu is film that relies on variety narration and style quotient. I feel that MM was not promoted well enough and it didn't get it's due. Aadu Magadura Bujji is a film I thought would give me a changeover and it didn't work.
I have learned from mistakes done by people around me. Fortunately, I can survive even if I don't earn from films as I have other lines of business. Hence, I made a conscious decision of accepting scripts only if I like them. I have learned to be patient and decided not to aim too high.
Prior to Prema Katha Chitram, director Maruthi has offered me a few hero oriented stories. He told me another subject with fights and dance just a week before Prema Katha Chitram went to the floors. I have unofficially invested in my debut film SMS. I realised that you need big budget to do a commercial film. With a small budget, it's always good to go with concept films. That's why I went ahead with Prema Katha Chitram. It turned out to be the right choice at that point of time.
Things started looking up from Bhaagi
A big production house from Bollywood searched for a south Indian actor and selected me for the big budgeted film Bhaagi as the villain. They didn't know my links with the family of the superstar prior to casting. I was purely selected on merit.
I started getting respect as an actor after I did Bhaagi movie. People generally think that it's easy for the actors who come from the families of established stars. But, there is a bit of negativity on us because they think that we are entering industry without any qualification. The bollywood offer made audiences realise that I am good on my own.
Sammohanam is my best work so far
My work in Sammohanam film has been recognised and appreciated by everybody. But it's not a sudden change. I had been learning the ropes for a while and a natural and classy character in Sammohanam helped me in getting appreciation. I should thank Mohana Krishna Indraganti for penning such a beautiful character. He has decided to cast me in that film after watching my performance in a sentimental scene of Shamanthakamani.
What the need to become a producer?
I am inquisitive about all crafts of filmmaking and I learn from every film about production. Most of the directors I have worked with are either 1 or 2 films old (expect for Mohana Krishna Indraganti). Since I have got a decent market, I decided to promote talent by producing films. Debutant director RS Naidu has made a few short films and I am impressed with his work.
What is so special about Nannu Dochukunduvate?
Nannu Dochukunduvate is a romantic comedy set in urbane backdrop. I play the role of a serious guy whose life is consumed with work. Nabha plays the role of a cheerful girl who enjoys every moment in life. Both these characters are poles apart. This film has some realistic characters. Sammohanam's main story is about a star heroine falling in love with a common man. Nannu Dochukunduvate is way more realistic. There is a lot of Telugu sensibility and Teluguness in Nannu Dochukunduvate though it's a city based romcom. That's the reason why we have chosen a presine and poetic title for this film.
How is the business of the film?
It's solid. I haven't sold a couple of areas and kept them for myself as I am pretty confident. I am risk-free now.
What are your future ventures?

Veera Bhoga Vasantha Rayalu: This movie is releasing on 5 October. It has a new concept for Telugu film industry. It has Christopher Nolan kind of script.
Puli Vasu film: My next film is going to be directed by Puli Vasu who has done a lot of TV serials. Generally, there is a perception that it's risky to hire a TV serial director for a feature film. I think Puli Vasu is an exception. I would be taking a risk if I don't hire him. I play an energetic and very native role in that movie. Mehreen plays female lead.
Pullela Gopichand biopic: This film will be directed by Praveen Sattaru and produced by Vikram Malhotra (Abundantia Entertainment) who produced bollywood films like Queen, Airlift and Baby. This film is expected to be launched in January 2019. There had been successful sportsmen and successful coaches. But, we don't often come across people who are successful as sportsperson and coach. He has made Hyderabad an international hub for badminton training. I had gone through training for this biopic and you can see some influence of it in my performance in Sammohanam. I will be going through rigorous physical transformation through innovative techniques. I will discuss about them in detail at the right time.