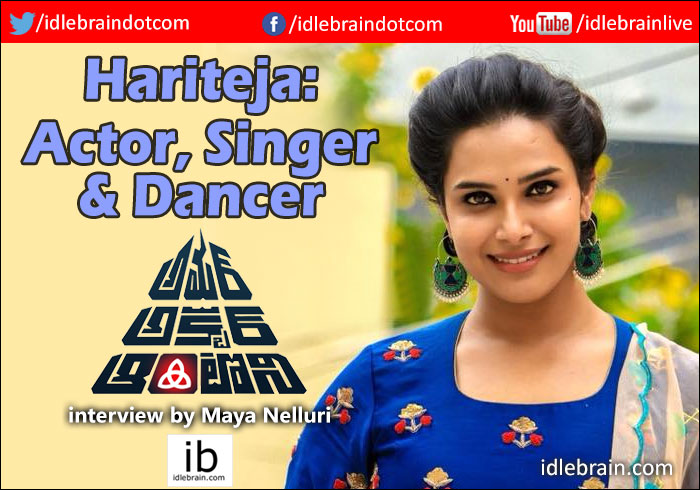 15 November 2018
Hyderabad
Hariteja, best known for her Big Boss triumph and acting in many hit films like A Aa, now turns playback singer with Amar Akbar Antony. She is a woman with multiple talents as we've come to know through this interview. Apart from being an appreciated actor, she is a trained singer and dancer with dreams of excelling in all fields. Read on to find out more.

How did you turn playback singer?
Although this is my debut song I've trained as a Karnatic singer since my childhood. Most people are not aware that my mother and uncle (mother's elder brother) own a music institute in Bangalore. More than 2-300 people used to sit in our home in batches and sing every day. I would hear them while sleeping, eating, studying! I got into music through that. From my childhood I had an immense love for it. I also did my diploma in music. Before coming into the industry I wanted to be a singer and a dancer. I'm also a trained Kuchupudi dancer. For dance one needs to get the rhythm and understand music so they are interrelated. Even after acting people used to tell me to try playback singing so would say let's see how destiny plays out. Suddenly one day when I went to the US with music director Thaman for a show, a female singer was not able to perform. In that position some of my friends told him that I am a good singer so I should join the team in her place. When they asked me I said I'd love to join. It was a massive platform with many big names like Chiranjeevi garu. I sang 2-3 songs but right after the first song Thaman told me that he never knew I was such a beautiful singer. He also said that he will make me sing one day. Usually people say things in passing so I didn't expect him to actually call on me for it. Suddenly when I posted a video of me singing the Penimiti song from Aravinda Sametha on Instagram a lot of people including Thaman saw it. He called after that and said tomorrow we will record a song for Raviteja's movie. I was elated and called up my family. I was also a little panicked but my family assured me that I have the music sense necessary so there is nothing to worry about. Before me two to three professional singers sang the same song which is Ileana's introduction song; it required a lot of energy. When the team sent the file to Thaman he said he is very happy with my version and finalised it.

Will you continue to focus on playback singing?
If I do get a chance then I'd love to sing again but have to learn a lot. I have to start music classes again. There are a lot more professional singers already in the industry so I can't just walk in. I'll learn professionally again because I was in Inter when I last trained; there is a very big gap so I lost the grip I used to have. If I'm getting into it professionally I want to do my best and practice more. Actually after listening to the song from Amar Akbar Antony two to three big directors told me that they will give me a chance. It was my childhood dream to be a playback singer so it's very exciting for me to do this.

Will you continue to act in the future?
I am basically an actress. I never learnt acting but it is a gift that just happened. People loved and accepted me so I'd never come out of it. My stress busters were dancing and singing so this extra opportunity is a bonus. When even your stress-busting activity becomes a career it's great. But acting will always be my first priority.

How did A Aa change your profile as an actress?
My growth has been like a caterpillar. I've struggled so much to come to this position. It's taken time but then big things always take time. I'm practical and I believe in hard-work and talent above everything. After A Aa happened people were telling me that I'll be very popular and busy but I thought in my mind that I will be happy regardless of the outcome. I'm grateful that it changed my life and acting career. So many people got to know about me from that film. And a year later Big Boss happened. It was a major step forward for my life. Still my career has never moved at lightening speed. I believe in small silent success rather than an overnight thing. Even today I have so much to do and so many steps to take in the future. I dream of opening my own dance institute someday so probably that will also happen in time. After A Aa the actor in me came out, through Big Boss my originality came out, now the singer has come out. I'm happy that everything's happening.

How was your experience of Big Boss?
It changed a lot for me. It moved me from Secunderabad to Jubilee Hills, from very normal movies to big movies. It's changed me in terms of money, love, the brands I'm associated with, everything!

How did Big Boss happen?
Big Boss actually happened suddenly when I was packing my bags for Lonavla. Just then I had signed Raja the Great and there was a schedule gap of three weeks. I didn't even tell them I was going because I was sure I'll be back by the third week. After the third week I got to know the game and started enjoying it and being myself. Still on the inside I was thinking why am I not getting eliminated. *Laughs* The Harikada episode and others totally changed my life. People loved the original me through those. When people love the character you play it is different but for them to love your personal character is great. I never imagined that I'd be in the finals or the top three. I ended up coming out after 71 days. I immediately called Anil Ravipudi our director and apologised. He said, "you dint even inform!" *Laughs* 2018 was a great year for me, a golden year. Even Gunna Gunna Mamidi happened just after Big Boss and it was a big hit.

How has it been working after marriage?
It's only been three years since my marriage. I started acting much before that. Then I had my mom dad to support me. After I got married I thought I might have to take a break but on the 6th or 7th day after the wedding I got a chance in Trivikram sir's A Aa. My in-laws and my husband told me not to take a break and pushed me to continue acting. For two years after that ours was a long distance relationship and I've had immense support from my in-laws and husband.

Have you experienced any #metoo moments?
Forget about the industry or being a celebrity; every girl goes through #metoo moments in college, school, work, everywhere. I want to create an awareness of that and I pray that no one should go through it. I believe that we have to make our girls strong and powerful so that when they do come across such instances they will immediately put an end to it. I want to encourage girls to give an answer right away. Say no! I went through stages earlier in my life where such instances caused me a lot of pain; I even thought of quitting films and going back to other things but running out of the situation is not the answer. I stood my ground and now no guy will try anything with me because they know how I will react. In every situation someone won't be there to support you so we should empower ourselves as women.
- Maya Nelluri