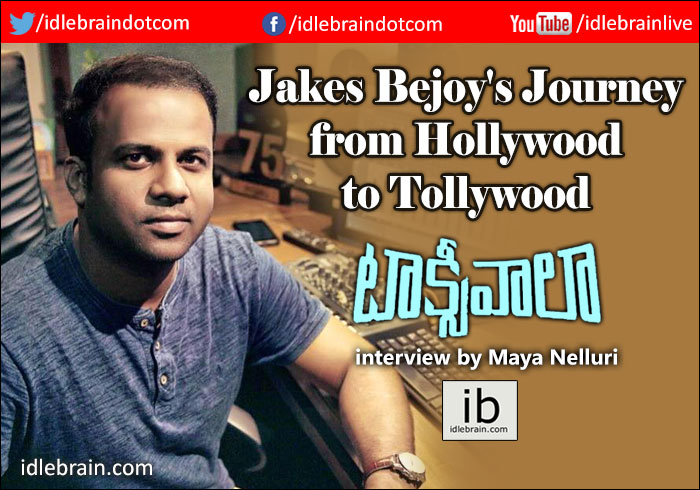 20 November 2018
Hyderabad
Taxiwala's runaway hit put a spotlight squarely on its team. And its song Maate Vinadhuga highlighted the films talented Music Director Jakes Bejoy. The man already made a name for himself in the Tamil and Malayalam industries, and is now elated to join Tollywood. Prior to stepping into films though he's had a very interesting life. Jakes studied at Stanford and worked in Hollywood for companies such as Walt Disney before leaving it all behind to follow his dreams. Read on to find out more.
You studied at Stanford.
I always wanted to do music. When I was younger I studied classical music, performed music in my school and various clubs like the Lions club. My family is not from a film background so they were not sure about a career in music. My dad was persistent that I should complete a degree but at that time there were only diploma courses in music in India. So I ended up doing my undergrad in Electronics and Communication Engineering. That was the closest to music production. After that I applied for Music Technology and Composition at a few colleges in the US. Luckily Stanford happened. It was a good fit because they were looking for technicians with a background in music. Every year only ten students from around the world get into that course. It was a two year Masters course. The experience was very humbling because I saw how talented the other students were there. During that time I got a very rounded exposure to music around the world and even today it influences the music I'm making.
After that you were recruited by Walt Disney. What made you quit Hollywood and come back home?
Once you are a Stanford product it is not very difficult to get a job in the valley. I interned with Activision which is the biggest seller in the gaming world. At the time I worked on Guitar Hero and figured that gaming was a safe option to continue working in. But I wanted to do films so I moved to LA hoping to assist the big names. Unfortunately that didn't work out. During the time I worked on a lot of short films. Let me just say that being in India and struggling is a lot easier than being in the US and doing that. I used to survive doing work that I would get from Indian. After about six months I decided to go back to San Francisco and got into the Walt Disney Game Audio Division. During that time I worked on the games of Brave, Toy Story 3, Cars and more. This went on for about two and a half years. It was a great well paid job with many perks but it just wasn't the direction I wanted to go in; I wasn't satisfied so I decided to head back.
Was it difficult to get into the Indian music world?
I was making music in the Malayalam industry right from my Engineering days. In 2007 I worked on an album Malayalee which was a big hit. It was the same team that worked on Taxiwala. We still worked together when I was in the US and continue to do so till today. In 2013 told my boss from Walt Disney that I wanted to go back. I got an offer in the Malayalam film Angels. It was well received. We had another release Takka Takka but it was D16 which became a big hit and got people talking about the score. We were all newbies a couple of years ago. We did a lot of movies and struggled a lot in the Tamil and Malayalam industries before coming here. To be honest in Telugu we had a dream debut. I couldn't have asked for more. There was a lot of support from Geetha Arts, UV Creations, the director Rahul and of course hero Vijay.
Is it different to make music for different industries?
Surprisingly it isn't so. Earlier maybe you had to make different kinds of music in different languages but now film makers have come to a balance where we can make what works for the script. It's a blessing to be working in three languages and it's great that we've had hits in all industries. Now it's important to make music in line with what is happening around the world. It's an amalgamation. But for me first and foremost I have to like the music; I make music for me!
What was your process for creating the music for Taxiwala?
Rahul, our director, said I don't want anything regular; he wanted something fresh which supported the narrative. We needed to make something commercially viable but nothing was to be above the movie. We needed four songs which blended with the movie and one that stood out and could reach the audience. For Maate Vinadhuga we needed something trendy, we went for future base with Indian elements which became an instant hit. Of course we could make the rest of the songs also stand out but it doesn't match the story and would've disturbed the flow of the film.
Have you signed further projects?
I've got a couple of projects in Malayalam and Tamil. In Telugu the discussions are still going on. Rahul is also working on cool new stuff. But I have to mention here that it has been amazing to be a part of the Telugu industry. Here everyone celebrates cinema and technicians. This is the tenth film of my career and even though we've had hits rarely people focus on it. In Tollywood even though we are new, the kind of respect and the dignified way in which we were treated as technicians made me proud to be a part of it. I also feel really privileged that I got a hit on the debut here.
- Maya Nelluri