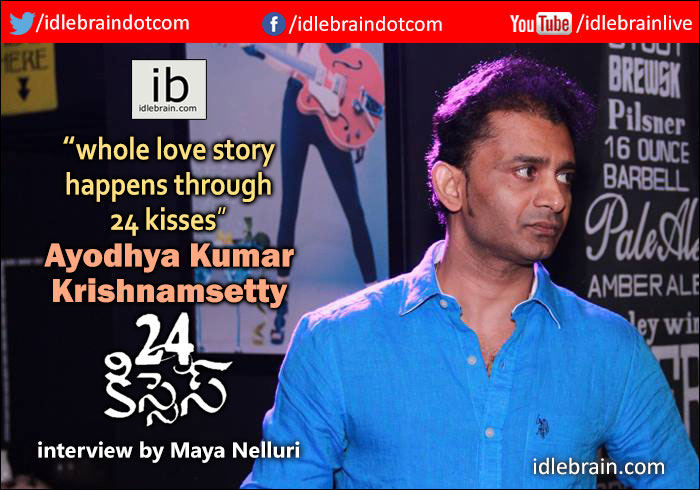 22 November 2018
Hyderabad
Ayodhya Kumar Krishnamsetty, director of the much talked about upcoming release 24 Kisses speaks exclusively to Idlebrain about his journey from the award-winning Minugurulu to 2018.

You are a trained film maker. Tell us about that.
After doing my Masters at the Andhra University I went to the US and worked as a Software Engineer for 10 years. But my interest was always in films so I went to film school at the Northwest Film Centre, Portland, Oregon for four years. After that I worked in Hollywood, mainly at the Oregon Public Broadcasting, which is a sister contingent of PBS. Then I decided to get into mainstream films and came back to India in 2010. I thought I could write and make better films if I worked with my roots which are Telugu. Once I got back I started developing the scripts I had written and tried pitching them. In 2011 I started shooting for Minugurulu. It was completed in 2013 and released in 2014.

Minugurulu, your debut project, won a National award, seven Nandi awards, went to film festivals, and was even an Oscar contender. What do you think worked for the film?
It is a very raw, realistic film. At that point it was very unusual in the Telugu industry to have such realistic content. The characters were all very real. The film is about a blind student's struggle. We actually cast 40 real blind kids. Usually able actors play visual impaired roles as well in cinema but I did thorough research and hired the children who actually suffered from the plight. They brought out a realistic atmosphere to the film which I think was another plus point.

Minugurulu was essentially a children's film. For your second project you chose a film which is classified A. Why the shift?
Even before making Minugurulu I was writing all kinds of scripts, especially romantic ones. For various reasons I decided to go with Minugurulu for my debut. Although it concentrated on a social issue one could say that the film was a thriller of sorts with a lot of commercial elements. Those who haven't seen it consider it to be solely an art film but it is not so. My intention while making it also was not to make an art film, it was to make a film with world class standards. As for 24 Kisses, the name might be deceiving. It's not exactly an adult movie. It's certified A but it is a beautiful love story that doesn't depend on obscenity or vulgarity. Like Minugurulu it has real content. It is also a musical film with eight tracks that are currently trending online.

Tell us about 24 Kisses.
It is about a child rights activist who has never fallen in love and doesn't believe in the institution of marriage falling in love with a mass communication student and finally getting married to her. This whole love story happens through 24 kisses. How and why that exact number of kisses have prominence is explained in the film so you'll have to watch it to know.

Did you pick the title because movies focusing on overt shows of affection have been box office hits of late?
I registered this name in 2016 and wrote the story in 2015; it was much before all these trending films were released. So no, the title is there because there is a special prominence for 24 kisses in the film.

Both your films seemed to have taken a long time to make.
24 Kisses was announced in 2016. At that point I was to produce it myself. That didn't go as per the plan but we started shooting in 2017. Right now Sillymonks, Ekta and my company – Respect Creations together produced this film. As for the time my projects took, I take a lot of time to write and do the preproduction work. It's the common standard in Hollywood to have two years from preproduction to shoot and since I come from that school of thought I take a good amount of time to work on the project before going on sets. It might however change for my next project.

What have you got planned going forward?
I have about 10 scripts ready, some of which have been brewing for the past decade. Depending on the success of 24 Kisses I will decide on which script I will go with. It will also be based on the actors I will approach.

Do you have any message to the Telugu audience?
I just want to convey that 24 Kisses is not an art film. Usually we are typecast depending on our last film. And because of Munugurulu they might expect something very artsy. For 24 Kisses my target audience is Telugu so it was made keeping in mind all the ingredients they appreciate, without compromising on quality.

- Maya Nelluri