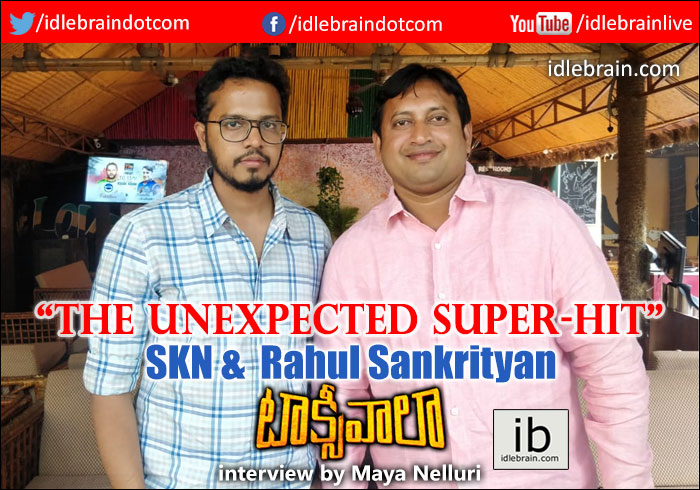 28 November 2018
Hyderabad
We met the director of the super hit film Taxiwala Rahul Sankrityan and his producer SKN at the Geetha Arts office on a perfect Hyderabad evening. They were in a much more relaxed form compared to the stressful couple of years they spent making the film. Before the release there were rumours a plenty about Taxiwala. There was the delay in release which had tongues wagging about reshoots. Then there was the piracy debacle. But regardless of the numerous obstacles they faced, the team now stands proud, having made a concept oriented film a commercial success. In a roundtable conversation with Rahul and SKN, we discuss the many ups and downs they went through to bring Taxiwala to the big screen.
How did this project come to fruition?
Rahul: My debut project was The End. About two to three months after the release I got call from SKN. He liked it very much and wanted to do a low budget film. I narrated multiple scripts to him before I told him the first half of Taxiwala. He immediately loved it and we went to Vasu to narrate to him. He also liked it and eventually the project came to be.

SKN: Sai Rajesh, a friend of mine called and asked me if I watched the film The End. He told me that there was positive talk about it. It had just released but was in very few theatres like Devi. There was one show at Forum Mall so we decided to go to that. By the time we got there it was full and we could only get seats in the front row. Once we watched it we really liked it. Although The End did not get noticed it was well made with a lot of fun and horror. Sai Rajesh was a FB friend of Rahuls' so he contracted him for me. When we went to meet him, we were surprised he was such a young chap. He was also happy to be approached because I wanted to do it in Geetha Arts and that was a good opportunity.
How did the combination of Geetha Arts and UV Creations come together for this film?
SKN: Only the two of us travelled together for some time working on the script. At that time Vasu was busy with Sarainodu and Vamsi had another project in the pipeline. So Rahul carried on narrating other scripts to other heroes. When he ended up telling the Taxiwala script to Maruti, Maruti contacted me and said it should be made. Then we went to UV Creations. Vamsi wanted Vijay because he was quite impressed with him from Yevade Subramanyam. We immediately narrated it to him and he was keen to do it. When Vasu heard about it he was also interested so we decided to do in the combination of Geetha Arts and UV Creations.
Who decided on the actors/ actresses?
SKN: The director decided. We wanted to do work with fresh new faces because this was a new concept. Priyanka Jawalkar had earlier auditioned and we liked her.

Rahul: We wanted the casting to be off-beat. Vishnu as a new and different face seemed apt for the Hollywood character.
Prior to this Bhale Bhale Magadivoy was done with the same combination of production houses. They are both known for family films but this is very off-beat and not a regular commercial film. How did they agree?
SKN: As a solo producer I wanted to do unusual and new films. Even Geetha Arts and UV Creations were looking to get into concept oriented movies. Aravind sir was a little doubtful but he saw that our plan to promote was good and believed in it.
Taxiwala took almost two years to finish. Why?
SKN: There were a lot of issues during the making of Taxiwala. We were unable to find the right person to play Sisira; we waited for four months just for that. Back then our primary choice was Niharika but she had signed a similar project and didn't want to repeat herself. Now Vijay is a star but then he only had Pellichoopulu and his Dwaraka did not fare well. So it was difficult to find someone to do the second lead in his project. They either quoted too high a price or weren't inclined toward the role.

We also needed the perfect doll which could display human emotions when the light shone on its eyes. We researched for months and waited for four months to get the BJD (ball joint doll) which is only made in China.

Also Geetha Arts was simultaneously working on Geetha Govindam so it got more preference with dates etc. Still we finished the shoot last year with a few CG touch up shoots being completed in February of this year.

The other issue was that the CG company we trusted did a subpar job. We were very disappointed. This was after Arjun Reddy but we did not want to sell it in that quality just with the hype Vijay had because it would fare negatively against all of us involved in the project. Aravind sir was also worried for our careers because the whole team was youngsters. He said that we'll redo the CG all over again and we did.

Then there was the piracy issue. One of the employees at the digital data company we were associated with retrieved deleted films from a hard disk we handed over to them. That included Geetha Govindam and the unedited version of Taxiwala. Just before the release of Geetha Govindam Sai Rajesh sent me a screen shot of the leaked films. When we did some investigation we found out that the employee gifted it to his maradalu to impress her and then she gave it to her boyfriend who stayed at a hostel. He would screen it to all the students. Once we caught them we thought the matter was resolved. But a month later we were being sent screen shots of Taxiwala from all around Telangana and Andhra. It turned out that many of the students had copies and they uploaded it on the cloud so there was no stopping the distribution. Since it was a new film and we were vigilant those who were sharing Taxiwala did so more discretely. But the version they saw was the unedited version with no CG or DI. Essentially they were watching green mat screens. Still we couldn't release the film immediately due to the CG issue. Those four months were a nightmare. I was running around the cyber police stations endlessly.

When you cast Vijay Devarakonda he was a newbie and during the shoot Arjun Reddy happened. Did that change anything in the film?
Rahul: I did get shaken up because it was such a powerful character and Vijay literally took over the screen. In Taxiwala he plays an underdog so I wasn't sure if that was going to work out. A week of thinking later I realised that both the films are totally different and there is no need to worry. Also the hero in question – Vijay – agreed to do both movies so there was no better or worse.
Where there any changes made during the shoot?
From the first time the producers heard the script until the shoot was done, no one interfered with the script. Only after the edit was done they saw it and said that it came out exactly as I narrated. The only thing was that the initial version came to two hours and 30 minutes so we discussed the trimmings as a group. In the end the film came to two hours and twelve minutes.
Tell us about the astral projection aspect.
Rahul: Usually if there is a ghost in a movie it's because someone died or was raped so we didn't want to go with that. For the second half we wanted something new.

SKN: When he first narrated it he told us there will be a scientific angle but we weren't totally sure of how it would play out.
The screenplay was done brilliantly.
Rahul: The writer Sai Kumar and I worked on it together. Once we had the skeleton, we needed closure. We chose the drama angle because there's no questions asked then. We needed strong back stories and characters so having a child without a mother and a mother without a child meant that there had to be a resolution.
The End and Taxiwala are similar but the commercial results are exactly opposite.
Rahul: Yes, a gripping screenplay and humour are intrinsically present in my writing. For the title of the film we thought of many names like Shikar, Sisira and 50 others. In the end we went with Taxiwala because naming it after the protagonist seemed to make the most impact. Of course the hero and production houses made a big difference and so did promotions.
Are you planning to work on bigger scripts next?
Rahul: I'm working on concepts. That is my process. The budget and who to cast are secondary to the story. I also don't have any specific dreams. My progression to cinema from short films was a natural one so I will continue on this journey.
Who has been your influence or inspiration?
Rahul: I did not become a filmmaker because someone inspired me. I started doing short films in my second year of BTech. Back then the short film I made, Chitra I Love You, won the MAA TV competition. I got three lakhs from it so I wanted to make a film with that. I really liked Anurag Kashyap and would follow him. There were 10 commandments of film making that he released using which he was making zero budget films. I used to read it every week and tried to implement it. In fact The End started like that. Eventually it got more funding.
Will you be setting up your own banner?
SKN: I have no plans of setting up a different banner. I'm happy working as a producer with a combination of studios. I've got a great relationship with both UV Creations and Geetha Arts and it is running smoothly so I will continue to work like this.
What type of films will you take on in the future?
SKN: I want to do concept oriented films with a commercial aspect. Usually these two are mutually exclusive. I want to do films that will reach A and B centres also instead of just the urban market. With Taxiwala we got a big star so that helped. This movie didn't need songs but we added them to make it more relevant to varied audiences.

Tell us about the finances of the film.
The landing cost was 10crores. And the theatrical returns were 20crores. We had already sold the digital rights back then with a bunch of films two years ago for next to nothing. If we had held on to them we could have sold the satellite and digital rights separately for the currently market value and made another 10crores.

- Maya Nelluri