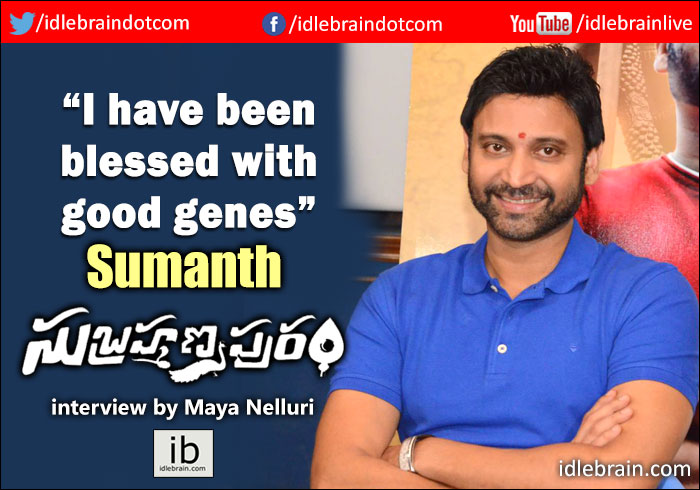 5 December 2018
Hyderabad


Almost two decades since his debut but actor Sumanth is still going strong, bringing out unconventional scripts and playing unique protagonists. With Subramanyapuram up for release it certainly looks like our man has another interesting story to tell. For now though he talks to us about everything that's gone on since his first film.

What motivates you to act?
I think that's the only thing I know how to do professionally. *Laughs* I don't know much else. Since I was young, being from a film family, it was eminent that I was going to get into films in some form or other. I went to film school in the US to learn film direction and screenplay. I did acting classes as well and realised that acting came comfortably to me so I gravitated towards that.

Do you have any plans to direct?
No, I've got no plans of directing. I have produced films earlier and may in the future but I don't see directing in my future.

You debuted in 1999 but you look exactly same. What is your secret?
*Laughs* I've been blessed with good genes. My granddad and dad have both looked much younger than their age. About 15 years younger, some even say 20. Also I tend to have a reasonably good lifestyle in terms of my diet, exercise and sleep. I can't emphasise sleep enough! I sleep a lot. I guess that's the secret – sleep, workout and eat well. I follow it 70% of the time.

There's a whole new generation of heroes now. How has that affected you?
There's been two new generations actually. *Laughs* It always happens – the circle of life. It happens in every line of work. You just have to figure out how to mature gracefully and broaden yourself and not stagnate. I get excited for the new generation when they do good films that work. At the same time I also learn from them. I take a cue from here and there about how they do things. I think it's important to have a symbiotic relationship.

There was a lot of appreciation for your last film – Malli Raava.
When Gautham narrated the script to me last June he gave me a full two hour narration and by the end of it I found myself with a lump in my throat. That sealed it for me. I tend not to analyse things too much; go with my gut. How I feel is the most important. I don't calculate the commercial parameters like I used to do earlier in my career where we think about the fights, songs and so forth. That's what worked for Malli Raava I think. I just hoped the audience would feel the same as me. Also the screen play was really interesting with the transition between three timelines.

How did your role as ANR come about in the NTR biopic?
I think it's just fate. It's a blessing that I feel very fortunate for. I've known Krish for a long time personally and professionally. Initially there was confusion about whether Teja is directing the film or him. Once it became clear we met and he narrated the script and explained my part in the film. I was quite happy with it and thought it was honest to my granddad's character so I had no doubts about taking it on. It is also a very relevant supporting role. Krish is also one of my favourite directors so once it was decided that I was on board we fine-tuned everything from the look to the mannerisms to get everything right.

How was it to play your grandfather on screen?
As I said before I tend not to over think things or over feel. That's my nature. It's my advantage and also my disadvantage. I go at things very logically. First the look was worked on and then the rest. I watched a lot of his interviews and his movies. I didn't want to imitate him or play a caricature. I had to be very careful not to do that because then the honesty goes out the door. It was tricky walking that line. In the end everyone seemed happy with the result. People always said that a lot of my mannerisms are like him. I've always tried to veer away from that and have my own individuality but I was raised by him. You tend to pick up a lot of things from your parents so all those aspects of him came automatically to me.

Your current release, Subramanyapuram, looks a lot like the film Karthikeya; have you watched it?
I've heard about the comparisons but I haven't seen Karthikeya. The thing is that when there's a temple and the same God being central to the movie, there will always be comparisons. That is true for any genre; certain films have similar templates, take for example Indra and Samara Simha Reddy. People found similarities between my previous film Malli Raava and Varun Tej's Toliprema as well because the structure was similar. In the end if the comparisons are being drawn with a successful movie it's good. When you watch Subramnayapuram you will see that the screenplay, story and drive are all very different to its predecessors.

Tell us about your role in the film.
I play an atheist. He's very logical and rational. He's a research scholar focusing on old temples. I myself am an agnostic but at the same time I like to visit ancient temples, mosques, churches. I am a student of culture and history. So I connected with the character in that way. Once he enters the village Subramanyapuram he finds that there are some issues that have been raised in the name of God. He gets pulled into that. That's the crux of the film.

Do you feel the box office pressure?
I've never been about the money. I've consciously steered my career away from commercial cinema. After the success of Satyam and Gauri I had the chance to go into the mass commercial meter. But I was conscious of doing films that touched my heart, those that felt more personal to me. Those are the films I've been interested in. I also didn't want to be slotted into a particular role. I wanted to be a chameleon. A lot of actors cannot do certain roles because they've stuck to certain roles. For me it's about being happy with the work I do. I put noise cancelling headphones on and get on with my work honourably. I always aim for the producer to at least make their money back. That minimum guarantee should be there so it gives you impetus to get more films. Beyond that I don't look at money because I've never been a money minded person.

Are you looking at doing supporting roles as well?
I've always put myself out there as wanting to do author backed supporting roles. Author backed negative roles are the next thing on my list. I haven't had the right opportunity to do it. Now with the NTR biopic it's the perfect role. The key there is the role being author backed. It cannot be a caricature. We see a lot of well rounded characters in Hindi and Tamil cinema. I feel like we should also get back to writing villain and support roles with more depth; it is actually getting much better now. Take Jagapati Babu for example, he's had some of the best roles of late.

Do you have to deal with any insecurity?
Yes, we all do. It's how you cope with them. I've had my share of hits, flops, ups, downs. We are in a very dangerous industry where the highs are very high and the lows very low. I tend to cancel out the noise, especially these days with social media where everyone's got opinions. People's opinions can become insecurities but my method of coping has been the same for hits or flops. I insulate myself from the outside noise.

Can you tell us about your upcoming films?
I have three films coming up including Subramanyapuram, the NTR biopic, and Idham Jagatha which is also ready for release. It is a dark drama thriller. I play a protagonist with negative shades; it's a first for me.
- Maya Nelluri