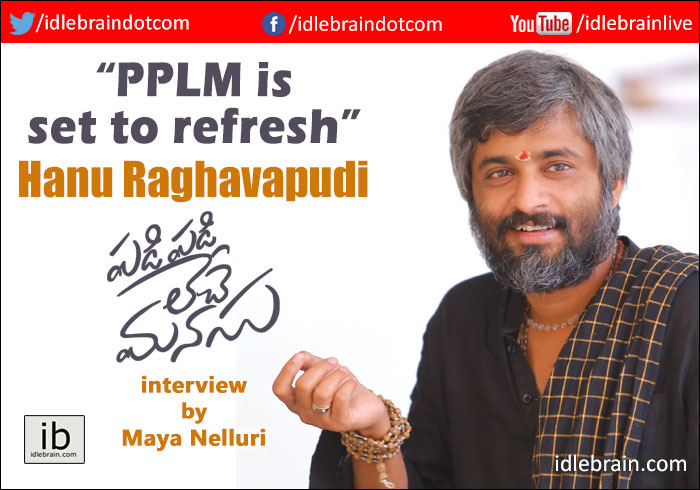 20 December 2018
Hyderabad
Tomorrow is a big day for Telugu movies with some amazing scripts up for showing. Padi Padi Leche Manasu starring Sharwanand and Sai Pallavi is a definite contender for a box office hit. We speak to the director of the film about his path before and after the movie. Considered to be among the best of the new generation directors, Hanu Raghavapudi lets us in on his journey of Padi Padi Leche Manasu.

How did Padi Padi Leche Manasu materialise?
After Lie I met Sharwa with some other stories. I and Sharwa have been close since 15 years so he told me that he didn't want to do action etc, he wanted to do a good love story. Then I took two months to develop and narrate this script to him and he immediately liked it. The title itself was with us from three years. Venkat Siddareddy and I were discussing another bound script of mine and he mentioned the title initially for that film so the title is thanks to him. This story was built around the title.

Was any of the film inspired from your life?
*Laughs* No. The conception of a love story has to be within us but it is not based on my life. The only part that took time was the climax. I wanted a good climax because no great love story is successful without it. Once I locked that I was sure about the story and believed that the movie will work out.

The visuals of the film seem to have a Mani Ratnam influence; was it a conscious decision?
Since Andala Rakshasi people have said that my film looks like Mani sirs. It is an honour if someone compares me with him. It might be because there's a lot of individuality in his projects. If I think about why there's a couple of aspects that might be giving people this idea. In any film, the language, the dialogue diction is very important. I write bookish Telugu; it's what you call grandhastam. There's no yaasa so it seems like proper perfect Telugu which is not seen much in our cinema. I don't write in mandalikalu. This is generally the case with Mani sir's films. It might also be because the shot grammar subconsciously matches.

Which directors influenced or inspired you?
I was first inspired when I watched Sankarabharanam and then Roja, back-to-back on the same day of my degree first year holidays at a friend's place. I just watched it like the general audience because at the time I had no inclination towards films. I just used to watch Chiranjeevi movies because I was a die-hard fan. After that day I felt an intense interest to watch more films. Also since I was young I used to write poems and such due to my family background. If I have to mention a director specifically it'll have to be Chandrashekhar Yeleti.

Do you hail from a family of writers?
*Laughs* Yes but only we know about them. They are not very well-known.

Do you have any plans of wishes of directing Chiranjeevi sir?
Oh! Want is definitely because I'm a very big fan of his; I used to watch first day shows with all the hullaballoo like tearing my shirt. *Laughs* But it is a big ask.

What are your expectations for the film?
I feel that regardless of whether it is a youngster in a degree or inter or someone who's on the cusp of retiring from romantic feelings, everyone in those ages and in between will connect to the soul of the story. I wanted to make it reach a large scale of audience. The film itself is filled with entertainment. It's very refreshing, very original, very healthy. I would say that it is along the lines of a Jyandhyala film where a whole family can sit together, watch and enjoy. There are also enough twists and turns in the film to fill everyone a plethora of emotions. And when the audiences leave the theatre they will be left with a very positive and heart warming feeling.

What do you feel are the highlights of the film?
In this film, the highlight is the chemistry between the lead pair; also the audio and the refreshing scenes. Every situation in the film and songs is unique. And the way the songs were shot is very appealing. Both Vishal Chandrashekhar and KK did a great job. I'm very happy with the way the audio shaped up because songs are an essential pillar of any love story. And since all the songs in this film were melody it is all the more appealing.

Why did you choose a Kolkota backdrop?
In a love story the location is very important even though it is not at the forefront. I wanted the locations to be refreshing but the reason I choose Kolkota specifically is because I have a connection and obsession with Kolkata. You will see that the film has a very European feel in a lot of places.
What is your connection to Kolkata?
I used to travel a lot and write in different places. In 2007 when I was working as an associate with Chandrashekhar Yeleti, I went there and I was stunned by the city. I ended up staying there for six months and wrote a lot of stories in that time with the city in mind. Luckily with this film my desire to shoot is Kolkata is also fulfilled.

Of your previous three films Lie was the only one that was badly received; why do you think that is?
Even when Andala Rakshasi released people said it wasn't good. Later on people started to understand it and liked it. With Lie I feel it was one of the best scripts that I've written in that genre. The main problem with it was that the release date was fixed. August 11th was announced and in hindsight I know I should've opposed it but didn't. We barely had two weeks to do the post production work. I was in shoot for 80 days for that film but during the post there was just no time to do anything. Everyone involved realised that we made the wrong call and that killed the film. A lot of things in the script didn't get conveyed and because of the hurry there was no time to translate exactly what I had in mind. Otherwise it would've been a good film.

What's ahead for you?
I've got one project with Mythri movies and few other banners are in talks but we can never tell what happens when. *Laughs*
- Maya Nelluri