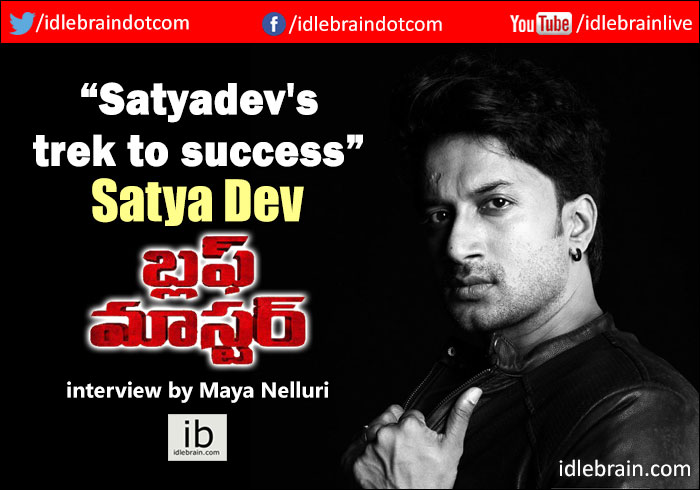 27 December 2018
Hyderabad
Telugu cinema looks to be going through a transformation of sorts. Not only do we have young new directors making their mark with laudable films, we've got dashing actors like Satyadev Kancharana sweeping us off our feet with pure talent. With Bluffmaster up for release tomorrow, this young actor is gleaming with aspiration and anticipation. Find out all about the film and its charming protagonist in this exclusive tete-a-tete.

Tell us about your role in the film.
Bluffmaster is about a conman who runs unsavoury businesses. He loves money, wants money; but only cons those who are greedy. There's a back story to why he chooses these people as well.

Is he a Robin Hood sort of character?
*Laughs* No, not really because he steals from the greedy but keeps the money for himself. Maybe he would be Robin Hood 2.0.

What about the other important characters in the film?
Nandita Swetha plays a girl who believes that money is not everything. According to her love is what drives this world. There's an antagonist of course and he also solely cares about money. The film is about how my character transforms into a butterfly from a caterpillar after he meets the antagonist. The butterfly is great metaphor for my character in the film because it is the only organism with two different life forms in one life. It goes through metamorphosis; and just like it my character also goes through a down and comes up.

In real life would you say you are more pro money or pro love?
*Laughs* I think I'm 60-40 in favour of money. Right now with the way this world is going and the phase that I'm in money is more important to me. It changes from phase to phase though so it's not always going to be the same answer.

Although this is the first film releasing with you as a solo lead, there have been others which haven't released yet.
Yes, it feels great to have it releasing. In Jyothilakshmi, even though I was the male lead the film was driven by the female force so Bluffmaster is a great launch for me as a lead. This film runs out-and-out on my character. I feel that any actor who watches the film will feel like they should've gotten such a role because it has so many shades to showcase our abilities. I was waiting for a film like this so I'm glad. I've also got Guvva Gorinka, 47 days, and another Hindi project where I stayed and shot in Kabul for 45 days. The first two should be releasing around February next year.

Did you come into the industry wanting to be a lead?
When I came into films in 2011 I wanted to be an actor. I wanted to be someone who could portray anything and enact any role that comes my way. The lead thing never struck me until one day during Asura's shoot I was having a conversation with Ravi Varma. He asked me what sort of an actor I want to become. I listed off people like Prakash Raj and Nawazuddin Siddiqui. He asked, "You are just 25 now so do you have the age to back those roles? People who are casting won't be inclined to take you as the main antagonist." He was actually the one to suggest that I look at lead roles because that way I will only get meaty roles which have importance; and eventually I can succeed in what I aspire. That was the first inception of the thought in my mind. Within a month I got a call from Puri sir's office and they told to come there. There were 500 people in the office that day but I got selected for Jyothilakshmi. They asked me to lose weight so in the next two months I lost 16kg. Two months later they told me that I'll be playing the lead. Till then I thought I was playing a negative role. I totally believe in the law of attraction and I think since the thought was born I started to attract good roles like that in Anthariksham, Ghazi, and now I'm only getting leads. Obviously given a choice between yummy biryani and other foods you'd choose biryani so it is the same for me with the roles.

You studied engineering. Was acting something you aspired to prior to that?
I decided to get a degree so that my parents would be happy. If I had an opportunity I would've acted right from the beginning because that is what I wanted to do from as far as I can remember. I still had to plan to work and simultaneously try my luck in the industry so that my family won't have to worry. Until one and a half years ago that is how I did it. I would shoot from 6am to 6pm and then work in the evenings till 3am. I was with IBM. I'm not from a rich background so my Plan B included toiling so that I would have a backup. I was actually paid well, 1.5 lakhs per month and my H1B visa was also done through my work. It will expire this month. But around the time I was being told to shift to the US is when I decided that it was time to take the plunge and act full time. Until then I would juggle both worlds. I would only sleep for two hours during shoots. I did that for 45 days during Jyothilakshmi, during Mana Oori Ramayanam it was 27 straight days and for Ghazi 25 days. It's only since my last few films that I've been acting full time.

It seems like a very difficult schedule.
You need to make some sacrifices if you want to follow your dreams. I never saw it as an uphill task because mentally I was prepared for it. Today when I talk about it I feel like 'oh wow did I do that?' Back then I didn't feel it.

How is your future looking according to you?
I feel it's pretty bright. It's just the beginning. I need to succeed so that I can get the opportunity to do more versatile films with good characters. I love writing and developing stories so I've got about six to seven in store which I saw myself in. If I come across someone who wants to work on them with me I'll get to showcase my films to the world. But first I am waiting for Bluffmaster to work. For someone to invest in you, you have to have commercial viability so this film is very important to me.

If tomorrow Bluffmaster does well, who do you think deserves the credit?
My director Gopi Ganesh. The way he fought for me, he got me into the project and dealt with the rest of it is amazing. If the fruit has to be shared with someone I'd rather give it all to him. He takes the lion's share of the success because it is his baby. And also the producer Ramesh Pillai.

Have you signed anything else?
I'll be doing a project with Vivek Athriya who's done Mental Madhilo and I'll be signing a few more but I'm waiting for Bluffmaster to release.
- Maya Nelluri