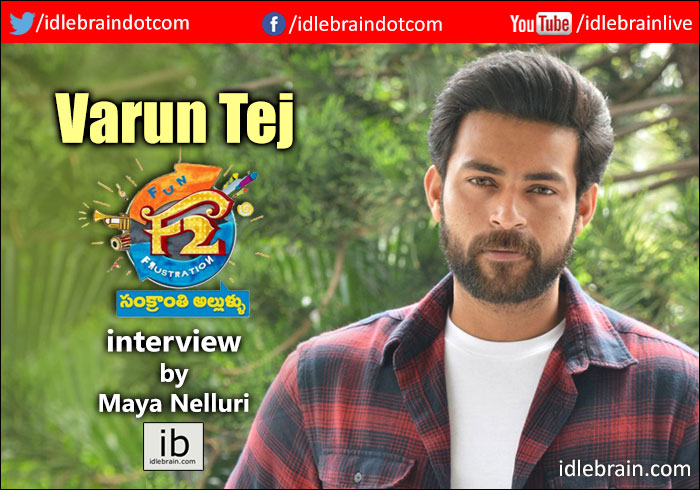 12 January 2018
Hyderabad
Famous for his critically acclaimed Kanche and hit films like Fida and Tholi Prema, Varun Tej now tries his hand at comedy with the Sankranti release – F2. Read ahead to find out about everything from his favourite film genre to what he learned growing up among films. And, of course, also about how it was to be a part of the family entertainer.

It seems that the love stories you've done of late have all garnered you success. Do you think that's what works for you?
Yes I've initially had success with love stories but that doesn't mean only they work. Anything could work - thrillers, action films, comedies; it all depends on the script. I've been lucky that both Fida and Tholi Prema did well back-to-back. Personally I'm not a big fan of love stories. But as they say, everything is predestined so that's how it worked out.

What genre is your favourite?
I only like hard core action films. That's what I wanted to do initially, it didn't happen but in the future I will definitely do action films.

What are your favourite movies?
I like the Mission Impossible series, the Die Hard series. Terminator 2 is my all time favourite. There's lots of others but that's all I can think of for now.

Your last film Anthariksham didn't do so well at the box-office. What do you think caused it?
The fundamentals were wrong. I personally felt the screenplay took a wrong route; not throughout but at times. But we are still trying to figure out where exactly it went wrong. Since it was the first space thriller in Telugu the audience expected more. We have to keep in mind what audience wants to watch rather than just trying to executing new stuff. It is also about team work regardless of whether a film is a success or a failure. We are still proud of Anthariksham but there's emptiness because it didn't do better.

Have you ever felt like you've had a certain edge in predicting the success of a film since you hail from a film background?
No one will ever know what will work and what won't. There's a certain faith we have to have on our film and work on it. If you are talking about an edge in a different way, a person's family can help only until their debut but after that you are on your own. There's nothing Charan or Chiranjeevi garu could have done for Anthariksham to stop it from tanking; there's nothing anyone could've done.

Do you have to choose films keeping your family in mind?
Somehow that thought never came to me. When I do a film, I just think about that particular film. I definitely won't do something stupid to bring the family's name down. It's the same with everyone from my family. We think twice because there are a lot of people who've laid a foundation for us. We do have to think about it when it comes to a public forum but there's no issues coming to work.

Do you have anything to add to the comments made by your father about NBK?
No comment. He's talking about it so that's enough information. It's something political and it should stay there.

How was the experience of working on F2?
It's the first time I'm trying an out-and-out comedy. I play a typical Telangana youth with a typical Telangana accent, one of the local youngsters thinking that everything they do is right; a super funny guy. It is quite different to play something like this. It was entertaining and challenging.

Do you think comedy is an easy thing to do?
It depends on the person. Some are more comfortable with it then others. I personally feel it's quite challenging. It's not as easy as you might think. Sometimes you see people all around the set laughing but the audience may not so comedy always has an element of risk. But it's fun doing comedy. I was also around a fun team so I had a lot of fun working with them. Few people say that emoting is tough but I'm more comfortable with it. I'm new to comedy and I'm looking to try out different genres right now.

How was it working with Venkatesh sir?
You need to be comfortable to work with an actor especially when there are a lot of scenes between you both. Initially I was scared to work with him but he made me feel very comfortable. He wasn't trying to; that's just how he is with everyone. And once we started shooting, it kept getting better. Because of his experience and super calm and cool nature, it really helped me pull it off. He's a very well read, nice man. It was very good for a younger actor like me to spend time with him. Of course I have my dad and my uncles but this was an amazing experience.

What are your expectations for F2?
Comedy and family entertainers have always worked in Telugu. There's been a vacuum for films like this in recent times but we have a set of audience who definitely likes them. I feel Anil is the only director really focusing on comedy right now. I'm quite confident about what we did and it should definitely work, especially during Sankranti. From the beginning we were adamant that we had to release it during Sankranti when people go back to their home towns and spend time with family. Everyone wants to go to theatre, just chill, have popcorn, and watch anentertaining film with their families. F2 falls into that category. It should do well.

What's coming up for you next?
I'm doing a sports film, on boxing. I'll be taking a few months break after the F2 promotions. I'm going to LA to practice for three months.

- Maya Nelluri