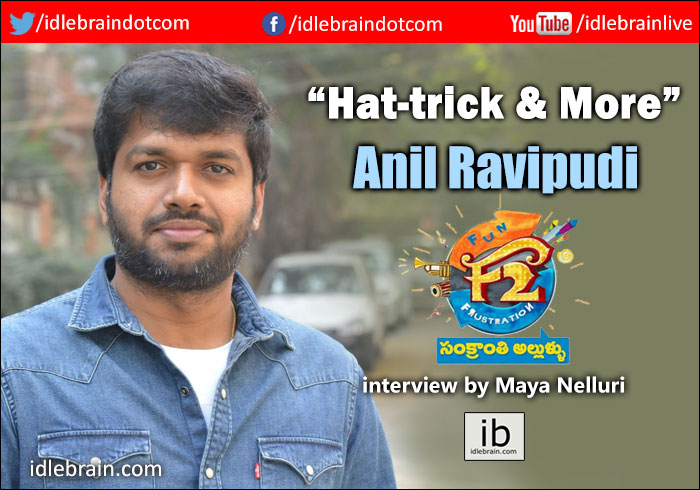 26 January 2018
Hyderabad
Over a week into it's release and F2 is not only going strong but is proving to be tough competition for all others. And why wouldn't it be? The film was a laugh riot from the word go and had the audience in splits right up until the end. Just as he did with his previous three films Raja The Great, Supreme and Pataas, director Anil Ravipudi proved to us that he has mastered the art of giving the audience exactly what they want. So will he let us in on his secret formula? Read ahead to find out!
Tell us how you went from a writer to a director.
As a writer my journey wasn't smooth. I've written as a ghost writer for some and some other films which credited me. Maybe if I was successful as a writer I would've continued for a bit longer but that didn't happen and my aim was always to be a director. If a writer becomes a director it's easier to make films because you can write to execute and execute what you write. I also gained really useful experiences from all the directors I worked with.
What prompted you to enter the cinema world?
My babai Arun Prasad was in the film field so cinema was always a part of our family discussions. During Btech I did a skit and from then onwards people started calling me director. I was hooked from then. I guess you could say that my BTech graduation changed my route.
Did your family approve of your decision? Everyone is very happy now. Exactly four years ago on January 23rd my debut film Pataas released. From then onwards they are happy seeing me grow and succeed. But there was a long struggle prior to that, almost for ten years. That struggle is also very important when you look back. I finished my BTech in 2005 and even after my experiences it took me two and a half years to get my first film on screen. At the end of the day however much I struggled, the product of my efforts came out even brighter on screen. It taught me to put in the same amount of effort for every film that I do going forward.
There's been directors in the past who were hailed as geniuses but later struggled to give any hits. Why do you think that happens?
Whether a film is a hit or a flop it's not in anyone's control. No director makes a film thinking it will flop. There are so many reasons that it could result in a flop. And every director makes a mistake at some point in time. But a director can always come back from a bad streak. How he manages to flip from a flop to hit is dependent on the individual.
Do you have any advice for aspiring directors wanting to follow in your footsteps?
*Laughs* I don't know about following in my footsteps but I think the most important thing is to believe in yourself and your idea. If we don't believe in it ourselves it definitely wont reach the audience.
So the film in discussion - F2, is all about newly-weds and young lovers. Was any of it based on your own experiences?
*Laughs* Frustration is very married man's right. The scenarios in the movie are all very general incidents. Of course even my own experiences influenced parts of it; for example the tiffin and dosa episode happened to me. I was equally confused about what to say. But in F2 we also gave the solution to the problems. Men should deal with these issues using emotions, not logic. That's something I understood observing so many people around me. I am a keen observer. I also studied a lot of books about the differences in men and women. I adapted some of those ideas to suit the Telugu audience and put it across in a way which could reach a wide variety of audiences.
F2 stood out as the biggest hit of the festival!
Comedy is tough but in F2 it really worked so im very happy. Also the genre is such; entertainment works especially when people take time off and just want to spend time with their families. We were sure that Venky and Varun's chemistry wouldn't disappoint but we didn't think it would be such a huge hit. I'm thankful to the audience for receiving the movie so well.
People are comparing it to the Rohit Shetty format. Is that what you were going for?
There's no series of films like Golmaal or Houseful in the South. Once with Money and Money Money there was a start of a franchise but it didn't happen with more films. I thought it would be good to bring that concept to Telugu also so we will be doing that with F3.
How was it working with Venkatesh Sir?
His comic timing and experience were very helpful. He took all the scenes to the next level. He's a genius at comedy. His style is striking. When we have someone like that the other character also has to match. In Varun there's a sensible subtle comedy which was our biggest advantage. I only really noticed it after the movie started but I saw hints of it when I interacted with him earlier. I found that he has a massive comedy side. In this film especially he showed a totally different side and really took on the Telangana aspect. Thanks to him for accepting the role without any ego. He stuck to the character and did it perfectly. I think the film's success is 50% Venky and 50% him. They together took the multi-starrer to the next level.
You've had four straight hits. Are you using any secret formula?
*Laughs* If it is a secret formula why would I leak it? But seriously the only formula is hard work. Every minute I keep checking the trends, what's happening in the market and what should be done to stand out. I do a lot of analysis so maybe that works!
Whose work influenced you the most?
I've loved comedy movies since my childhood. Jandhyala garu, EVV garu, Rajendra Prasad garu, they ruled the decade between 1985 to 95. Those were my formative years so their influence was profound. I admired their characterisations and the typical timing between their characters.I got used to that comedy timing since then. Now it can't be done in the same way as it was done earlier. It has to be adapted to our current times and blended with our sensibilities.
Going forward what are your plans?
It might not be immediate but in the future we will be making F3. I haven't decided on what I should do next because I want to mix it up a little. I don't want to do the same and become predictable. I'll have more clarity in another three to four weeks.
- Maya Nelluri