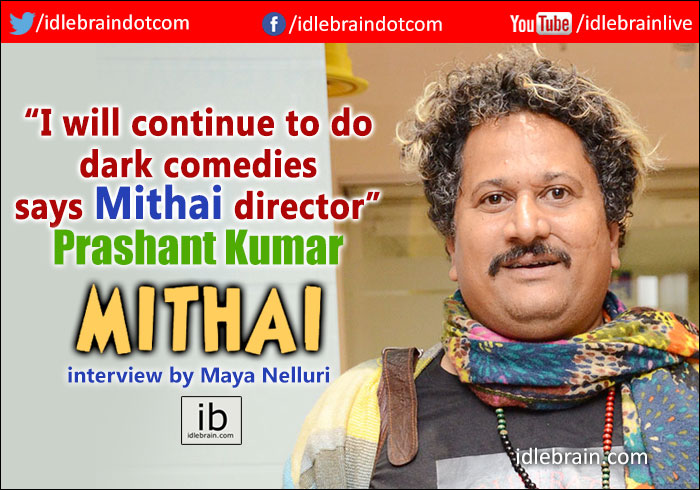 21 February 2019
Hyderabad
Debut director Prashanth Kumar speaks exclusively to Idlebrain about the year long journey of conceiving and releasing the dark comedy Mithai. Considering that he is from Bihar and does not speak Telugu, it is quite interesting to hear about how his family and friends came together to make his debut a reality. Read on for more.
Why did you decide to do a dark comedy for your debut?
I love dark comedies. Even post Mithai I plan to focus on dark comedies.
Do you have any favourite films?
I'm inspired by the Coen brothers. All my life I've been watching 1000s of films so I have a lot of favourites. My film is also a tribute to the Big Lebowski, which has been the biggest influence in my life.
How did Mithai happen?
It all happened very fast. Sandeep Vanga, director of Arjun Reddy, is a good friend of mine. He would ask me many times why I'm not making a film. A week after Arjun Reddy's release I came back to my house totally drunk. The next morning when I woke up I realised that I had left my door open. Then I started thinking what all could've happened if things had gone bad that night. I was too lazy that day to even open my laptop and write so I wrote my ideas on the phone. The outline of the story was 23 pages and I was thrilled by it. After that my film making process started. I took those 23 pages and wrote a full 168 page story and screenplay on Celtex within seven days. The day I wrote 'The End' I almost cried because the whole story was done by me and I controlled all the events.
Meanwhile I told the outline to our actor Rahul and Sandeep who thought it sounded exciting. When you do something good, you get into the zone and things happen fast. Everyone asks me how many scripts I've written so far because Mithai was so detailed but it's my first ever script. Also my cast brought it to life really well and everything fell into place.
What about the funding?
My younger brother supported me in that aspect. He is a doctor; he pooled together and borrowed and sent me whatever was required to make the film.
How was the process of shooting?
When I started shooting Rahul was doing big films so there were lot of calls from big production houses asking me for his dates. They wanted me to postpone but of course my small film is big for me. I still changed a couple of schedules to accommodate. Mithai also has two dream sequences where Rahul is clean shaven so that caused slight delays since we had to wait for his beard to grow back. We started mid Feb last year and shot for 65 days over the next five months.
Now that the film is releasing, how do you feel?
Can't tell u in words how it feels. I've always wanted to make my own film. I used to stammer so I wasn't even sure if I could narrate. I was also depressed for four to five years previously so I did nothing during those years. But once the film making process started I kept it very cool. I said if it works we'll have a success party and if it bombs we'll still have a party.
What do you think really works for the film?
The music that Vivek gave is amazing. I'm a musically inclined person. I've been following it throughout my life. I was initially worried about how it would all come together but he gave unbelievable music. It's got folk, metal; it's a complete range. Some people have even said that this is his best work yet. He tells me that a film's music is a director's visualisation so it's my music. *Laughs*
Were you always planning to get into films?
I've done my masters in Mass Communication in Manipal. This was during 2000-2001. Director Kranthi Madhav and me were classmates and roommates. At that time our Professor A.F.Matthews, who was teaching social sciences, would bring films to class to explain concepts through them. He was a massive influence on me; he's actually one of the most popular professors and the students loved him. Although my plan was to be a Sports Journalist and my first job was also in it, the idea of filmmaking took seed during those days.
You are from Bihar and you don't know Telugu so how did you make your debut with a Telugu film?
Yes, my father, brother, everyone lives in Bihar and I don't know Telugu but it is not necessary to know the language to make a film. It's a form of art. At times it's a problem but I had my direction department who were very good with English.
After I finished the movie story and scenes I approached some famous dialogue writers in Telugu but they weren't getting my ideas. So I wrote the dialogues in English and Rahul translated them into Telugu along with another actor Bhushan.
If you are asking me why I choose to do a Telugu film specifically, it's because I've spent the last eight to nine years in Hyderabad. Here I know the place and the people. If I try in Bombay, who do I know? I knew my film would see the light of day if I made it here.
Were your parents supportive of your career choice?
My father is an Orthopedic Surgeon, I come from a family of doctors. He's the most supportive father in the world. I suffer from Attention Deficit Disorder so in my childhood I would fail all the subjects but my father gave me the confidence to go on. He wanted me to become doctor. I attempted it twice, failed, and also hated it. In Bihar you can still do some 'setting' and get into MBBS. My father was ready to get me a seat that was as well. He asked me if he should but I said, 'frankly I don't want to be a doctor.' He said ok but you have to do something in life. That's when I told him that I wanted to be a Sports Journalist. At that time only three to four places in India did Mass Communication which was required to become a journalist. He said do what u want and I'm always there for you!
Do you have any project in the pipeline after Mithai?
I've got a story structure in my mind. It's a one night story where there's hundreds of murders. It's too early to talk about it actually so we will see what takes shape post Mithai.
- Maya Nelluri