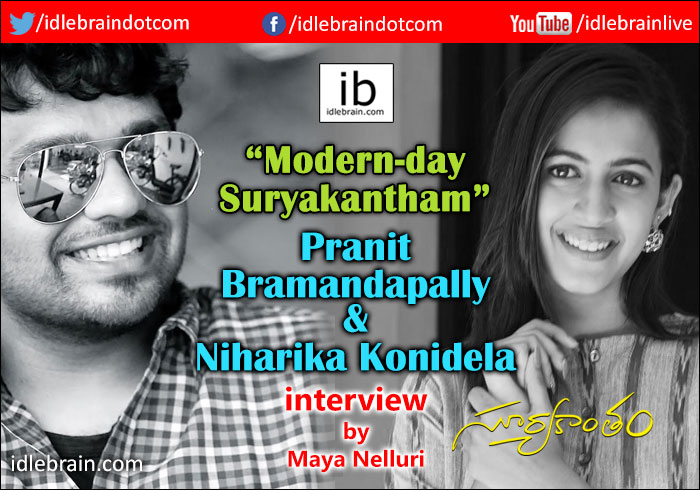 28 March 2019
Hyderabad
Director Pranit Bramandapally and actress Niharika Konidela discuss their upcoming film Suryakantham exclusively with Idlebrain. The duo have been friends for a long time and seem to be thoroughly enjoying working together. Read on to find out more.

You both started off working on a webseries together. Tell us about that.
P: Yes, we've done two webseries together. They were not as formal because Niharika is a friend.

N: Because we were producing the webseries we really had to take all the decisions by ourselves. It was very different from working on this film. Here we have three producers. I don't get to take decisions so my relationship with Pranit in this project was of a director-actor.

Now that you've worked together multiple times, how has your working relationship evolved?
N: The comfort level really changed. I could ask anything of him and he could say anything to me without worrying so it really helped bring out the best.

Why did you decide to work on Suryakantham together?
N: Initially I was not a part of the project.

P: After developing the characters I was convincing her to let me narrate again. I was sure that she would be the perfect fit for the role.

N: I knew about the story during the writing phase because I was giving him ideas from a girl's point of view regarding the script. I didn't think we were going to do it together though. He had another script which I really liked and told him I wanted to do that but I didn't know he wanted me in this film. After redeveloping the characters he said it's perfect for me and was trying to convince me. My impression of the role was that it was too eccentric so I told him this time I will listen to the script in a proper narration, not as friends. That's when I fell in love with the character and wanted to do the film.

From the trailers it looks there it's a triangle love story with one girl who's sweet and the other is bossy. Is that how it is?
P: It's not exactly like that, its two different characterisations. Both the girls have similar emotions but he has to choose between them.

Why did you choose the name Suryakantham?
P: It's perfect for the characterisation. She's hyper, bossy, cracked, and she shows both love and anger in extremes. We've seen these qualities in the real Suryakantham in her movies.

N: I think this is the only word to describe such a person even though it's not an adjective. After the legend Suryakantham it became a popular descriptive word and it suits my character the best. It's also very catchy and is the name of the character.

You said that you've given inputs from the girls' point of view and Pranit said he's based some of the characteristics on you. Does that mean you are like 'Suryakantham' in real life?
N: Playing Suryakantham was not very difficult for me because it's close to how I am in real life - chirpy, hitting people (in a fun way), loud. It let me put my guard down and I could do anything. Pranit said do anything, be crazy. She can't do anything wrong because she has no boundaries. She lives life king size every day. It's a kind of person who won't change for someone and won't want someone to change for her. It's difficult to play a similar role in my next film because the role was almost written for me.

P: It also made it easier for me to imagine the character because I knew how she would look doing those things like dancing, hitting someone playfully, just being carefree. It made me more confident that Niharika would really suit the role.

Niharika: Did you even consider anyone else for the role?

Pranit: No, I didn't consider anyone else.

Will you both be working together again?
N: Yes, I want to work together in the near future. If he thinks I can deal with the character that he writes. Actually not hopefully, you better do a film with me! *Laughs*

Tell us about your three producers.
N: They were really good and flexible. There was not much involvement from them. All they said is we need a hit and a good film. They didn't want to compromise on production values because of that.

P: All three of the producers are in the US. Of course everyone has their own opinions so initially it was tough. That changed pretty quickly once we started working; there was only one executive producer here. And all the producers came to us with one voice. All three of them commonly have a deep love for cinema and good content.

This is the first film that Varun Tej is presenting.
N: Yes, it makes me really happy but at first I was nervous. It's an extra burden on me because I need to give him a success.

P: He has a very good reputation and good will that he's giving to the film by presenting it so it is a big responsibility for us.

N: He took the decision after listening to the script. He's very good with selecting scripts and we really believe in his judgement. So when he said he will present it, it gave us more confidence.

Niharika your previous films were not commercial oriented. Should we expect the same from Suryakantham?
N: Frankly speaking, I had a four and half hour narration for my first film and I fell in love with it. It's rare to find that kind of love today and those kinds of people. If I played Suryakantham in my first movie, I don't think anyone would've given me Satya. Except maybe Pranit because he's seen me in real life so he could imagine it, but any other director probably wouldn't. With this film, it's more commercial. There are no loopholes or strong issues that people will point to.

P: It is made for all audiences. It is a modern age rom-com with dance numbers and comedy timing. It's a movie that one can watch with family or friend.

N: I think it's very new for people to see a girl like this. The parents might think, 'why is she drinking so much etc.' It might be a reality check to the elders about today's young people. And it's something young people would connect to.

Pranit, tell us about your journey to becoming a director.
P: I've always loved movies. When I was in my seventh and eighth I would watch a lot of movies. I did my first short film when I was in my ninth. It was a long process back then to make a short film and I thoroughly enjoyed it. After that I did a couple of short films in degree. I can say that it's only my passion for films that got me here. I studied BCom Advertising and got offered a job but rejected it because this is what I want to do. I went on to be an associate director for Niharika's first film.

N: Yes, he actually did the work of three people, running around all the time, looking after everything.

Was it difficult to transition into being a director?
P: I have already directed Muddapappu Avakai so it wasn't like a totally new job in my mind. Of course a feature film is different because there's more money and a lot more at stake. But I had enough working days and I had a young team so it was fun to shoot. All the actors were also very flexible so there were no tantrums. We didn't face any problems.

Did you have to go through any struggle?
P: I went through a lot of struggle while narrating actually. Right now I'm confident because I gave hundreds of narrations but initially while narrating it was a struggle.

What's your next plan of action?
P: Go on a holiday for a month. Maybe Leh Ladakh.
- Maya Nelluri