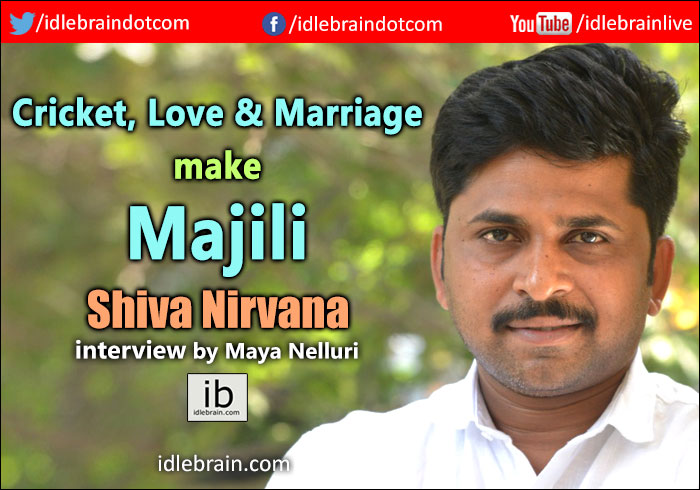 3 April 2019
Hyderabad
Director Shiva Nirvana is gunning for another hit with Majili. With his debut Ninnu Kori becoming a major hit with families and youth alike, many critics are waiting to see if he repeats the magic this time. Although the stories both seem to be about lost love, Shiva is confident that they are nothing like each other and is sure that it is a film that will connect to the masses just like its predecessor.

Ninnu Kori was a huge success, how did it feel?
I was very happy because the film happened about nine to ten years after I entered the industry. There were many experiences in those years that lead to the film. It takes time to gain the trust of people for a new director to have someone invest their time and crores of rupees on a film. Ninnu Kori's success was of course the biggest source of happiness for everyone around me. My family was certainly happy. More than the fact that it made me a director, it gave my father a lot of satisfaction. He saw me study MSc, work as a teacher, give that up, assist for films. He had a sense of pain because he was worried about whether he will be able to see his son the way he wanted to; now that pain is gone!

Your second film Majili also seems to be about lost love.
I tend to concentrate on showing the transformation of the protagonist from beginning to end of the film. There has to be a strong incident which catapults a loser. Even though there are incidents of love lost, the two films are totally different. The significant difference between Ninnu Kori and Majili is that Majili is not a triangle love story, no one comes in between the couple. In Ninnu Kori we took a realistic approach to a very improbable situation by introducing an ex into a marriage. But with Majili every scenario is very realistic. There is no need to treat it with a realistic approach. Every scene is almost out of a middleclass love story. Majili can also be seen as Poorna's biopic. It has cricket, love, marriage. It deals with his journey and his ability to deal with different situations. The reason the film was named Majili is also because that's the meaning of it, there are many stops in life's journey.

Is there a personal reason as to why you chose lost love as a basis for both your films?
My likes are translated into movies but not everything is translated from my life. Some things we see and experience haunt us whether it happens to us or others and they get triggered at various stages to form a larger story. But there is no big love failure story in my life which caused me to spoil my life.

If you had to sum it up, what is the film Majili about?
Cricket, love and marriage. I've really liked these three topics since my childhood. We used to play cricket in my hometown with about ten friends from seventh standard to inter second year in the same ground. Families from the colony would congregate during these matches. In those times we would see jealousies, friendships, heart breaks, these concepts were developed from those experiences. When we look back at our lives we all have gangs with a lot of stories of love, betrayals; some of those moments I saw in my life stayed in my heart. And then love is everyone's favourite emotion. Those feelings stay with you whether they are from college or love stories that we watch. Then the last aspect, marriage, it composes us, transforms our emotions and gives us a sense of responsibility. Majili combines these three aspects and tells the story with 10-11 people from a middle class environment.

Which of the three would be your favourite?
Marriage is the best part, of course! Cricket comes in when we are very young, we don't know what is good or bad; we just run around. Love also we don't really know when we are young whether it's even real, whether we'll stay together and so on. With marriage there's a lot of stability and peace of mind and no other constitution can compare to.

How was it working with Chaitanya and Samantha just after their marriage?
It was wonderful. When I see an extraordinary artist I have the need to work with them. When Samantha was on set, it is an experience, there's nothing else the director could want. With Chaitanya I fixed this idea keeping him in mind. Once you watch the film you will say that Chaitanya is the only one who could've done the film justice. No one else can replace him. In fact if you see him post watching the movie you will go hug him n cry; that's how emotional you'll be at the end.

Looking forward what type of films will you be doing?
All genres. I watch a different type of film every Friday, just like that I want to do a different type of movie every year. I'd do an out-and-out comedy, horror, thriller, everything!

Anything else you want to share with the audience?
In these times most of us don't go to the theatre confident about the movie we are about to watch but to Majili you can be assured that you can walk in with full confidence regardless of whether you are with family or friends. Everyone can sit together in the same row and be transported into the Majili universe, it will connect to everyone.

- Maya Nelluri