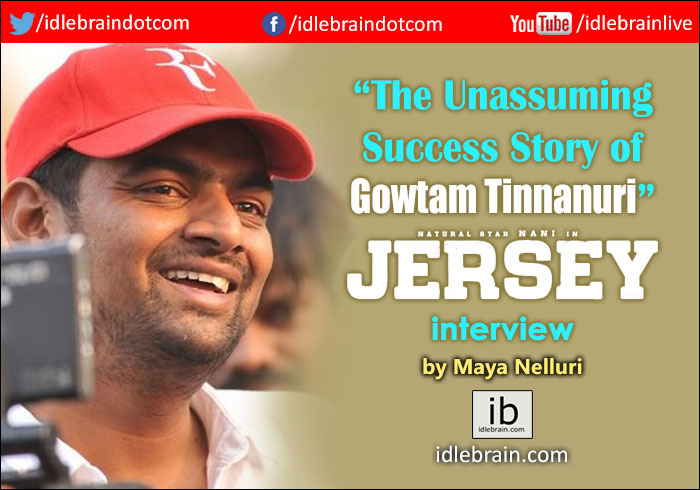 19 April 2019
Hyderabad
Director Gowtam Tinnanuri made the critically acclaimed Malli Raava not long ago. It boosted the confidence of the thinking and feeling filmmakers everywhere because of its unique style. Now he is back with another great story – Jersey, starring natural star Nani. He tells us about his personal success story in this interview.

How did the story of Jersey come to life?
I wanted to tell an underdog story. You must've heard of the child prodigy concept. These are people born with extraordinary abilities and they succeed at a very young age. There's another concept called late bloomers; these are people who pursue their dreams at a later age and succeed. I wanted to concentrate on the later of those concepts. Jersey is a story of someone who's been ruled out by the entire world but still has a dream. Cricket is just the platform for this story. I chose sport because in other fields like a business it's the skills matter, age is not a barrier. In sport age is definitely a barrier because it is highly dependent on physical fitness, agility etc. In Jersey people around Arjun saw him play when he was younger and knew he loved cricket but later it is not so easy to convince the same people who hailed him. The story is about how he overcomes many hurdles to succeed.

Was any of it inspired from your own experiences?
I was never an underdog and I don't think I could be as glorious as Arjun in real life.*Laughs* Also, I don't play cricket so nothing about Jersey is related to me. Some instances of the film I took from my observations of different friends and people around me. During school I knew a lot of sportsmen who were worshiped like heroes but as time passed and everyone got settled into different positions, it changed; now everyone is equal. If one of my school friends were to take up playing cricket now it won't be absorbed so easily by others. That's the scenario in Jersey, the whole story starts with the dilemma of whether it's really possible to make it at that age.

How was it working with Nani?
It was a fantastic experience to work with everyone in the film. I never even met Nani before Malli Raava. Once I saw him shooting as I drove past. The second time I saw him was when I narrated a script to him. For me the most important thing is to be in sync with someone, they should be able to understand the ideas I'm trying to communicate. I found that in the first meeting itself with Nani. But I couldn't decipher whether he liked the story based on his expressions; he looked totally blank during the narration. When I stopped the narration after the first half, he asked me if the second half would be equally good. That's when I realised he actually liked the story. Earlier I really liked him and his films but after working with him I like him more as a person. He is a very nice person. Without him this project could've gone in a 100 different ways but only because of him it went in the right way.

Did you expect the success that you got from Malli Raava?
I was totally clueless about what was going to happen because I had no prior experience. I felt I had a good story, I narrated, the producer liked it and decided to make it. It all happened pretty quickly. Even days before the films' release I was totally blank; I didn't know what to expect. If you say something in a gathering of 20 people maybe five won't like it. Imagine going to lakhs of people and expecting them to unanimously like something. It is an enormous task. And on the first day the market was slow so I thought I had to learn a lot more to reach a larger audience. But by the end of the first day it picked up. Then I felt confident that there is some section of audience that I can communicate to. That's a big achievement, forget about the hit or flop, to be able to connect to and communicate to the audience is the biggest achievement.

Some people are saying that Majili and Jersey look quite similar. Do you have any comments?
I haven't watched Majili so I can't say anything. But the people who are saying it's similar to Majili haven't watched Jersey so we'll wait for one more day for them to decide. *Laughs*

Let me also tell you an insider's story. Immediately after announcing Jersey, Shiva Nirvana was the first person to call me. He said our stories might be similar so would you like to discuss. We discussed it and here we are so obviously we didn't think there was any overlap.

What are you expecting from Jersey?
I definitely want the film to connect to the audience. If I don't say this my producer will kill me. *Laughs* Because why else would we make the film if we didn't think it would succeed. We've tried to make the story and narration as realistic as possible so we are hoping that people will see this movie as some part of their life at some point in time. It's an emotional sports drama so I want the audience to connect to the story and enjoy it that much more.

Tell us about your life prior to films.
I did Engineering and then MBA. After that I worked in IT for eight years. I finally quit when I was working with Deloitte. I didn't know at that point where to go. I didn't have anyone from the film industry. I'm also not a go getter who can spell bound someone and get them to invest in me. Basically I don't have a single quality to be a film maker but was lucky enough to meet the right people and to be able to make two films. Even now I don't feel too comfortable if a lot of people gather and talk to me about my film. *Laughs*

Did you assist anyone prior to making Malli Raava?
I didn't assist anyone. Actually one of the reasons I quit IT was because a friend of mine wanted to direct. I wrote the story and dialogues for it. The post production of the film went for a year in Chennai but never released due to financial issues. I was in Chennai during that year and since I was looking after the post production I learnt about edit, mixing, DI etc. That's where I got much of my experience and people were very kind to teach me the technicalities of filmmaking during that time. Maybe not assisting has been an advantage because I see things differently and think originally. My ideas are a culmination of many teachers rather than a single director.

How long post that film did Malli Raava happen?
It was after six years. In those six years I learnt a lot. I used to work in Accenture at one point and was sent to Chennai for a month for visitation. I stayed in a hotel called Sheraton. It was a luxurious life with good money. When I went to Chennai after I quit my job, during the film's post production, I was staying in a small hotel next to Sheraton. *Laughs* There is a big change in lifestyle when you switch fields. When there is a financial crunch you learn to live in your means. That's what happened in those years, it was a great learning experience.

What kept you going?
I'm very passionate about writing. Whenever I start writing it gives me a high that makes me forget everything else around me. When you start making a movie I've realised it's also a high. I remember where I wrote every scene of Jersey, in coffee shops, at home, sometimes even while driving I would pull over on the side of the road and take out my laptop. On the day of the shoot when you see all that you've written come to life, it is such a thrill. It's almost like playing God because you write and someone plays it out. I'd be happy writing all my life as long as I'm financially stable.
- Maya Nelluri