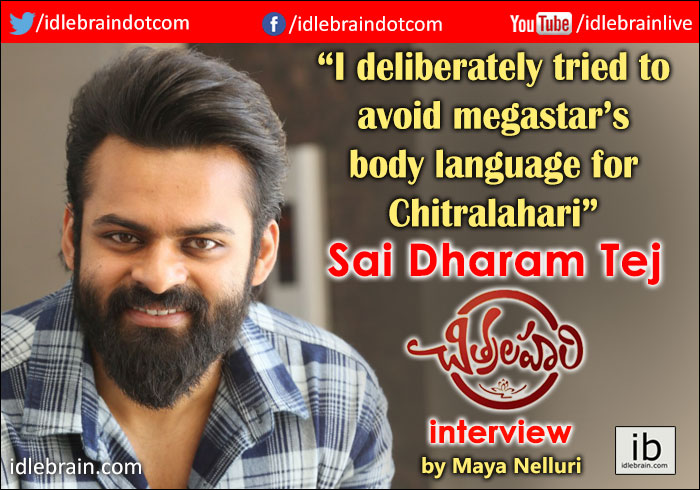 10 April 2019
Hyderabad
Looking dapper in his crisp white shirt and suave matching lungi, Sai Dharam Tej walked into the cafe, straight after his Tirupathi trip. Though he must've been tired with the daily barrage of promotions, he certainly didn't let it show; and stayed true to his reputation of being a thorough gentleman. He smiled, answered every question, even if it was uncomfortable, accepted his shortcomings, told us about his realisations, and looked genuinely eager to share his all new avatar as Vijay in Chitralahari with his fans. It looks like our Supreme hero is back with the perfect entertainer.

Tell us about your character in the film.
I play the character of an unlucky guy, ironically named Vijay. The film is basically of Vijay who's never seen success. He will definitely see success because it is a Telugu film but the movie starts with the question of, 'what is success?' We start it off on a comical note in the beginning and then it comes to a point where you connect to the character so much that you feel sorry for him. Chitralahari has a blend of all emotions; we can't base a film like this only on comedy because we have to go where the story takes us.

The name is very ironic.
Yes, it was intentional. Actually when Kishore told me the name I was surprised and it also connected to me to the script because my mother's name is Vijaydurga and my best friend's name is Naveen Vijay Krishna.

You have a reputation of being nice, jovial and inclusive of people in real life; that's not usually translated into the characters you play.
Yes, that's also the reason Vijay is very close to me, he's very close to my real self. I got connected to it because of it. The way the character behaves with friends, colleagues, everything is very close to my real personality.

This is your first film with a full grown beard.
Yes, I should give credit for that to my director Kishore. He wanted me to look like a proper loser. He wanted people to see me and feel that I am a loser. It's also why he didn't want me to lose weight and had me wearing loose shirts. He wanted the audience to look at me as a boy next door.

Did your personal experiences shape your acting for the film?
Apart from the slump I've had in the last two years, I had to wait for five years for my first film to release. No one realises that it took me that long. They usually think I'm from the mega family so I must've got it easily. But I wasn't exactly given everything on a silver platter. There was a lot of pain, struggle and hard work behind everything.

Chitralahari seems totally different to the commercial formula films that you are known for. Did you decide to step away from your regular genres because of your previous fails?
Frankly speaking I was told the story of Chitralahari in last February. I connected a lot to it right away. There's no reference point or link between it and my previous projects; I went with my gut feeling. Also, I picked up this film from the scripts I got rather than me going out and looking for different films. Going forward as well if a script comes to me and I like it or connect to it, I'll do it.

Positioning as actor essential in Tollywood but with Chitralahari it seems like you are moving away from your forte.
Actually I had to make that shift because commercial films today are not accepted as they used to be earlier. It is also important that whatever base I created as a mass hero has to be eased into my future films. They shouldn't feel bored or feel oh no another song or oh no another fight. I'm trying to get the right blend of being unique yet commercial.

In your previous films we've seen a lot of Chiranjeevi garu's mannerisms and dancing in you. There were even remixes of his songs. Was that something Kishore intentionally stayed away from in Chitralahari?
In this film there are no intentional references to him. My body language is very close to him in general because I've grown up watching him from my childhood. While performing in this film when those mannerisms came out Kishore was particular to redo it to stay away from that. He wanted Vijay not Sai Dharm playing Vijay.

Tell us about the comedy stars in your film.
I've wanted to work with Sunil anna from many years but since he became hero around the same time that I started acting, it didn't happen. For him to get back to character roles and to work with me in this film was great. We have a great bond at a personal level where we are like brothers. That translated really well in the film. Kishore anna is also a very close friend. The kind of rapport we have made it very easy to work together. The funniest part is that he completely speaks in English throughout the film; he plays a Tamil guy.

Usually 'losers' don't end up with girlfriends but in Chitralahari your character has two leading ladies.
Actually I have only one love interest in the film and that's Kalyani. Nivetha plays a catalyst to my success; she inspires me. I have to say that both the women were very professional. If you tell them the call time is 7am, they will be ready at 6.30am! It was very impressive.

This is your first film where DSP did the music.
Yes, I really loved the songs, we were very happy with the audio. With the fourth song I didn't hear the completed version till the audio release but as soon as I heard it I was so connected to it. Kailash Kher and Chandrabose garu did such a great job. And I was very happy to be associated with Devi anna.

The producers of Chitralahari are Mythri movies.
Yes they came forward to work with me after six flops which was very lucky. Also they give such independence to the team which is very important to support creativity. I'm sure producers like Mythri will come out with great scripts going forward as well.

Kishore is more popular as a dialogue writer so how was it working with him as a director?
He's got his own style of stories and he believes in strong characterisations. He believes in presenting a story as a story without adding unnecessary stuff. As for working with him, we were friends from before so it's been great to see him growing and going places. I hope this film brings out the best for everyone associated with it.

What are your expectations for the film?
I'm keeping my fingers crossed. Earlier I spoke a lot but this time I'm just going to keep my fingers crossed. I'm very satisfied with the film and I'm happy with it. I'm sure I'll make my mom and family very happy. Let's just keep it at that. I don't want to jinx it.

Have you signed on any projects?
I've been listening to scripts but haven't finalised anything. Earlier I was focused on bringing out one project after another. It was not intentional; it just worked out that way because I had commitments. I didn't know I could say no. Now I've learned that. Now I'm taking time to focus on myself. I'm able to voice those feelings. I actually had a hope with Jawan because when I heard it the script wasn't commercial; it was completely different to what I had done earlier. In the end the screenplay changed, the x-factor was taken out and it also became a commercial film.

The past doesn't matter as much now because now every film runs on its own merit.
Yes, the way people see films have changed drastically because of social media and online platforms. People can easily access international and national material so they expect better quality. I can see the revolution happening. Now it's a challenge to give our best rather than just making a commercial film or a love story. I feel that there have to be many layers to a story.

- Maya Nelluri