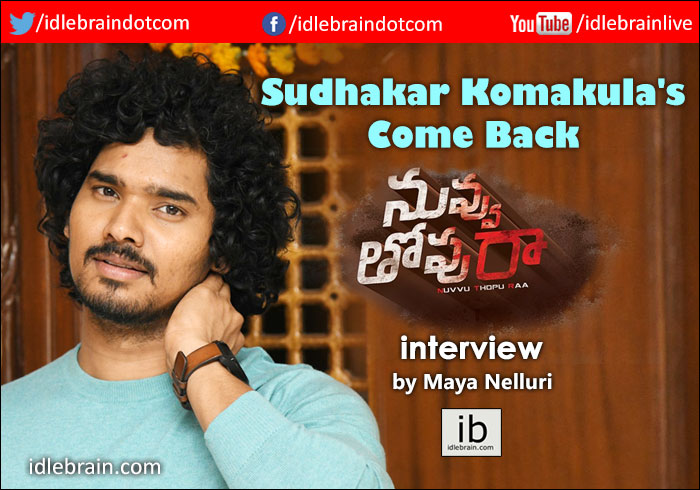 3 May 2019
Hyderabad
Sudhakar Komakula debuted with Life is Beautiful. Although the film got critical acclaim his winning streak paused there. A few years on Sudhakar now has high hopes for his b releasing today.

Why do you think you didn't see the same success with your projects post Life is Beautiful?
I like realistic new-age films so I was looking for them but I didn't get such scripts. There were few directors and scripts which we sensible, but unfortunately those projects didn't materialise for various reasons. So, meanwhile, I compromised. I thought the more people see you, the more they'll remember you. But that was wrong. The projects I did didn't turn out as expected. Then I realised that I have to follow my gut feeling and I felt I had to connect back to Nagaraj's character that I played in Life is Beautiful to get the audience to connect to me the same way.
How did you zone into the story for NTR?
At that time my wife was moving to the US for work so we had to be there for at least a few years. I wanted to shoot there so we choose a plot which blends with that. We also wanted a connect with my previous role Nagaraj so the Telangana dialect was chosen. Once we gave the requirements to the writer he came up with this storyline. He had worked in the US and is from Saroornagar so he used those points in the film. After that the director and writer sat together for three to four months and developed it further.
That's an interesting way to zone onto a storyline.
Generally when a writer wants to write he has to choose the story's plot point somehow. Some get inspired from a novel, some from an article or someone's story. I feel this was also a valid way.
Tell us about your NRI background.
I was living in the US from 2009. I was not into IT but my wife was. I was learning photography and film making. It was around the same time that I saw the casting call for Life is Beautiful on Idlebrain. It's always been my go-to website. I did the audition, and that's when I came back to India. I thought it was a big opportunity and decided to follow my career here. Otherwise I was going to do independent films in the US itself; I would've more likely been a filmmaker.
What are your other interests?
I like photography, choreography and dancing. I've always wanted to explore and learn more crafts. But acting is the main focus for me right now.
You were married even before you got into films. How did you juggle your marriage and finances while acting?
Yes, I was married before acting. My wife works in the US and the industry is here so we had lot of tough times. Still, we managed through thick and thin thanks to her. I wouldn't have been in this industry without her. Without her even this film wouldn't have happened. My wife is the only support I have mentally or financially.
Can you elaborate about the accident that happened last week?
When we were driving from Hyderabad to Guntur, just ten minutes before reaching the place we got into a major accident. The car had me, director heroine, location manager and driver. Suddenly the driver hit a woman who was working on the road and she died on spot. I was sitting in the front seat but was saved with slight injuries. The driver was badly injured. There was a misconception going around that I was driving.
How has it been since then?
I was left alone at the scene and people almost started a mob attack. By God's grace the village sarpanch and police came and things were clarified. The woman's death is very sad and has been weighing on me. We will be giving her family five lakhs in compensation. After the 11th day rituals are done we will be doing that.
We've still had to carry on because the film is releasing and there are a lot of things at stake. We've been working on it for two years so a lot of time and money has gone into it. We don't want producer to be in losses either.
Can you tell us about the scope of the film?
It's not a low budget film. It's a very good budgeted film. Once you watch the film you'll know the production values. We've got some of the biggest technicians who've done very big projects. About 60-70% of the film was shot in the US. There is also another surprise character who adds to production value. We've got very experienced musicians as well. We've maintained the highest standards so I'm sure the audience will notice the quality. Nirosha garu is also acting after 12 years.
Why was that particular title chosen?
It was because of the character of the protagonist. In the film he is detached from his mother and sister and his father died when he was young. He is studying BTech and has a love story as well. But when he has to go to the US out of necessity he realizes the value of family. How he sets his life back on track with his smartness, good deeds, and with the help of friends forms the rest of the story. He does the impossible to come out on top so that's why the title.
So would you call this a commercial film?
It has mix of new-age and commercial elements. We wanted to give the audience what they'll like. Once you go into film you'll have a different feeling because of the layers in the story. The film is a multi genre love family drama. It's entertaining, engaging, thought provoking. At the same time it's the story of an underdog which is generally known to be a worldwide favourite.
Did you choose to do the underdog aspect because it usually ends up being a successful film?
That's one of the reasons I chose it. I also like stories where the character transforms because of situations. I like such plots. His characterisation is interesting; he's funny, upfront; he's always giving it back to everyone who comments on him. He doesn't want to bend down to anyone.
Anything else you'd like to add?
I'd like to thank D. Srikanth and Dr. James Watt Kommu for believing in the script, director and myself to do what's best for script. Story and dialogue writer Ajju Mahakali, a lot of credit goes to him. Harinath Babu, our director took up the challenge to make that script his own and he made a very good film out of the script.

What are you hoping for with this film?
I'm hoping to get back into the groove because I got to showcase my dancing, comedy, action, emotions; it's a well packaged characterisation. I hope the audience will like me and the film; and the industry notices me again. I feel it's a comeback film for me.
- Maya Nelluri