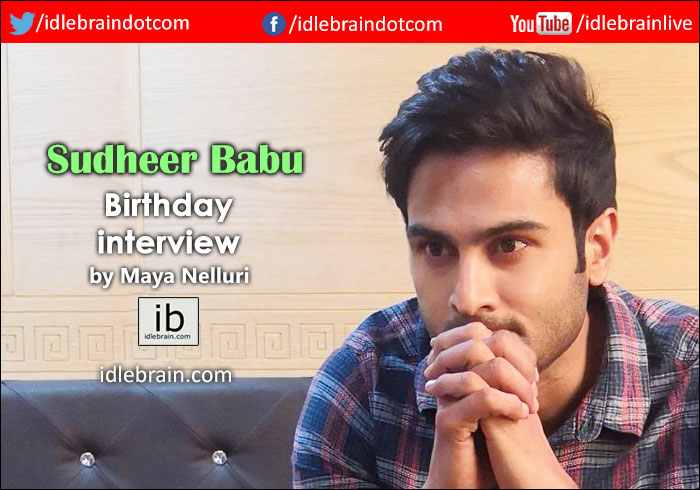 10 May 2019
Hyderabad
Sudheer Babu's birthday is on the 11th of this month; certainly a cause for celebrations. He speaks to us about life up till now and what he has planned for the near future, letting us into his normally private life.
What are your plans for your birthday?
In the last few years I've not really done a lot, it's not like a big birthday party. Nothing really big is planned. I'll be shooting this time for V which is being directed by Indraganti garu and produced by Dil Raju. I'll be meeting some of my fans who will come over. I'll go with the flow.
You've chosen quality projects throughout your career. Was it a conscious decision to do a certain kind of cinema?
There's no fixed or certain genre that I concentrated on. I'm going with the flow. I've learned from Mahesh that whenever you want to do something particular and other people advice you to go looking for something else, it's better to go with your gut. Things worked out best for him when he choose a movie from the scripts he got so I do that now. But of course I would try to do something new each time.

People never saw me in certain characters. For example in Krishnamma Kalipindi Iddarini I stepped out of the box. They thought Sudheer does fights dances etc so people weren't sure if I could pull off such a role. It doesn't matter either way because people already wrote me off so if I do well in such instances it's great, if not, it's not going to be blown out of proportion.
You've done villain roles as well. Is that something you are open to do in the future as well?
Given an option, I will do hero roles. With Bhaagi Sajid Nadiawala from one of the biggest production houses approached me. I didn't want to do it just because of that but when I went there to tell them I wasn't interested I heard the script and thought it was interesting.

The thing is when you are talented and good, you eventually get good roles. I started with a small negative time in Ye Maya Chesave but then went on to main lead roles.
Did you see yourself becoming such a success when you started acting?
I didn't think so far. I like acting so I knew that this was a field I can give my 100% to. That's why I'm here. If someone said if after 5-6 years I'll be at this stage I'd have been very happy but I never thought about it. I love it so im doing it and I'll continue to do it.
How did you land V?
I met Indraganti garu for some other script post Sammohanam. He was considering others but when we met he thought that I would suit it and that's how I'm in the project.
How is it working with Indraganti garu again?
With him you are constantly learning something new. It's a really good atmosphere for an actor on his set. Regardless of whether you are newcomer or experienced, you'll feel like the king of the set. His actors feel very comfortable. Most of the actors who worked with him will agree with that. There's reading sessions that he does and most don't in the industry. During these the main cast and crew will be there and reading so we get to know each other and there's a lot of other preparation that goes into the shoot.
You've been married for over a decade. How do you juggle acting and family? Concentrate on where you are at that moment. When I'm acting I don't think of anything. When I'm home I don't think of acting. Then everyone around you is very comfortable. I'm lucky because most of the lead actors always have time for family. It's not like you shoot 24 hours a day. Rest of the time you can spend with family.
What prompted you to get so fit?
When I wanted to be an actor I thought I shoud work on my body. But the way my mother brought me up, it was induced into me from my childhood; to eat healthy and look fit. That became a driving factor. When I eventually did get into acting it just took me about 15-20 days to get my six-packs.
What lies in the future for you?
Future! I started a production house so the plan is to do a few films apart from for other production houses. I want to do interesting films. I want to do films which are commercially good but I also want to look back after few years and feel good about them. I want to do films that are remembered.
- Maya Nelluri