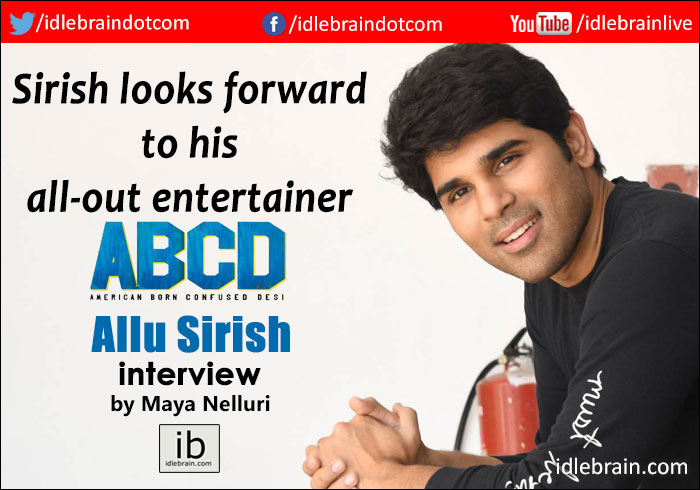 15 May 2019
Hyderabad
With the overseas market commanding a higher and higher stake in the revenue generation of Telugu films, it's only natural that we make films which appeal to a global audience. ABCD, Allu Sirish's next film attempts to do exactly that. It follows the fun filled life of an NRI who's moved to India. Sirish talks about this film and discusses his previous ventures in this exclusive interview.
ABCD looks like a fun movie.
Yes, I've been wanting to do a fun film for a while. When I did Kotha Janta earlier people said they want to see me in more such entertaining films. My last was more focused on the story and less on fun. So this time I decided to go with a fun movie which has a strong story. We worked a lot to marry a great story with entertainment.
What do you think is the best part about ABCD?
The fact that it's entertaining throughout. It's got family drama, cute romance, friendship. The fun was very visible in the trailer. The love track between me and Rukshar, the father track with me and Nagababy, and my bromance with Bharath will all be highlights for the film. Then there are the songs, especially Mellamellaga.
How did you prepare for this film?
I've seen a lot of engineering and medical college students who moved to India with an NRI quota to study here. They are usually very confident with their language (Telugu) because their parents insist that they speak it at home. But their body language is very different, westernised. American body language is more animated, expressive compared to Indians. And when I went to TANA I met a lot more NRIs. I tried to channel them with my role in this film to bring it authenticity. For example there are some coloquial words that NRIs don't understand or use and they usually switch to English whenever they can't explain something. After one-two months of being here, they are more acclimated to Telugu. That's the graph I maintained in the film as well.
Do you decide on the movies yourself or does your father?
Our family believes in advising but not enforcing so I chose my own stories but I run it past my father. He gives me and the director his inputs which we've often taken into consideration and developed the script. We essentially exchange notes with each other about our works.
Are there more advantages or disadvantages being from a film family?
I think the advantages far outweigh the disadvantages so I wouldn't even consider it a contest. The only negative is constantly being compared to our predecessors. It's more of a responsibility which comes with the name. But coming from a film family gives you more opportunities, mentors, possibilities. I've been quite fortunate to have that and I've tried to make the best use of it by doing films I'm proud of.
Is there a lot of pressure to succeed as an actor being from the mega family?
There's no pressure because of that but I've invested almost an entire year into this film so I've put all my eggs in one basket essentially. I've seen the first cut and dubbed for it as well so I feel it has come out well. There's the usual Friday jitters but it's not like I'm going to die if this doesn't work or anything like that.
You are also a businessman; you founded a magazine, produced films with your father.
Yes, my father's friend Moorthy garu was excited about starting a magazine and I was also interested in that field. I was mainly on the board. The day to day management was conducted by a professional team. Later when Moorthy garu started CCL he wanted someone else to takeover and even I moved out eventually. Since my debut I've focused solely on my acting career. I'm not a good multitasker. That's actually why I don't do multiple films at once. Having said that I like to be involved in my work and I like to give each film it's space (even though my experiments haven't always been successful).

Speaking about multitasking, when I was hosting my first up award function, I spent 20 days practicing for two hours in the morning and two hours in the night. There wasn't a team of writers so I got some on board along with Navdeep and Regina to host with me. Even after I got confirmable with hosting I still took a week totally off from filming and practiced. For me I have to put 100% into everything I sign up to. My mental bandwidth is limited but focused.
You've always chosen different types of films.
Yes, I've tried to balance different and main stream films by doing them alternatively. Even the audience get bored if you bring out the same type of films everytime. They need varied films. I also need to beat my own boredom and show different sides of me so I choose films accordingly. Even though some didn't work, I would still pick up something new and trendy if it catches my interest.
Why do you think your last film Okka Kshanam didn't do well despite good content?
I don't know. I was looking for answers myself after that. Maybe because it was dark and wasn't solely focused on entertainment. It was off season, thrillers have a niche audience. We couldn't generate as much buzz for the film due to these reasons. It also might have had it's set of flaws but I'm proud of it and still think it should've done better.
What's in the future for you?
Actually there's a very nice love story I liked; it's been with me for long. I'll share more details of it once it's more formal. I've also been meeting more new directors. Next year I want to have two films out. Web is another thing I'm interested in. I really wanted to explore it since a long time, even before it became trendy. But my first priority is always films. Once I lock a couple of scripts then I might expand and look into the web space.
- Maya Nelluri