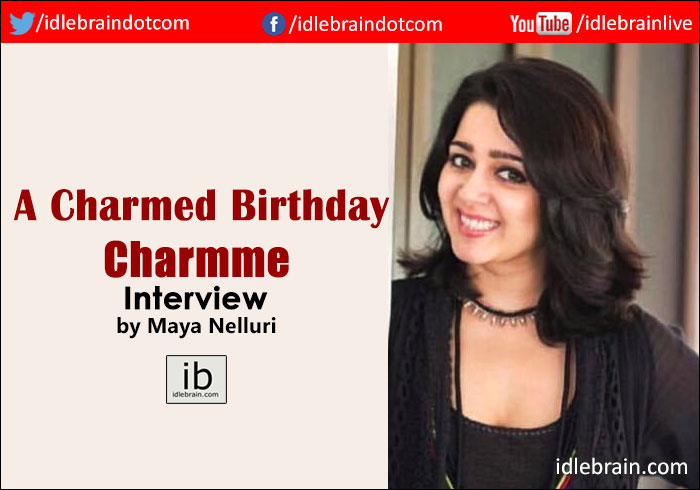 16 May 2019
Hyderabad
Charmme celebrates her birthday on cloud 9 as the response to PC's latest teaser of iSmart Shankar has given her more than enough reason. She also speaks about her shift from actor to producer in this exclusive interview.
What are your plans for your birthday?
I'm shooting right now in Goa and I'll be shooting tomorrow as well. The release of the teaser and it's response added to the excitement. We've been celebrating since yesterday since we got very good response for it.
So you won't be taking a day off?
The celebrations will go on. I'm not an actor for this film where I can say that I want a day off for my birthday. I'm the producer so I can't and don't want to take a day off. Since I was 13 I've celebrated my birthdays on sets. That's what keeps me going and gives me security in my life. To be working in what I love gives me enthusiasm. If I'm not doing anything on my birthday then I'll be sad.
What prompted the shift from acting to production?
The shift was very gradual, over a couple of years but I feel confident doing this job. And I have the support of Puri garu. I'm more confident playing a producer than an actor. I feel this is what I was meant to do it just shaped up in last few of years. I would choose this role over being an actress any day.
Will you get back to acting?
I won't.
How have you felt after you decided to stop acting?
I don't feel anything. I'm doing what I really want to do. I really like the whole production process from the story's conception to filming to marketing and release. This is something I wanted to do and I don't miss anything about being an actor. Now I don't have it in my head that I'm an actor. When people now ask me for autographs it takes me a minute to get understand why. My reactions are different now.
Any life lessons you'd like to share?
Being in front of screen I have always been more of an actor than a celeb or a heroine. The kind of roles I picked up and the scripts I did, I've satisfied myself. I did what I wanted to do then. Now I'm doing want to do. I didn't miss anything then and I don't miss anything now.
What are your future plans?
I'm one person who doesn't think too far into the future. It's a waste off time to think about things you can't see. My father always taught me to look at the next 100 meters and keep going. Slowly we/'ll get to the destination. And at the moment my 100 meters are focussing on iSmart Shankar and making sure it turns out really well. It's going to be quite a big scale release.
Is iSmart Shankar a sci-fi film?
It is an entertainer. An out-and-out entertainer from end to end. You'll come back to watch it again because you want to go through the ride again.
Your other venture is Puri Connects, a talent management company?
PLc is a film production house where we make movies ourselves and we are open to new talent, especially Puri garu. Right now we are doing Romantic and iSmart Shankar. We are looking at doing more films in PC in the future. The talent managment works add to our production. We want to have our in-house talent including crew and actors. We give them work in our own productions. It depends on who suits what. Both factions works hand in hand.
Does that mean PC doesn't cast for other productions?
Work is welcome from everyone and everywhere. I don't treat PC as an agency. It's hand picked talent. I'm very fussy about whom to have on board. And once we have them on board, I make sure they have work. I don't want them to be disappointed like they usually are with other agencies.
- Maya Nelluri