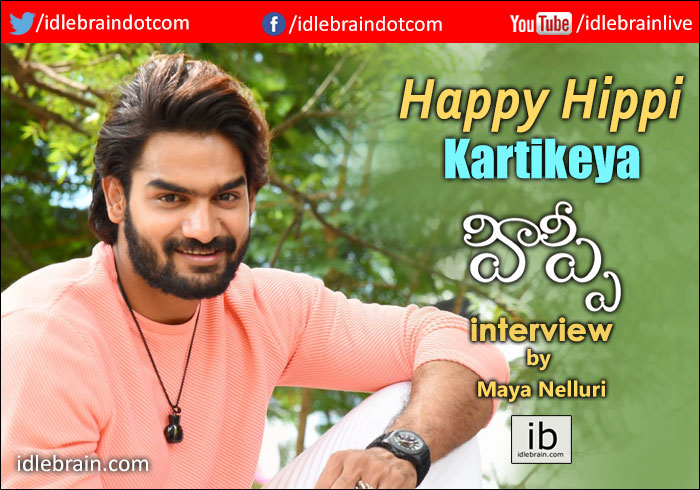 5 June 2019
Hyderabad
One of the most desirable men of Tollywood is coming out with his third film tomorrow. Kartikeya is all smiles as he discusses his next film - Hippie.
How has life been post the success of RX100 ?
What happened was very unexpected. It's still not really sunk in. Sometimes I wonder what happened. What did I do differently in the film. I don't see any difference in myself even post it. But the best part is I don't need to depend on my parents and I can listen to multiple scripts and choose to do the work I like.
Did the failure of your first film affect you?
Not really because I was in a stage where I wanted to do anything, any role. I got offered a lead and it was big for me. I didn't really expect it to become a hit. There's no regrets, I enjoyed the process. I saw myself in theater even if there were only five others in the hall. There were interviews, posters, it's a memory for me.
Your six pack abs have put you on 2018's list of most desirable men. Was that something you aimed for?
I worked on my body to be an actor. For RX100 I had to take off my shirt and look fit enough for the actress to desire me, that meant having abs. I also had other romantic scenes so I had to be careful about how I looked on screen. I didn't think whether it was going to get me on the list because I did it solely for the role. And I'm happy if I get roles because of it.
You are looking equally fit in Hippie. Do you have to work very hard to maintain the standard?
I've been maintaining a body like this for a long time now so I don't have to do extreme dieting. After RX100 I was partying continuously so it wavered a little but after that I started working out and maintaining it again. Even if I have a break for a week now I make up for it by working on it the next week. I also set myself goals regularly. Recently, a week ago I got an idea to take off my shirt on the stage, that kept me motivated.
In RX100 you played a village boy and now in Hippie you are completely urbanised. Which did you relate to more?
I was comfortable with the clothing I had to wear in RX100. But in terms of acting and comedy I was more comfortable in Hippie. Ever since I wanted to be an actor, I wanted to do the dance, comedy and acting like in this film so I was enjoying doing it.
Was it a difficult transition?
Difficult no but exciting because I was waiting for something like this so I can transform. In RX100 I had to be very subtle, understated because I was playing an innocent guy. But it isn't the only thing I can do. I can do punch dialogues, comedy, I can be hyper. I'm actually like that outside.
How else is Hippie different?
The biggest difference is that RX100 had a lot of pain and intense emotion. Hippie is a light hearted comedy with a few sad moments. Overall it's a very happy film.
There still seems to be a lot of romance in the film. Is that going to be your USP in all your future films?
It actually depends on the script. I don't think I'll be doing it in every movie; I'm not doing it in my next. Also, if I wasn't in a good shape they would've made me do those scenes with my shirt on. Because I have a good body the scene looks more sexy. For my age right now I'll be getting love stories which will obviously have romance. And cinema has changed now so we can't pan the camera and put flowers and umbrellas to signify romance. Also to pull off a romantic scene is difficult. On some actors it does not look good so to pull it off you have to have the charm. If people are liking you doing romantic scenes on screen, you are blessed.
What can we look forward to in Hippie?
Hippie is a movie where you will experience a new kind of cinema. Love is usually shown in a glorified, idealised way in cinema where a boy and girl are both very nice, perfect people and they face problems from outside when it comes to staying together. Now noone is completely good or bad. Now the definitions of good, bad, and love have changed. There's a lot of people cheating each other and torturing each other. We showed these things in an entertaining manner. It's a movie that a group of friends can relate to. In recent times there's not been such a fun movie.
You are also doing a film with Nani.
Yes, I'm playing a negative role. When I was approached I was 50-50 because I wasn't sure if I wanted to foray into that area. But because it was Nani sir and Vikram sir, and I'm a fan of them both, I wanted to listen to the narration. Once he narrated it to me I said yes on the spot because I didn't want to miss the opportunity. It's something that if I miss it now I won't get to do it again in the future. These kind of characters rarely come about. The intensity and craziness. And these days it doesn't matter whether it is a hero, heroine or villain, it's the characters that are remembered.
Will you do other roles as well in the future?
It depends on how my career is going. Depending on my image, my market etc. I want to do relatable roles which connect with the contemporary times. In that I'll select different genres.
- Maya Nelluri