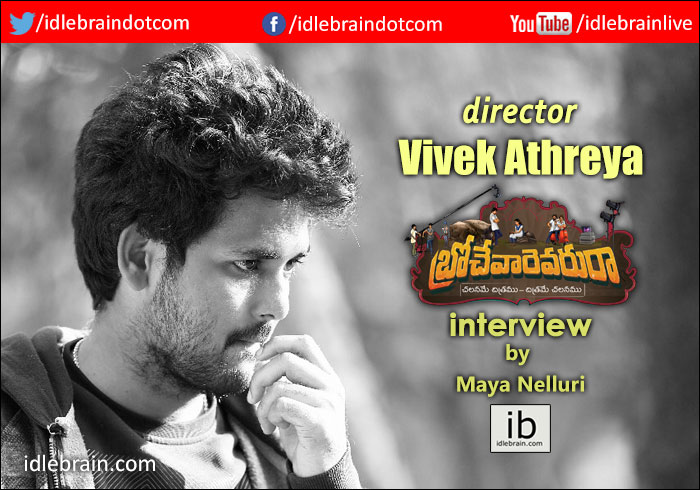 27 June 2019
Hyderabad
Director Vivek Athreya of Mental Madhilo fame is coming out with a totally unique film. Brochevarevaru Ra looks enticing with a multi-star cast and a story to keep us entertained. Read on to hear his point of view about his two films.
How did you get into films?
I did short films while I was working in IBM. After that I directly went on to doing Mental Madhilo. It wasn't a very dramatic journey. *Laughs*
Did you always want to be a director?
I've always wanted to tell stories. Forget about being a filmmaker or sticking to other labels or particular platforms. I wanted to bring out good stories so after a certain point I decided to quit my job and try to get into it full time. Before Mental Madhilo I had a couple of stories that I pitched to people but they didn't work out.
How did people react to you quitting your job?
I didn't tell anyone actually. My family thought I was working from home. Slowly they got used to seeing me at home and realised what was happening. It was a shock to them when they realised because quitting a stable job and changing professions is not a normal course of life. Still, my mother has been a huge support through my journey.
Was it more difficult for you to do your own film considering you hadn't assisted on any films?
I don't know because I've never been to other sets. I did what I knew. That meant I didn't have any boundaries as to what should or shouldn't be done. Everyone who comes to my set usually comments that it's very quiet on our sets. There's no chaos. I don't know how it is on other sets.
How has your experience been in the industry?
Everyone I've met has been very welcoming. There is a lot of warmth regardless of me being a new guy. Even if you look at Suresh Babu sir. He's doing so many small films even though he doesn't need to. He backs so many films out of pure passion.
How did Mental Madhilo happen?
I wrote another script called Kavyam earlier. When I was pitching it people were sceptical because it was very dramatic. They advised that I should try a film like that after doing two-three other films. So I decided to do a light hearted drama which happened to be Mental Madhilo. Raj sir pinged me on social media and said let's catch up. I went and he was the first person I narrated to. I don't know how people usually react to narrations but he immediately said he loved it and wanted to do it.
How did Brochevarevaru Ra happen?
After pitching Mental Madhilo and getting it okayed, there was a delay before starting. During that time I was getting restless. I decided to work on an alternate script. That became Brochevarevaru Ra. It is a crime comedy drama that can't be narrowed to one particular genre.
After Mental Madhilo many people suggested that I should write another romantic love story. I thought I'll be typecast if I did that, which I didn't want. So I ended up making this film.
How was it working with such a varied starcast?
Making it was so much fun. I didn't think I'd work with so many people in a single film but it was an amazing experience. I'm short of words to explain how good it was. Brochevarevaru Ra is a complicated story, writing it was easy but I knew that the execution was most important. We had to have natural performances for the film to work so the casting was important. Now that I see the end result I feel like they all killed it!
How do you think the audience will react to the film?
To be frank I'm not waiting for result. After watching the film I'm proud of how it shaped up. I'm content regardless of the outcome. I feel that the main thing for a filmmaker is to be satisfied with our work ourselves and I've got that with Brochevarevaru Ra.
What are your plans for the near future?
I'm going to take a break for a few months. I'm blank right now but I'll think of something different again for the next project.
Any message for the audience?
Watch it. This movie is made for women and I feel every woman should watch it. We dealt with a very sensitive issue. Even if we didn't come up with a solution, we've posted a question and hope that it will be dealt with.
- Maya Nelluri