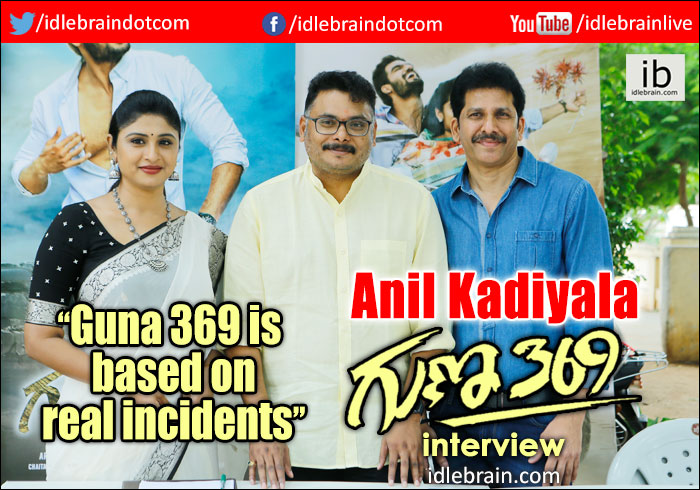 2 August 2019
Hyderabad
Anil Kadiyala who is successful on small screen with many shows is entering the big screen with his partner Thirumal Reddy with Guna 369 film. Here are the excerpts of our interview -

Background:
I have discontinued my degree in 1996 to join city cable in Vijayawada. I have learnt about editing over there. Then I joined MAA TV in 2000 and worked there for over 7 years before joining a content production company Sonopix as CEO. I used to be the director and Praveena used to produce. We have conceptualised shows like wow, Ali 369, Modern Mahalaxmi etc.

I started my own production house Gnapika Entertainments for producing TV content. We have started with MAA Mahalakshmi program with MAA TV. Later on, we have done most of the content for ETV. We started programs like Ali tho saradaga and Manam etc. We are also running the most prestigious ETV shows like Padutha Theeyaga and Swaraabhishekam at present.

We have also done Pandaga Chesko with Haritheja and Express Raja with Pradeep.

After Dance Baby Dance, Ali has decided to stay away from TV. We have convinced him to come back and do Ali 369. He said that he would do 12 episodes to start with so that he could come out of it if he wasn't satisfied. He went on working for 143 episodes for that series. He has done 150 episodes for Alitho Saradaga.

We are also into event management and we have conducted GAMA awards in Gulf.

We have noticed that everybody was thanking Praveena during press events. What's her role?
She has a good judgment of story and maintains very good relations with celebrities. She is one of the reasons for the success of our TV shows. She is the one who convinced Ali and he has been doing TV programs continuously with us.

Tell us about why you have ventured into film production and how did Guna 369 happen?
Thirumal Reddy has been our friend for a longtime and we planned to do a small budget film together. Boyapati Sreenu is our friend and he has sent his teammate Arjun Jandhyala to us. Arjun narrated the a couple of incidents first to Praveena Kadiyala. She made us listen and we were convinced with Arjun. It's a love story with family emotions that has been narrated in a new style. He has taken a few incidents that were happened to somebody in Ongole and prepared the story out of it.

You had been successful in TV media. Don't you have fear of failure in film production as the dynamics are completely different on big screen?
No. We have done Guna 369 in the right way. We have selected a good subject. The screenplay of the film is also good. I personally feel that theaters, release date and promotions play a big role in a film's release. We got it all right. I feel that at least 60% of the entire audiences will get connected to the movie.

How is the business of Guna 369?
We are in safe zone now. We would have got profits prior to release, but for Hippi film. Hippi film has upset the market of Karthikeya and distributors are skeptical now. However, we have sold movie for all areas, sold rights for Hindi and have made a deal with Netflix,

What are your future plans?
We will continue to do more movies. We are here to stay and produce good films.