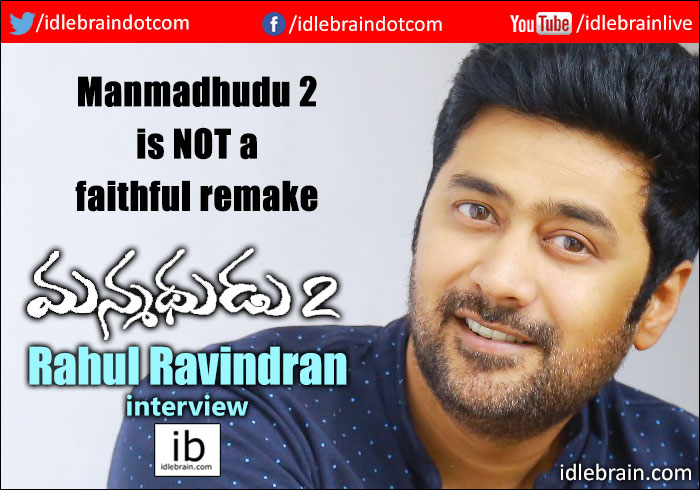 8 August 2019
Hyderabad
Rahul Ravindran who has started his career as an actor with Andala Rakshasi has come a long way. After making his debut with sensible film Chi La Sow, he bagged a golden opportunity to direct a big hero like Nagarjuna. Here are the excerpts of an exclusive interview -
Tell us how did Manmadhudu 2 happen?
A week before the release of Chi La Sow, Nagarjuna has called me and asked me to have a look a french film and if I were willing to direct the Telugu remake of it. He has told me that it's going to be an official remake just like Oopiri. I watched the original French film and liked it very much. It was a huge jump for me as a director and I accepted the offer immediately.
Is it a faithful remake?
No. I just watched the original film once. I have got the gist of it and started writing it from scratch. We had taken only 25% of the scenes from the original and remaining 75% is our own work.
Tell us about the process?
It took me 25 days to come up with the first draft. When I narrated it to Nag, he has asked me to visually explain by acting as I am also an actor. He felt that the script is too classy. He has asked me to modify it to cater to a wider range of audience. He has asked me to give a universal orientation to it. We had written 9 drafts before the script was locked in. Kittu joined me as co-dialogue writer in 3rd draft. We took 7 months to lock the script.
Technicians:
We have retained Chi La Sow cinematographer M Sukumar as is exceptional at it. Chota K Prasad did editing for Chi La Sow and his assistant Nageswar Reddy is jointly credited for this film. Rama Krishna and Mounika who have done art direction for my debut film Andala Rakshasi have done art direction for Manmadhudu 2. Nagarjuna loved Pilla Raa song from RX 100 and he suggested me the name of Chaitan Bharadwaj and he is perfect for this film. Costume designing duo Anirudh-Deepika duo had worked for many Bollywood projects and they worked for all films directed by Balki. They have brought new classiness to the film with their costumes.
Story:
It's the story of a guy whose family is settled down in Portugal three generations back. Lakshmi plays the head of the family. Nagarjuna doesn't believe in love due to an incident in the past. He is just looking for flings without any emotional connect.
Reason for choosing Portugal
Portugal is a less explored European destination for Telugu films. Though a couple of films were shot over there in the past, those films have limited story in Portugal. We had shot the film extensively in Lisbon and Porto and the entire story happens in Portugal. We had shot a couple of songs in Switzerland.
You carry 'ramudu manchi baludu type' type of image. Manmadhudu 2 has liplocks?
Kisses are required because of the story and due to hero's characterization. Though there are liplocks, they are not zoomed and there is no titillation factor. The kisses in the film are as clean like those in 'Friends' TV series. Harmless and entire family can watch the film together.
Lots of female characters
Rakul Preet Singh plays the female lead. Keerthi Suresh and Samantha have done special appearances. Akshara Gowda has done a cameo. Lakshmi plays the role of househead. Devadarshini, Jhansi and Nishita play sisters to Nagarjuna.
Difference between Chi La Sow and Manmadhudu 2
Chi La Sow had 80% emotion and 20% humor. Manmadhudu 2 will have 20% emotion and 80% humor.
Nag and Vennela Kishore chemistry
Since it's an entertainment subject, it's very important to get the chemistry among the actors right. The chemistry between Nagarjuna and Vennela Kishore has worked really well. They improvised in many scenes.
There had been many trolls about Chinmayi tweet after the pair of Nagarjuna and Rakul Preet Singh announced. How do you handle negativity on twitter?
We support each other at home. I come forward on twitter regarding Chinmayi issues only when there is an absolute need of it. The foundation of our marriage is on the principle of freedom of expression. Chinmayi is a soft spoken woman. The most baddest word she can come up with is 'donkey'.
She believes in certain causes and she is relentlessly fighting for it. I am really proud that she has brought an attitude change in social media. Loads of women started coming forward after Chinmayi started fighting for Me Too movement.
We need to ignore negativity and those instigating tweets when you are fighting for a bigger/noble cause.
Coming to that particular tweet of age difference between hero and heroine, Nagarjuna plays the role of a middle aged man. And Rakul plays the role of a young girl. The story is a love story between a middle-aged man and a young girl. Manmadhudu 2 is not about a love story between 2 youngsters. If I had cast them for a love story between two youngsters, then their trolls make sense.
Tell us about your next project?
I had been getting enquiries. But, haven't committed to any. I want to take a break for a month and then decide what to do next.