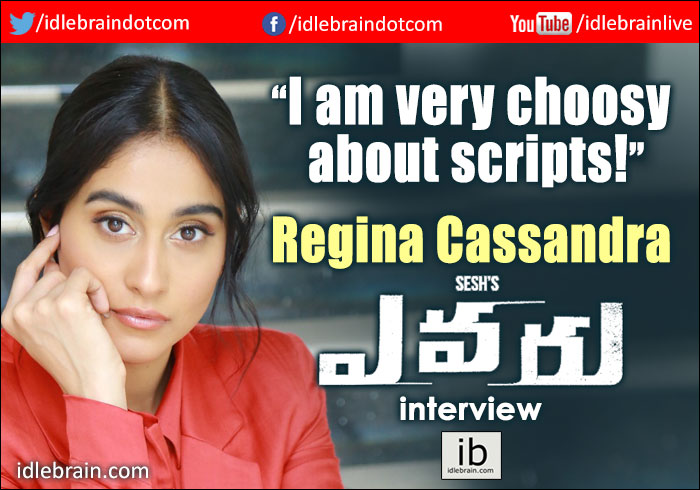 12 August 2019
Hyderabad
Regina is being very choosy while selecting scripts. She is doing a pivotal role in forthcoming thriller Evaru. Here is our exclusive interview -
Why are you doing less number of Telugu films?
I have been doing films that offer me substantial roles. Except for Balakrishnudu, all my recent films have been having good roles. Right now, I am doing a few interesting Tamil films. I am not giving preference to any language. I am giving preference to my role and the script.
Tell us about your character in Evaru film?
I play the role of Sameera who is a socialite and wife of a CEO. She climbs up the ladder in a hard way. She becomes a rape victim. She gets interrogated by Vikram Vasudevan. She doesn't show emotions and she is very stoic. With that kind of personality, it's very difficult to crack the case. Sameera wants to be the voice of rape victims.
Tell us about Awe experience? Your looks are very radical!
Yes. Looks made a lot of difference to the character in Awe. When Prasanth Varma narrated me the script, it was my idea to have an upper cut for my hair. The upper cut coupled with nose ring and tattoos has made my character look radical. During that time, I was also doing Balakrishnudu film. I managed it in such a way that if you tie my hair up, it becomes an uppercut and if I let my hair free, it looks normal.
Right after listening to my character in Evaru, I asked director Ramji if I could have a short hair for the character of Sameera. And it worked.
What are the Tamil films you are doing?
I am doing three Tamil films at present. First one is Kasada Tapara in the direction of Chimbu Devan. It is produced by Venkat Prabhu. Sundeep Kishan is doing male lead in this film. Second one is Party which is being directed by Venkat Prabhu. I am doing another thriller titled Kallapart which also sports Aravind Swamy in a vital role.
You have made a debut in Hindi recently. Tell us about it?
I have done my debut in Hindi with Ek Ladki Ko Dekha To Aisa Laga. Though it's not a main heroine role, there is something special to my character.
Tell us a few favorite films among the ones in which you have acted?
Jo Achyutananda, Awe, Routine Love Story and Nagaram. Evaru will join the list.
Have you seen the film. What's your gut feel about it?
I watched the entire film during dubbing time. I am very confident about the success. It's an intense thriller.