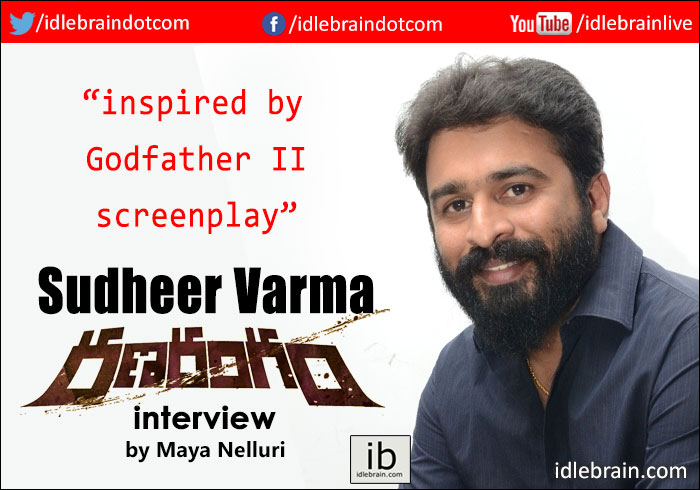 12 August 2019
Hyderabad
Walking into Sudheer Varma's office, the first thing you will notice is his love for classic cinema, especially those made by celebrated directors like Quentin Tarantino. It makes sense then that the man himself makes movies which are adrenaline fuelled, gripping and unlike regular Telugu cinema. With Swamy Ra Ra he created a cult classic and paved the way for many of today's unique films. He is a serious man but surprisingly witty; and extraordinarily charming once he starts to impart his wisdom about international cinema. Let's get reading about his journey to Ranarangam.
Your first film had a very good response but the two that came after did not fare so well. What went wrong?
I felt so many things went wrong with Dochay because I made a lot of changes to the script which didn't end up working. Once I completed the initial version of the script, I started changing it to make it commercial. While changing, somewhere the core was lost. I only realised that when I saw the final cut. Before the release it's easy to get carried away because my first film was a hit. I was in that zone so it felt like what I was thinking was correct. But after the release we knew the fate. Sukumar garu watched the film a week later. He knew the original script before I made the changes so he called to ask me what happened, how did the end result fall so far from the original. He told me that day that if you want to make a commercial film, write a commercial film. Don't change the script you've written to make it commercial. It will lose the core essence otherwise. He had apparently done so in a film.
As for Keshava I'm actually happy with it. I feel Keshava was my most polished product as a director. What happened with it was that people expected a lot. The heart issue idea back fired on me. It was not in the original script but my friend Krishna Chaitanya gave me the idea and Nikhil was very excited about it. Because we promoted that aspect people started expecting the story to be about it. But my story was mainly about revenge. When I look back, I have no problem with the first half of the film and the part from pre-climax to climax. Only the killing of Brahmaji I feel should have been more interesting. I'm also happy considering the budget I made it in and the money my producers made. It also got me out of the slump of Dochay.
Why was there such a long gap between the release of Keshava and Ranarangam?
This gap was not planned. After Dochay, Keshava took time because Dochay did not fare well. I was supposed to do the story of Ranarangam with Raviteja back then itself but he was busy with a couple of projects so I had to wait. In the mean while I wrote Keshava and I had time so did it. During Keshava's shoot, Baapi, my producer for Dochay, was shooting with Sharwa (they were shooting for Radha) so I met him for lunch. He said I'm looking to work with you so write for me. I thought he just said it casually. But after two days he called me again and he said he was serious and that a production house was going to call me. He wanted me to tell them what I require. That's when I realised, he was serious and Sithara entered the picture. I was already supposed to work with them. We then decided that we will do a project but there was no concrete story agreed upon. One day Sharwa got to know about the line of Ranarangam and said it would be very exciting for him to play the two ages. Then I had to convince Raviteja to do it with Sharwa. When we had decided to work together the story was different, it was a simple story which was supposed to release in May 2018 because it could be done in 2 schedules. Then we decided on Ranarangam. At the time he was also doing Padi Padi Leche Manasu. It required a similar look of Sharwa from the 90s part of my film, in terms of hair and beard. Once I was done shooting the 90s part of the film, he had to finish shooting for the other film and then grow out his beard and hair to match the next look. Then there was IPL and other events so we were waiting for the right time. We are hoping releasing right now will work.
Tell us about the film.
It's based around the character Deva played by Sharwa. It's a screenplay-based film where we start with the present time period and go back to when Deva started in 1995. It was the time when NTR had prohibited alcohol. We decided on Vizag because we needed a city that would support Deva's growth into a gangster; it's also close to Orissa so smuggling would be interesting to shoot in the port. The liquor backdrop matched perfectly to establish his character's growth. The film parallelly shows how he comes out of a problem in the present time period whilst also showing how he rose through the ranks to become a feared gangster in his youth. We also solve some haunting issues that have stayed with him through the years during the film.
What inspires you to do films which revolve around crime?
If I'm writing a gangster film or anyone is writing a gangster film then Godfather will be the inspiration. But till date no one has been able to recreate the impact that it had on us. Initially when I started making Ranarangam I wanted to make it like Godfather, not in terms of the storyline. In part two of Godfather you can see how the previous gangster grew. I adapted that style of screenplay here. There's also references of some killings from Good Fellas, some blasts from Casino, and there were many other films that I was inspired by. There is also a sequence which was inspired by the film The Assassination of Jesse James with Roger Deakins as DOP. I was so impressed with the lighting pattern etc and I wanted to do something like that in this film. You will see it!
Tell us about the visuals of the film?
Technically we did a decent job; I think it will definitely it will be liked. Divakar Mani is the DOP of Keshava; we worked together on Keshava as well. In Swamy Ra Ra we had vibrant visuals; there was a tinge of blue for Dochay; Keshava was in shades of orange. Here we have yellowish-orange for the past and the present has a lot of blue because it's shot in Spain.
Your latest sound cut has been making waves in the industry.
Yes, so many people called me from the industry. People such as Sukumar garu called to appreciate it. We didn't actually plan it as a promotional thing. One of my ADs did it. There is a video on YouTube called Hearing Tarrantino. Sometime ago Sharwa saw that and thought we should try it. I told one of my ADs to work on it and the first cut he showed we loved it so we released it immediately.
We hear that you have a temper on set. Is that true?
I only ever get angry at my department on set if I feel that we are wasting shoot time. They all choose to work with me because they love me even after knowing that I will shout. I cannot sit idle for even a minute on set because the money being spent keeps revolving in my head. I'm constantly worried about any delays and am keen that they shouldn't be because of my department. If it's taking time to set the lighting or camera then I don't worry because that is what shows on screen and we have to spend time to make it perfect.
How is it that in the publicity Kalyani is getting more attention than Kajal. Is it intentional?
It wasn't intentional but I have to thank Kajal very much for accepting a role which doesn't have a large space. Compared to Kalyani she is a very big star but I wanted Kalyani in that role because it requires someone very new and innocent. For the present we needed someone who is part of the story. If I put more of Kajal in the promotions people will expect more of her in the film. From day one I was sure that I wanted to show what is actually in the film. If I show only the love story and attract the family audience, they might get disappointed. It does have a cute love story between Kalyani and Sharwa, and the scenes between Kajal and Sharwa are also nice, but it is essentially a gangster film. I wanted to show whatever is actually in the film and not make the mistake I did with Keshava.
Tell us about the commercials of Ranarangam.
Till date I don't know what the budget of the film is.
Is that how pampered you are?
*Laughs* I don't like to spend on what is unnecessary right from my first film. I only go for it if it is required. All my producers Chakri, Baapi, Abhishek (actually he was totally not involved because he gave me the budget and let me do whatever with it) gave me a free hand. Vamsi and Chinnababu garu, the producers of Ranarangam, know me very well and they know how I work. For the film we put up a huge set of a colony from the 90s in Aluminium factory. When we went to Kakinada to see the locations, they were good but it would've been very difficult to control the ambience because we can't contain new technology from coming into the frame. It costs a lot more to build the set but they didn't question me. They still haven't told me how much the film cost and what they sold it for. From the first schedule Vamsi is only worried about what our next film will be and who it will be with.
Tell us about your next project.
Before the release of the film we can't plan anything. A Friday can change everything but I always have Nikhil. *Laughs* As for my prediction, Ranarangam won't have a bad result. At some point of time I'll lose the ability to make the right judgement because I would have seen the movie daily. From the past one week we have been showing it to close friends who have nothing to do with the film and they have been giving good feedback. So I have a good feeling about it.
Will you continue with crime stories in the future?
One thing I became confident about after finishing this film is that I can deal with a love story. While making the film I had the scenes on paper and shot them but after watching the scenes on the edit table I felt sure that it looks good and that people will like it. Now I might try love stories in the future. My next script is an action adventure based on some real incidents that happened much earlier in Sri Lanka. It is a very interesting script but it's very difficult to make because it's on the sea. I'm not a huge fan of VFX works so if it's supposed to take place on sea, I want to shoot it on the sea. I won't be able to make it like Life of Pi so I've been thinking about it.
- Maya Nelluri