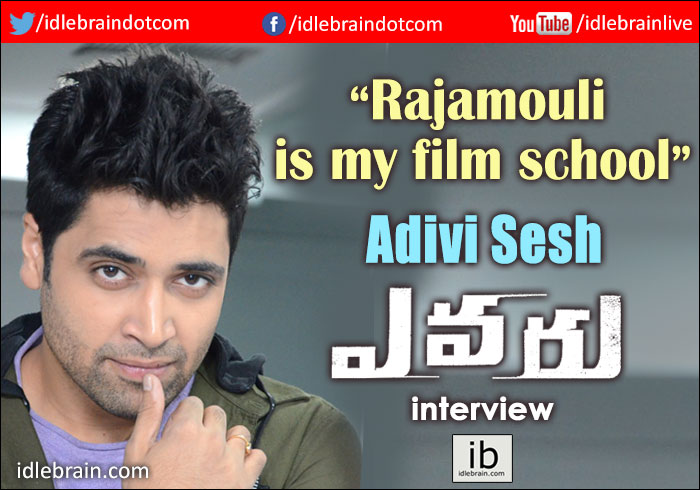 14 August 2019
Hyderabad
Adivi Sesh has laid a solid platform for himself with quality films like Kshanam and Goodachari. His latest thriller Evaru is all set to release on 15 August. Here is an interview with this budding star who doesn't carry any tag yet!
Tell us about Goodachari. What made it work?
We had focus groups for Goodachari film from the moment we were ready with a rough cut (70% complete). The feedback from focus grounds sharpened our output. We had reshot Khan and Madhu Shalini fight based on the feedback. It's worked really well.
How did you use focus groups for Evaru?
Evaru is a fast paced thriller. Hence its essential to have a compact film. The total run time is 1 hour and 58 minutes. I can draw parallels to the film and teaser. Like teaser, film too starts slowly and gains momentum gradually and ends in a high tempo.
We had 25 test screenings and over 1000 people who are unrelated to films have watched it. We have taken the feedback scientifically and sharpened the film.
Vennela Kishore saw the film in the final focus group session. He gave me the longest hug.
What's the story of Evaru?
Vikram Vasudevan is a corrupt cop. We do have two stereotypical cop characters in our films. One is strict cop (Ankusam type). The other one is entertaining cop (Gabbar Singh type). Vikram belongs to none of the above categories. He is lazy and arrogant. When he investigates Sameera case, his intention was to make some money out of it. But, he gets curious and his character gets tested as he probes the case further.
You seem to be grooming new talent in terms of directors?
Sashi Kiran Tikka was involved with me right from my debut film Karma. He has worked for the publicity department. Over a period of time, we have set up our own ecosystem. Now. we are not looking outwards for opportunities. We look at ourselves for betterment.
With films like Kshanam and Goodachari, you had developed a good will. How did you find the knack of selecting and executing right scripts?
I should thank Rajamouli garu. Though my screen time is just 15 minutes in Baahubali film, I had worked for 100 days. That gave me an opportunity to observe and learn from him. He is known for the pursuit of excellence. He was utmost patient and relentlessly pursued for 5 years to get what he wanted. Rajamouli is a film school for me.
Tell us about your next projects?
Major is a biographical story of Major Sandeep Unnikrishnan who became martyr during 26/11 Mumbai terror attacks. It was Namrata who brought Sony Pictures into the project. This film will have pan india Hindi release and Telugu version will also be shot simultaneously. It will be directed by Sashi Kiran Tikka who directed Goodachari. This film will go to floors in October.
After that we will be shooting for Goodachari 2. It will be directed by Rahul Pakala who worked on screenplay (along with me and Shashi Kiran) of Goodachari part 1.
We have been hearing rumors that Evaru is an official remake of a Spanish film?
All questions will be answered tonight (14 August) when you watch the premiere of Evaru. (Tagline of the film is 'All answers shall be questioned starting from today'). We were very particular about prints reaching USA on time for premieres. I slept for only 8 hours in 4 days to make sure that the USA prints reach on time.