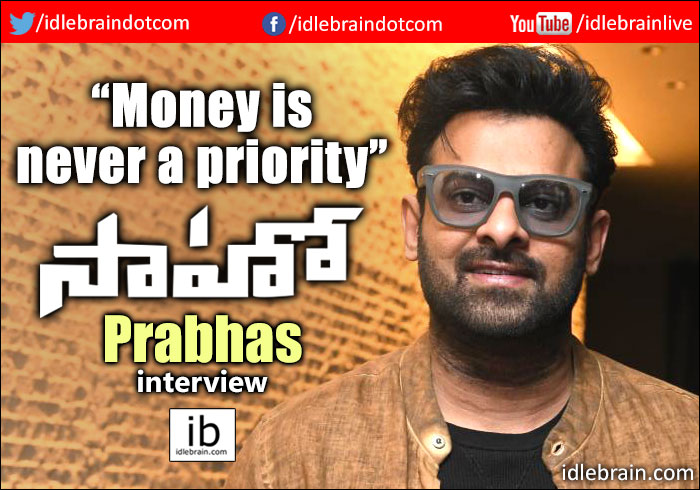 27 August 2019
Hyderabad
Prabhas who is called as darling for his pure heartedness and warmth he share with people around him is all set to enthral audience worldwide with his second magnum opus Saaho. Here is our exclusive interview with Prabhas to which he has answered with utmost honesty!
Your Mirchi was released in 2013. Since then, you had been having one film for every 2 years (Baahubali 1 - 2015, Baahubali 2 - 2017 and Saaho - 2019)? All these films are mega projects and magnus opuses. I came to know from my sources that whatever you had earned during this 6 years period is not even good enough to cover your maintenance expenses. Which means your are spending money from your pockets despite doing such magnum opuses. What influenced you to forego everything and dedicate yourself to such huge projects?
I would have settled down financially if I didn't get Baahubali after Mirchi. But money doesn't matter to me if I were to get such a fantastic film like Baahubali. My plan was not to do an action film after Baahubali. I wanted to do a nice love story and make some money to settle down. After listening to the narration of Saaho, I was so much in love with screenplay and content that I decided that I must do Saaho. I needed to do another film that justifies and lives up to the market that Baahubali has given to me. My first priority had always been cinema. I give either 2nd or 3rd priority to money.
Tell us about stretching limits and creating new markets through your films?
Every actor has a dream. My dream is fulfilled with Baahubali. Now, I want to give everything to the cinema. Rajamouli garu has proved with Baahubali that there are no borders for a cinema when made with passion and vision.
We are taking inspiration from Rajamouli garu, Shobu garu and Prasad garu to make Saaho. Producers of Saaho were willing to put in whatever budget it takes. We wanted to do the best action entertainer in India and Saaho happened.
Everybody is raving about the action sequences that were shot in Abu Dhabi. Can you pls elaborate?
We have created a factory in Abu Dhabi and imported everything from all the corners of Europe. It took months of planning. Some shipments took as long as 4 months to arrive in Abu Dhabi. A team has assembled trucks and other automobiles over there.
We have roped in Kenny Bates, an action choreographer from Hollywood who has worked for Mission Impossible and Transformers series. We had initially planned an action sequence with a budget of 40 crores. But it ended up costing us 75 crores. Again they have canned another small chase (2 and a half minutes duration) before interval by spending 15 crores. This 15 crores chase can be shot in 2 crores if you compromise. But the producers were uncompromising. We have imported 3 self-driving cars which costs 1 crore each. 2 of these cars get smashed in the chase. Producers have so much of mad passion for filmmaking.
Saaho film cannot be made if you have to think logics and finances.
Tell us about your friendship with producers of UV creations (Vamshi, Pramod and Vikram)?
While doing Baahubali, I had decided that my friends will produce the following film irrespective of the result. I wanted them to be there for me. Pedananna (Rebel Star Krishnam Raju) used to be my backup since beginning. Vamsi and Pramod are my backup in the last few years. UV Creations banner is my strength now. They are passionate producers and proved themselves by introducing Siva Koratala garu who went on to make bigger films. They also introduced Sujeeth with Run Raja Run by spending as much as 9 crores when the market was smaller for that film. They have a vision and they dare to defy rules.
Films like Baahubali and Saaho happen because of the vision of producers. At one point of time prior to Baahubali, Rajamouli felt that the budget was going out of hand and he wanted to try a film with a different script. It was Shobu and Prasad who insisted on making Baahubali. It was made because of the daring decision of the producers. Saaho wouldn't have been such a high budgeted film if not for the producers' vision. Sobhu and Prasad are an inspiration for my friends.
Have you seen the final product and what do you think will work for the film?
Screenplay, action sequences and grandier. I have learnt from Rajamouli that we shouldn't conceive action sequences unless there is an emotional hook and adrenaline rush in it. Saaho is also essentially a love story. Songs are needed in the film.
What is your plan of action now?
I am going to travel across 3 locations in India to promote Saaho. Day after tomorrow I will be in Dubai for promotion. Later on, I will take off to Europe. I will come much later and participate in the shoot of UV Creations next film in the direction of Radha Krishna.
What was your weight for the last few films?
I was weighing 99 kg for Amarendra Baahubali character. I did a vegetarian diet and reduced my weight by 10 kg to 89 for Saaho. For my next film, the weight is going to be the same, but will tone down my body a lot.