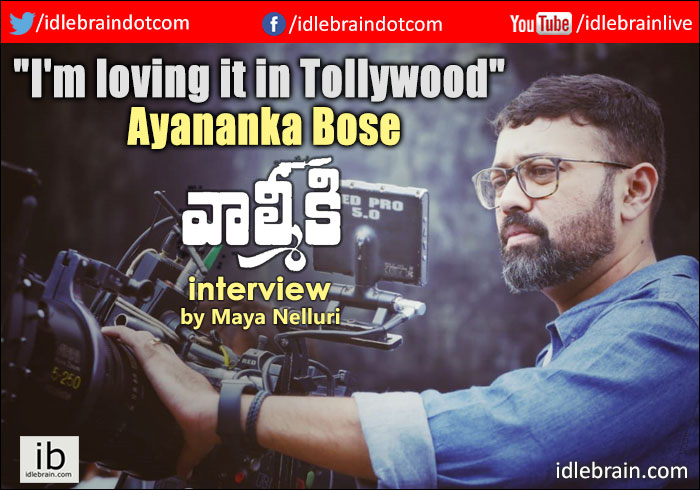 19 Septermber 2019
Hyderabad
Ayananka Bose, one of the most sought after cinematographers today in India shares with us his journey from being an intern to working on block busters like Dostana, Kick, Judwaa 2, Student of the year and more. He's been through the rollercoaster, for months eating just one meal a day before he got an unexpected break. His perseverance paid off; his talent, skill and speed set him apart from his competition. Today, even after a string of successes Ayananka remains humble and grounded, speaking highly of all those he crossed paths with, including the director of his upcoming film Valmiki.
How was life before films for you?
I don't know much of life before films. I live and breath films. I was very young when I was introduced to Rajiv Menon and I became his apprentice at 15. He was my first mentor. I was academically very good, I was the school topper so if I wasn't introduced to films I could've become anything I wanted to. But because of my exposure to advertising through Rajiv Menon and then to films through the movie he did I realised this is what I wanted to do in life. Now if you were to take away this profession I'd probably be a good driver or cook. *Laughs* Those are the other things I can do well in life right now.
How did your family take your decision?
When I got exposed to that side of the world, I told my dad that I wanted to do films. I'm from Chennai and the Pune institute was on strike at that point so FTIT Taramani was the way to go. I breezed through the entrance. I would study during the day (9am-3pm)and the entire evening I would spend at Rajiv Menon's office. For me it made sense to be around the sets and absorb everything. I'm very good at planning now because I used to observe the processes from back then. Those lessons from 22 years ago help me even today.
How did your film school education help?
I was a diligent student. I had 2-3 fabulous teachers when I was studying which was a boon. Today there's so many institutes but at that time there were only 2-3 and everyone there was very passionate. The best thing about film institutes is that they have great libraries. The periodicals and books dating from 1950s were categorised and kept at our library. I spent my entire first year there. That's where I learnt the fundamentals of cameras and lens. Even now I can take a lense apart and put it together. I can even tell what the problem is in a lense if there's any issues. A man is the sumtotal of all his experiences - I am that even if I didn't know it then. Now I know that every bit helped in my journey.
How was it being Ravi K Chandran's assistant?
I worked with him from 1997-98 to 2003-04. So I assisted him for about 6 years. I would myself quote that I was one of his best assistants. I was one of his highest paid assistant. Being an assistant is to learn all the things you can do but also what you can't do. I learnt all the things one should do and shouldn't. Behaviour, attitude, ethics - I saw how they affect others so I made rules for myself. Even today I call an ace an ace. As much as possible my principles will dictate how I'm leading a shoot.
When did you move to Mumbai?
In 2000 when I was an assistant to Ravi K Chandran we used to shoot in Tamil and in Hindi. My advantatge was that I knew English and Hindi so he choose me to handle the work in Mumbai. After being there for 2-3 years with him I felt that I had to grow further. When I did make the transition to work solo I did not get a job. When you are brand new, they need proof of your abilities. The assisting pedigree didn't matter. That's when I realised that luck is also a big factor in this industry.
How was the experience of working solo?
My savings were enough to last me for 8 months to a year so I rationed it out. But I hadn't landed anything solid even when it started touching 20-24 months. Then I decided to cut out a meal to survive. Everyone has to stay somewhere and I had a single room; I couldn't cut that out. I also had to travel to offices which I couldn't cut out. I would stand in line and ask for appointments at the film offices. The only thing I could cut was food so for almost a year I was eating only once a day. People might think it's depressing but it didn't bother me as much. I started entertaining myself with games like whether I should eat breakfast, lunch or dinner on a said day, or seeing how long I could go without eating. I kept myself upbeat and hopeful. It would've been easy to go back and do some assisting work to pay my bills but if I did that once I'd keep slipping back to it. Then I would always take the easy way out and I didn't want the hunger or drive in me to subside; I imposed it upon myself. In the end without amibition, goals and push you won't go ahead.
When did you start getting work?
2 years later someone randomly called me from television. We were to use a Digibeta camera to shoot a TV promo. When you are hungry and need work, you will do any work. But even today I don't have any ego. I have enough self respect to say work is work even if the scale differs. That promo turned out to be a song for a new show at the time - Jesse Jaisi Koi Nahi. She was shown transitioning from ugly to beautiful in that song. Suddenly everyone was talking about it and people were talking about how good she looks. Today I'm known for my skin-hair-face lighting. Maybe the seeds of that were planted in me at that time. I realised that if someone looks good on screen then the cameraman gets good recognition.
What happened after that first promo shoot?
After that many people from television called me to do other promos. What started as survival because I didn't have a proper place to stay and eat changed things for me. The hunger of survival started it but my ambition and need to show my body of work came in after that and the fire in my belly shone brighter. Once the food and basic survival is taken care of then the passion takes over. That's what happened to me.
What do you think sets you apart as a cinematographer?
My common sense is good. Being a cinematographer is all about common sense. There's a new set of problems everyday and you have to solve them. Common sense will give you the solution fast. Otherwise all institutes teach the camera work. The speed at which you place the equipment and how you do it depends on common sense.
What do you think is the secret to your success?
I don't know if I'm as successful but I'm thankful that I'm in a much better place and position than many people. What made me who I am is sticking to a core set of values. I do advertisements and films. I'm lucky. If I get a job for 1 day and for the same day I get a better offer I don't leave the older job, I follow through on my commitments because I believe that's the ethical thing to do. I don't know if it's the right or wrong thing to do in this industry. Also, if someone offers me work I wont say no, and I don't believe in firing at someone or yelling. If I make a mistake I'll own up to it.
Tell us about your first film.
It was starring Ajay Devgan and Sushmita Sen - Main aisa kyu hu. I shot it in 33 days and Ajay was amazing. Sush was Sush at that time. A lot of what I shot was against my instinct because I followed instructions. I was told it's my first film and others are experienced. After it released I realised that I should stick to my instinct. But I'm happy with everything I've done because I've learnt from even those projects that were a disaster.
Which of your films is your favorite?
There are many, each for a different reason. I think Umrao jaan will always be special because not only did it get me recognition in the industry, it showed me how nice people can be. Since then I've been very lucky. I've always been around really nice people. Many films I got were because of that film. Jhoom baraabar jhoom, Aditya Chopra's, was through Abishek. When I was jobless I used to ask cameramen how to get work. They used to say it just happens and it's the truth. You just have to be honest and passionate about the track you are in. If you genuinely want to do it, it will happen. One thing led to another and then another. Me sitting here in Hyderabad is also the sum total of everything.
How did your first Telugu film happen?
It was an accident of sorts to be honest. My introduction to South was when I was shooting in Hyderabad with Mahesh Babu and Trivikram for an ad. But I was naive at the time about their standing in the industry. My first experience was the best experience; we were laughing, joking, and having fun the whole time. At that time I was so busy with Hindi that I couldn't take up other offers. When I was shooting Kabil Harish Shankar was doing DJ. They had a short list of 3-4 people. He said he knew me from my films so he tried me. We got along like wild fire and I always believed that if the work comes to you, never say no to it; there is some reason the universe got it to you. I also had dates so it worked out.
Which language so you prefer to work in - Telugu or Hindi?
To me it is nicer to be down here and work in Telugu because I find people are more receptive, respectful and more experimental here which is a boon for technicians. At the risk of not getting a Hindi film, I have to say I'm loving it down here more than in Bollywood!
Tell us about Valmiki.
It's a remake of the Tamil film Jigarthanda but Harish Shankar being the genius writer that he is, he's pretty much rewritten the entire script keeping only the main parts of the original. It's a very uncommercial yet commercial film. It's a reinvention of ourselves. It's an opportunity to think outside the box so the excitement is very high.

- Maya Nelluri