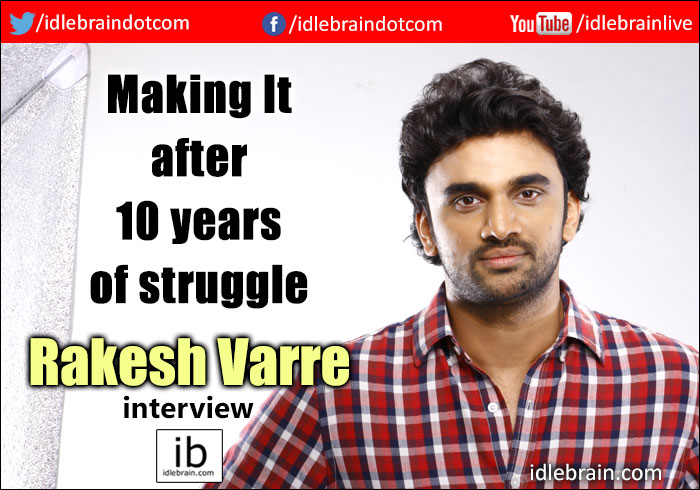 11 October 2019
Hyderabad
Rakesh Varre is a fighter. He appeared in a small role in Josh (2009) and his first feature film as hero Evvariki Cheppoddu was released a few days back. He looks natural in the film. Here is our exclusive interview with Rakesh -
I have completed engineering in Hyderabad. I was good at studies and I am passionate about dancing. I play basketball. An assistant direct saw me playing basketball and asked me if I can act in the background of some of the scenes of Josh film. I said okay. After a few scenes, Dil Raju wanted me to do a visible role beside villain. Later on, I did small characters in films like Vedam and Badrinath. I had also acted in Baahubali 2 as a guy who is beheaded by Prabhas.
Meanwhile, I was also trying to act as a main lead. But didn't get any offer. I had decided to learn about acting in acting school. I had done a year course in New York Film Academy in writing, filmmaking and direction. When I returned, I thought I would find an investor and execute that film while acting as hero in it. After several failures, I had mustered the courage to ask my father if he can fund my film. He agreed to fund the film. I had listened to several scripts. Evvariki Cheppoddu is the 47th script I had listened to. I really liked the concept and decided to produce and act in it. This film deals with the deep rooted evil called caste feeling. We have tried to tell a romantic comedy with caste being the conflict point. It's also a relevant topic for most of the Indian households all over the world.
Director Basava Shankar is an ex professor in an engineering college. He is the most honest person I have ever seen in my life. He has never lied in his life. He has refused to take remuneration and said that he would accept it only after the producer makes profits.
We wanted to cast a Telugu heroine. We have tried a few Telugu heroines and then decided to call for auditions. Gargeyi is very talented and we took her in.
Lot of people are complimenting that I look natural on the screen. That's because we had practiced a lot. I used to have reading sessions with the director 3 times for every scene. Then I used to have rehearsals on sets before the shoot. It helped me a lot in getting it right. I had also reduced my weight by 8 kgs.
We shot the film in 2018 and we were looking for somebody to buy the film. In the process Sharwanand has seen the film and liked it. He arranged screenings for UV Creations and Geetha Arts too. That is when Dil Raju came forward and agreed to distribute the film. He has also suggested change in one scene. We had to reshoot a few other scenes that are linked with the scene suggested by Dil Raju. Then we have shown the film to a few focus groups and got a positive feedback. We planned for August release, but postponed it due to Sahoo.
The film is in theaters now. Multiplexes are getting full and movie is doing well in single screens during night time. I am very happy with the feedback we are receiving. Celebrited directors like K Raghavendra Rao, Sukumar and Koratala Shiva watched the film and liked it.