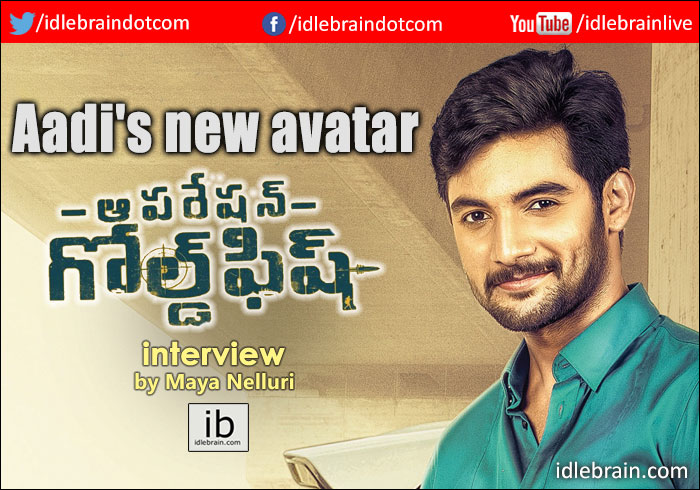 17 October 2019
Hyderabad
The young and talented Aadi Saikumar is coming to screens near you with Operation Gold Fish tomorrow. He's positive that this film will be the one to turn things around for him. He talks about how he got the project, the unique business model used for its production and what he has in store in the upcoming months.

Tell us how Operation Gold Fish came to you.
Sai Kiran sir, through a common friend of mine, called and told me about the concept and title of the film. I knew that he made films like Vinayakudu and Kerintha so I was sure he was a sensible director. As soon as he said Operation Gold Fish (OGF), I really liked the name, I found it interesting, and was immediately hooked. So I asked him to meet. He came home and narrated the script to me. I really liked it and I knew that he wanted me to play the main role of Arjun Pandit but I was waiting for him to say it. Once he did I felt very happy. It's a very powerful role; generally you don't get such strong roles. But at the same time I had a doubt about whether it would suit me so I asked dad to listen to the script. He really liked it and told me that it will be good for me to do the film because it is very different to my other works. He said that since I haven't done such a powerful character yet, I should definitely do it. I still had my doubts but when we styled my hair into a crew-cut and I saw myself in the look-test, I felt like the character and I believed I could carry this role. That's how the project started.

Why did you guys go for the crowd-funded format for this film?
It's not exactly crowd-funded. We used a business-model where actors and technicians are shareholders, so after everything, the returns are shared by the shareholders. It's a new type of producing model and it really worked out for the project. Everyone felt responsible and like it's their own project. Also money wasn't the main thing for me. I wanted to do OGF because of the script, character and I knew that the director had the fire in him to bring out a great film. And if you do good roles, you'll automatically get the money.

What are your expectations for the film?
Feedback from the teaser was very good; it was applauded by the general public. The trailer also had a great response and we are now releasing in over 300 theatres in Telangana and AP. We are also releasing in Karnataka. We have a very good release. In today's times people are open and want to see good stories. I have confidence it will do well but as always it is up to the public, they will decide. We put in a lot of hard work; shot every scene the way and where we needed to so I think people will appreciate it. If a movie is good the audience will automatically talk about it so I'll leave it up to the cinema to speak further.

Your previous releases didn't fare as well at the box office. How did that affect you?
I expected a few of them to do really well but it didn't turn out like that. Ultimately, I made the mistake of sticking to commercial cinema format but it isn't what people are encouraging now. I realised it and I'm trying to do new-age cinema now. Hopefully OGF is a new beginning for me.

You debuted in 2011. How have you changed and how do you feel cinema has changed since?
When I started I still remember we used to shoot on Kodak film. I entered during the ending stages of reel so I did my first 3 films like that. It wasn't digital yet so just 2 takes was a big deal; everyone was conscious of not wasting the producer's money. Cinema has changed a lot in the last 8 years. It's totally different now. Before it used to be very difficult for small films to get attention but now if you make a good film, trailer, teaser, you can get attention. If you work out of the box people are encouraging it. Even just 3-4 years back it was very difficult. There is another side to this though. It's become very difficult to pull audiences to theatres. It's a big task for everyone because of the digital market. The audiences are very intelligent; they wait for talk, reviews, and then decide to go the theatre. With the availability of online platforms and television, people are opting to watch at home a while later. It's evident with the overall collections. So now the challenge is to make a good enough film to pull the crowds into the theatre.

You were also a professional cricket player. Why did you choose cinema instead of pursuing cricket?
I was always sure I wanted to be in cricket or cinema. Suddenly at a point I felt like I should concentrate on cinema. So I stopped playing, made the decision to choose cinema and my cinema career started.

Did your film background affect your decision?
Obviously being from a cinema background it did have an influence but it wasn't easy for me in the industry. My dad told me clearly that he can get me contacts, maybe get a producer or produce 1-2 projects himself but ultimately it's me who has to survive and take myself forward. He told me to learn all the crafts, train hard, work hard and do my best.

What other projects are you working on?
Right now I'm doing a film with Surabhi which is directed by Srinivas Naidu. Another is a bilingual Tamil and Telugu; it will be my Tamil debut. I'm also starting a project next month with a new director Sai Raj; it's also a new age subject.

- Maya Nelluri