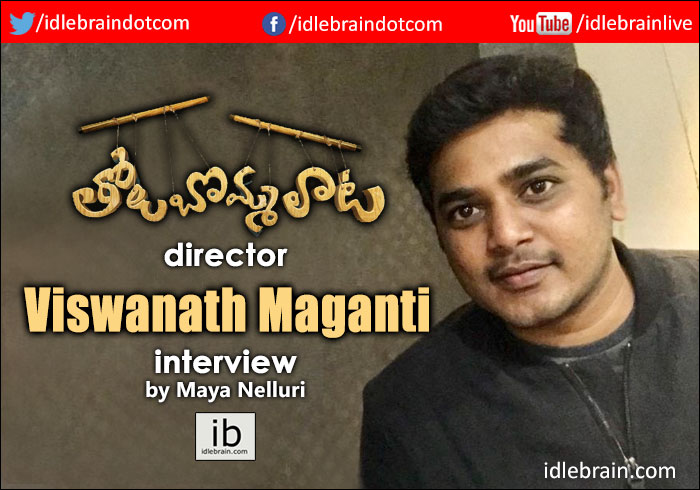 18 November 2019
Hyderabad
Director Vishwanath Maganti's debut Tholu Bommalata features veteran comedy legend Rajendra Prasad, current comedy sensation Vennela Kishore and an array of talented actors. He speaks to us about the film and his journey in the film business.

What is Tholu Bommalata about?
It's a three generational story which summarises how the world around us functions in the current era. Small things like assuming people won't be happy about our successes, hiding things from family and a lack of connection to others is making us view others as villains, even within our own families. This is affecting the next generation. We don't even know who are our neighbours these days or what is really going on in our cousin's lives.

Why did you choose to do a family drama for your debut?
I noticed that at any given time in films most of the people stick to the 'in' genre – for some time it was family dramas, then it changes and everyone goes in a different direction. In recent times I kept hearing that there was a lack of films that people can watch as a family. I wanted to go against the tide. I thought of what would be unique right now so that's why I picked a family drama for my debut. This has a clean U certificate. Also I thought from the audience's point of view – a large percentage of people enjoy fun in a film so wanted to include it but this is a sensitive line so I took the screenplay very carefully. In the future I want to do different genres. If I want to do another family drama it might come out similar to this so people will think he did the same film.

What's unique about this story?
I've written the story, screenplay, everything. When I went to Rajendra Prasad garu he felt, 'oh great I got a good script after long'. Then I told Vennela Kishore who also felt it was a good role. The hero felt there are good characters in the film; it's not just a hero and heroine film.

In the promos it is evident that the bava and mardalu want to get married. Isn't this a tried and tested formula?
The movie starts with the grandkids asking their grandfather Rajendra Prasad garu to help them get married. Take for example in thriller films; they have a similar chain of events – a wife and husband going to a secluded area for a holiday. There will be something that is common in every film of a genre. This film is a family drama so it focuses on the relationships within the family but I've taken a new line. I feel that a family drama shouldn't just be a drama. Every audience member should connect to some element in the film so I took the film in a fun mood. And although this is a family drama I thought carefully about each character and only included those that are important. I didn't want to just fill the screen.

Going by the promos, it looks like Rajendra Prasad sir is both alive and dead. Which is it?
I revealed in the trailer itself that he'll be dead in some parts. When, where, why is for the audience to uncover by watching the film.

Is Vennala Kishore also a ghost?
Could be. The main thrilling elements of a film should be watched. If we reveal anything it will take away from the suspense and also won't allow the audience the satisfaction of guessing what is going to happen next in a film.

Tell us about your career path.
I started my journey with the director of George Reddy. He taught me the ABCDs like what a script is, how the process of film making works and so forth. Then got a chance in Dil Raju production to work with Venu Sriram. There I learnt how to write dialogues like normal conversations so that the audience can connect to them. I learnt from Dil Raju sir that a script needs to connect to the audiences. He thinks a lot about the audience's perspective. I used to get shocked at how he dealt with each project. It's not just about our point of view; we have to write for the larger audience. From Sai Kiran Adavi garu during Kerintha I learnt how to be cool on set. From Chief Associate Tirupati garu I learnt how to do schedules. I used to work to learn all these aspects.

What's your next project?
Once I'm done with this film I'll think about the next. I spent three years on this film; the first 1.5 years on perfecting the script and the other 1.5 years for pre-production. I'm 32; at my age I wouldn't know a lot of things about families so I did research and gained knowledge about how people would act at different ages. I actually got married three years ago so now I'm celebrating my third year anniversary with the release of this film.

Anything you'd like to say to the potential audiences?
If you come with your family you can happily watch our family. Our promo line is also - Memu ma family tho ostunnam, meeru mee family tho randi!

- Maya Nelluri