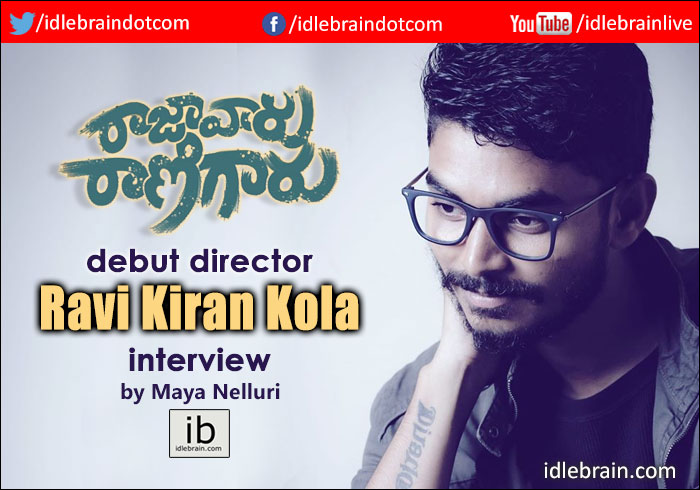 29 November 2019
Hyderabad
Debut director Ravi Kiran Kola of Raja Vaaru Rani Gaaru speaks to Idlebrain.
In the promos the film looks very real - what Inspired you?
I grew up in East Godavari Madhuravaram so I really liked the people and nativity there from my childhood. I felt that maybe these wonderful and small moments in such people's lives hasn't been captured in film as yet so I wanted to do that. Also with the current times, people require a social media detox so I wanted to take people back about a decade. And today when we meet our friends and start reminiscing about our school or college days, it never ends. I wanted people to be able to relate themselves to the script so I incorporated incidents that we would've seen in our younger days. So these things influenced the scenes, dialect. As for the story, we all have a first love in our lives. Even if the boy is social and can speak to everyone confidently, when it comes to the girl he loves first, he'll feel fear and pressure to impress her. I took the thin line of fear that a boy faces while proposing to his first love and brought it forward with a lot of intricate detail.
Can you tell us about the story a bit?
The film is a very genuine honest pure story. Everyone will connect to a character or situation. You will feel like you went into a village for 2 hours. We don't have previous experience and most of us are 25 years. We've put in a lot of effort and I'm sure that people will like the film.
How did you get into cinema industry?
I was a mimicry artist. My mom taught me how to speak like Chandra Babu garu when I was very young. But after school I stopped doing that and I started narrating stories because that's what I was most interested in. So from that time onwards people started calling me director. After Inter I came to meet someone I knew in the industry but he told me to come back after I finish my studies or else I'll just be used for delivering food here. So I went back and graduated, didn't end up working for anyone but wrote a good script. I learnt film making through internet and made a short film.
Once I came to the city I was exposed to international cinema. In the village it's mostly only our language films with big heroes. Once I started watching Tamil, Malayalam and world cinema, I realised that small lines can be depicted in a beautiful relatable way.
What prompted you to get into direction in particular?
I was always interested in narrating since I was young but direction requires showing it on screen. It requires knowledge of every craft so I was always in awe of that. I was interested in learning about the process. Choodalani undi was the first movie I saw and Chiranjeevi garu attracted me towards films a lot. I'm not sure exactly why I decided I wanted to be a director but once I decided I was fully committed to it.
Do you have any people or cinema which inspires you?
There's a lot of films and film makers that I was inspired by. I get deeply impacted by cinema. There's a lot but to name a few - Bicycle thieves, Cinema Paradiso, 12 Angry men, Life is Beautiful, Kancherpalem, Pelli Choopulu, Tamil 96. These kind of films inspire whenever we watch it. And these days our film makers are very inspiring, take Arjun Reddy's Sandeep Vanga or others, there's a lot right now but I like Mani Ratnam sir a bit. Since I was young mega star has inspired me greatly.
What did you do before cinema?
I did BTech before that. The same night I finished, I came to Hyderabad to help someone who asked me to help write. For 6 months I wrote and rewrote so that process really gave me good practice. But that project wasn't going forward so I moved out, started my own script and later felt that the story of Raja Vaaru Rani Gaaru should be my debut.
The title of the film is very interesting- how did you decide on it?
Yes a lot of people said it was very interesting. When I wrote it I wrote it like a Janapadha katha - like Anaganaga oka Raju unnaru. So at that point I titled it Rajavaru Ranigaru. Because it is Godavari jilla story and that area is known for its respect I thought the title would convey it immediately.
What hurdles did you face while making the film?
I had this idea and characters in my mind so it didn't take long. I finished the script in 4 months and pre-production took 3 months but it took longer to find Rani garu. I needed a Telugu girl who would be beautiful in the traditional sense with a bindi, 2 plaits, jhumkas. I saw 2000+ profiles to find the girl who would look like a doll. We shot in different seasons depending on the mood of the film so there were schedule breaks which took up over a year.
How long did it take from the conceptualization of the story line to releasing? Why?
The age of the characters increases from Inter to 5 years forward. So the actors had to decrease and increase weights and look the age. We took time and did it very carefully. And release also took time. The entire team had only this work for the whole 1.5 years, we were very dedicated.
Any future projects?
I couldn't concentrate on anything particular till now but there is a political drama I'm working on. The production houses who saw the trailer teaser and other producers have approached me but I'm still figuring it out so I will announce once I know.
- Maya Nelluri